DESERT SAFARI DUBAI – AN ENTICING ADVENTURE OF A LIFETIME
Explore the famous Dubai dunes with Happy Desert Safari – A licensed tourism company:
Drifting high and low onto the lofty desert dunes of UAE and twirling all the sand around into the air is a key feature of a desert tour for each traveler. Dubai desert safari is one of the primary attractions of the middle-east and each individual who wishes or visits UAE would have Desert safari on the rundown without a doubt. Also, to make this experience exciting and extraordinary into the shimmering sand of the desert city, Happy Adventures is your definitive stop which is one of the best tourism companies in Dubai and gives you a mesmerizing experience of energizing dune slamming and other Dubai tourism. We are the only one, currently operating in the highest number of locations in the middle east i.e. Dubai, Abu Dhabi, Al Ain and Sharjah.
Our desert safari packages covers it all from picking up from the hotels to skimming through Dubai, packed with thrill and excitement dune bashing under the supervision of experts and a chic stakeout hut plunged into sand to have a serene break. The trip also includes regional food and beverage services so that you have enough energy stacked up to explore the sands. Other than dune bashing the deal also offers other exciting sand experiences like quad biking, sand boarding and camel riding. All this under a rate that is the cheapest desert safari in Dubai is a win-win situation for every tourist.
Opt for the best customized Desert Safari packages:
With the best desert safari Dubai deals, Happy Adventures is a licensed tourism company that is operating with highly skilled professionals and heavy-duty 4x4 vehicles and all essential safety measures are strictly taken care of to ensure the safety of our customers. We also provide special family packages and surprise parties in desert packages arranged in the sands for you to have a unique and one of its kind event. Other than dune bashing the deal also offers other exciting sand experiences like quad biking, sandboarding, and camel riding, different photography and other live activities. All this under a rate that is the cheapest desert safari in Dubai is a win-win situation for every tourist.
WHAT'S INCLUDED IN YOUR EVENING DESERT SAFARI
Pickup:
We provide air-conditioned 4×4 Land Cruisers for your pick & drop from Dubai & Sharjah.
Entertainment Shows:
Hold your breath for terrific live fire show, 2 belly dances, tanoura show, fire tanura show and Egyptian show.
Dune Bashing:
Explore the Dubai desert with a thrilling dune bashing on high red dunes in the desert.
Camel Riding:
Sit on the camel's back and uniquely navigate the Dubai Desert.
Henna Designing:
Get the best designs by our henna experts on your one hand.
Sand Boarding:
Grab your sand board and climb the highest dune in the desert.
Water, Tea and Soft Drink:
Quench your thirst with the unlimited free water, soft drinks and hot tea/coffee.
Photography Session:
This includes the sunset photography and the Arabic dress photography.
Dinner Buffet:
The delicious dinner with both veg and non-veg items are served. Jain food is also available on request.
Add-ons:
Quad Biking, VIP Service, Fresh Juice & Photography with falcon.
DUBAI DESERT SAFARI- GUARANTEED THRILL DOWN EVERY HILL
Happy Adventures has been in service since the year 2000 and has successfully managed to host thousands of visitors coming from around the world with the best possible experience of desert safari.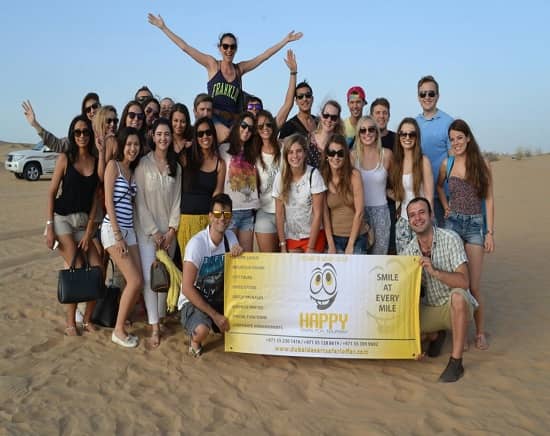 DON'T MISS OUT ON BEST MORNING DESERT SAFARI DUBAI OFFER
Morning desert safari is a safe choice from Dubai safaris for travelers who are tight on the schedule yet that doesn't make the surfing around the sand any lesser of significant worth. Or maybe morning time is an ideal time on the off chance that you are not an enthusiast of sweltering and glazing rides. Desert Safari towards the beginning of the day will be packed with a hypnotizing perspective of sunbeams gently spreading around the desert making it resemble a sparkling gold ground to ride upon with a mitigating and quiet climate.
OTHER EYE-CATCHING ACTIVITIES OF MORNING DESERT SAFARI:
To make your morning Dubai safari tour more exciting, Happy Adventures has added hummers in the trip to hike your Dubai desert tour experience to the next level. Other than that you can enjoy some other sand activities like camelback rides, sandboarding, quad bike rides, falconry photography, dressing up in a traditional desert attire to completely immerse into an Arabic soul for the moment.
EVENING DESERT SAFARI DEALS
Evening desert safari is none the less of an awe gazing sight of the great Arabian Desert. Bashing into the sands of the desert city right when the sun is setting to its place, crafting the environment to be equally glowing and just perfect to ride on the hummers, the evening safari experience is incomparable. Moreover, you will never forget the unique experience of desert safari Dubai, Abu Dhabi, Al Ain, Sharjah and Ajman as it offers wonderful activities along with non-stop entertainment and a scrumptious buffet dinner. The deal also includes various sand activities like camel ride, sand boarding, desert photography and quad bike rides.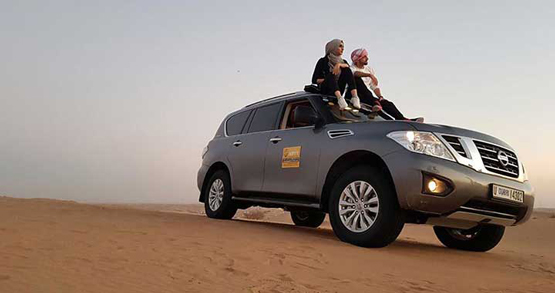 EXCLUSIVE DHOW CRUISE – A TRANQUIL DINNER NIGHT FLOATING OVER THE DUBAI WATERS
Dubai tourism is not all about the squeaky rugged adventures of Dubai desert safari but also tops in having a serene and soothing quiet time away from the hustle-bustle of the busy city. Dhow Cruise is a traditional side of the Arabian beachfront and is widely popular for the families or couples escaping their busy schedules on the look for a peaceful getaway. Dhow Cruise offers a cozy and cool ambiance to relax in and observe the twinkling sky and the well-lit city of skyscrapers from out on the shores.
The most craved Dhow Cruise Dubai Deals:

Aside from desert safari UAE HappyAdventures offers deals of Deira Creek Cruise Dinner that not only gives you a golden chance to witness the stunning view of the city from a different angle but you can also enjoy live music and entertaining performances on the cruise. Moreover, Dhow Cruise Dubai Marina provides you with an opportunity to see the spectacular skyline and modern side of Dubai.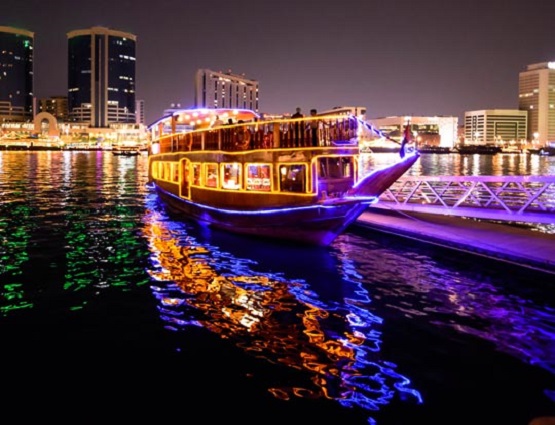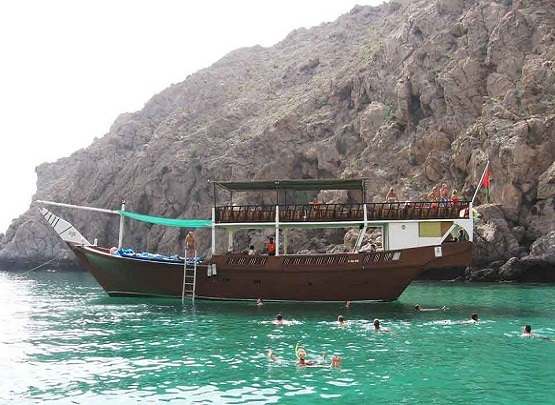 BREATHTAKING VISIT TO MUSANDAM PENINSULA
Musandam Dibba is a rocky scenic spot situated at Musandam Governorate in Oman. It is a total awestruck beauty to the sight with a clean and calm fjord which is home to many dolphins and coral reefs. The Dibba consists of a great landscape view and multiple caves that act as great tourist attractions so if you want to dive into the pleasure of nature in the middle-east then Musandam is your perfect escape and one of the keylight features of Dubai tourism.
The Impressive Beauty:
You will get lost in the beautiful sites of Musandam as this Norway of the Middle East has the best striking viewpoints that you will not forget for a long time.
Virgin Beaches:
The natural beauty of Musandam attracts tourists to this place. There are virgin beaches in Musandam that are the best spot for swimming, diving, and snorkeling. You will spot dolphins, and enjoy several activities including a speedboat ride and a banana boat ride on an unforgettable trip to Musandam.
Guide 1: Licensed Desert Safari UAE operators
Unlike other tourism companies in Dubai, our Dubai Tourism company is registered with a license not only in Dubai but also Abu Dhabi, Al Ain, and Sharjah to operate tours in UAE. We do not act as an agent or third-party operators.
Guide 2: Own Desert Camp
We have our own Desert Safari Camp and are not acting as a freelancer or sub-agent of any Tour Company.
Guide 3: Registered 4×4 cars & Land cruisers
Our 4×4 cars are owned and registered by Happy Adventures which makes your Dubai tourism safe and hassle-free along with pick and drop services and dune bashing on high red dunes in the desert.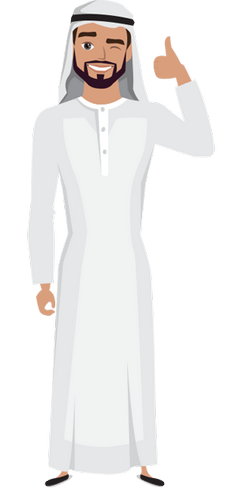 Guide 4: Packages & Prices
We provide desert safari rates that are competitive yet with quality service so you get both worlds in one.Get the most affordable package of Desert Safari and other tours.
Guide 5: Discounts & Rewards
Avail discounts and loyalty rewards on your next adventure with us like Desert Safari, Musandam Dibba Tour, Dhow Cruise Dinner.
Guide 6: Reviews & Feedbacks
Real-time testimonies of our valued customers are proof of our promise in giving the best desert safari tour packages and services among tourism companies of desert safari UAE. Our happy customers are generous and proud to share their worthwhile experience of Dubai tourism with us.