Dubai Desert Safari
Enjoy the Majestic Dubai Safari with Happy Adventures:
Hit the Dubai desert with the fantastic dune bashing on high red dunes of all time!
Sight the mesmerizing sunset at Dubai desert and click lovely pictures with the endless golden dunes. Happy Adventures Tourism LLC has been providing excellent desert safari Dubai services for a long time. All camps of this thrilling trip are inspected by our safari professionals and are clean and hygienic.
Become One of Our Delighted Desert Safari Customers:
We have been specializing in converting our new customers to happy and delighted regular customers. You will have the most memorable trip of your life with us in this exciting desert safari trip.
Witness an Outstanding Trip Full of Entertainment:
We promise you of a scenic journey full of entertainment over the horizon with a marvelous dining experience. Our exciting tour packages and their superb inclusions will allow you to get a break from the hectic life and spend some quality time with your family, friends and loved ones.
Opt For the Best Desert Safari Dubai Packages:
Enjoy the real beauty of Dubai on red sands of its desert that offers top-notch excitement and glory in every time of the day. You will get a chance to ride all-terrain vehicle and explore the uniqueness of the desert beautifully. Your safety is our preference, and for this reason, our safari leader will adequately guide you before you set out for an adventurous quad biking ride. Our VIP services play an essential role in attracting more and more travelers and tourists.
WHAT'S INCLUDED IN YOUR EVENING DESERT SAFARI
Pickup:
We provide air-conditioned 4×4 Land Cruisers for your pick & drop from Dubai & Sharjah.
Entertainment Shows:
Hold your breath for terrific live fire show, 2 belly dances, tanoura show, fire tanura show and Egyptian show.
Dune Bashing:
Explore the Dubai desert with a thrilling dune bashing on high red dunes in the desert.
Camel Riding:
Sit on the camel's back and uniquely navigate the Dubai Desert.
Henna Designing:
Get the best designs by our henna experts on your one hand.
Sand Boarding:
Grab your sand board and climb the highest dune in the desert.
Water, Tea and Soft Drink:
Quench your thirst with the unlimited free water, soft drinks and hot tea/coffee.
Photography Session:
This includes the sunset photography and the Arabic dress photography.
Dinner Buffet:
The delicious dinner with both veg and non-veg items are served. Jain food is also available on request.
Add-ons:
Quad Biking, VIP Service, Fresh Juice & Photography with falcon.
DESERT SAFARIS GUARANTEED SMILE ON EVERY MILE
Started with one single motto – SMILE AT EVERY MILE, Happy Adventure Tourism LLC hosts thousands of
visitors coming from around the world.
The Marvellous Evening Desert Safari Offers in Dubai:
One of the most desirable activities in Dubai, Evening Desert Safari is a perfect activity to witness the beautiful scenery of sun kissing the sparkling sand of Arabian Desert.
Get Lost with the Evening Desert Safari Dubai Deals:
Get lost in the never-ending fun and start off your adventure with a thrilling ride in a luxurious 4×4 vehicle. Move back and forth on the high and low dunes and scream with joy. Moreover, you will never forget the unique experience of desert safari in Dubai as it offers wonderful activities along with non-stop entertainment and a scrumptious buffet dinner.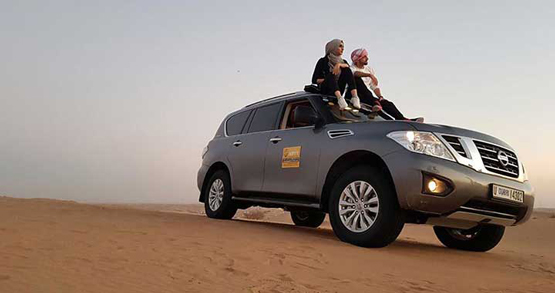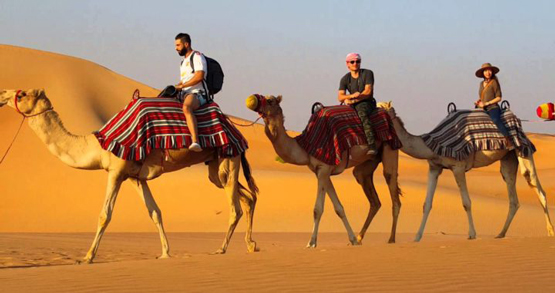 Grab the Morning Desert Safari Best Deals
If you are on a short trip to Dubai or have your departure flight at night, then do give a shot to the thrilling morning desert safari before leaving this mighty city of Gold. Morning Desert Safari is a best option for business travelers and people on a short trip. Dubai desert is admired all over the world for its timeless beauty and majestic views. Further, you will be surprised by the fun activities that are unique and can only be done in the great Arabian Desert.
Enjoy the Dune Bashing On Red High Dunes:
To make your morning desert safari tour extraordinary and exciting, we have added thrilling dune bashing in Hummer that gives a thrilling ride through the high and low dunes of Lahbab desert. Moreover, you can enjoy sand boarding, camel ride, falconry photography, and Arabic dress photography in the Desert Safari Sharjah.
Romantic Dhow Cruise Dinner by Happy Adventures Tourism LLC
Happy Adventures Tourism offers you an exciting opportunity to sail through the waters of Dubai with the spectacular views leaving you with a feeling of a dream come true. Dhow Cruise Dinner is among the must-have things to do in Dubai. It is not only a dinner cruise but an experience you will cherish forever
The Most Awaited Dhow Cruise Dubai Deals:

You can give a shot to the Deira Creek Cruise Dinner that not only gives a golden chance to witness the stunning view of the city from a different angle but you can also enjoy live music and entertaining performances on the cruise. Moreover, Dhow Cruise Dubai Marina provides you with an opportunity to see the spectacular skyline and modern side of Dubai.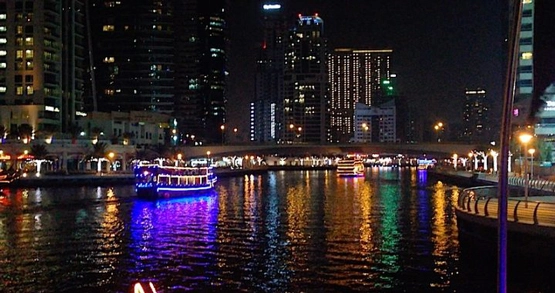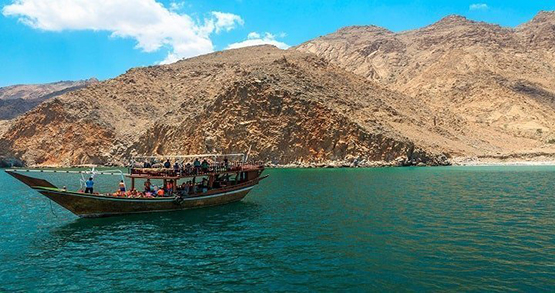 The Gorgeous Musandam Landscape
Musandam is a beautiful place in Oman which is at a distance of a few hours' drive from Dubai. On your trip, you will witness the gorgeous landscape of Musandam Dibba, the nearby fisherman villages, limestone caves and Rocky Mountains.
The Impressive Beauty:
you will get lost in the beautiful sites of Musandam as this Norway of the Middle East has the best striking viewpoints that you will not forget for a long time.
Virgin Beaches:
The natural beauty of Musandam attracts tourists to this place.There are virgin beaches in Musandam that are the best spot for swimming, diving and snorkeling. You will spot dolphins, and enjoy a number of activities including speedboat ride and banana boat ride on an unforgettable trip to Musandam.
Happy Adventures Dubai Overnight Desert Safari Deals
Get set ready for the ultimate adventure all through the night with overnight desert safari deals. Get a chance to admire the beauty of the Arabian Desert under the moonlit sky and canopy of million stars. Happy Adventures Tourism is giving you an exclusive chance to experience the best of Dubai in a pocket friendly price.
Spend Quality Time with Your Loved Ones:
In order to accommodate our guests with all the necessary things, we provide you with the comfortable sleeping bags and tents so you can have a sound sleep in the wilderness and wake up in the morning witnessing the beautiful sunrise over the red sand dunes. Sooner or later, enjoy a delicious breakfast and aromatic Arabic coffee in the morning and take stunning photos as a souvenir of your trip. We guarantee that overnight desert safari will become a memorable experience for a lifetime.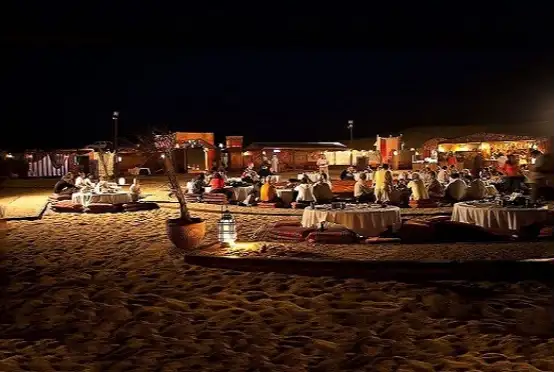 Guide 1: Licensed Dubai Tour Operators
Unlike other tour operators, our company is registered and with license in Dubai to operate tours in UAE. We do not act as agent or third-party operators.
Guide 2: Own Desert Camp
We have our own Desert Camp and is not acting as freelancer or sub agent of any Tour Company.
Guide 3: Registered 4×4 cars & Land cruisers
Our 4×4 cars are owned and registered by Happy Adventures which makes your trip instant confirmation and hassle free with it comes to pick and drop service and dune bashing on red high dunes in the desert.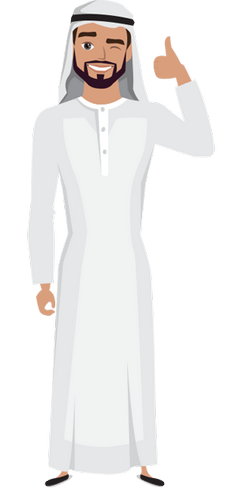 Guide 4: Packages & Prices
We provide rates that are competitive yet with quality service so you get both worlds in one.
Get the most affordable package of Evening Desert Safari deal and other tours.
Guide 5: Discounts & Rewards
Avail discounts and loyalty rewards on your next adventure with us like Overnight Desert Safari, Musandam Dibba Tour, Dhow Cruise Dinner.
Guide 6: Reviews & Feedbacks
Real-time testimonies of our valued customers are proof of our promise in giving the best tour packages and services. Our happy customers are generous and proud to share their worthwhile experience with us.