Dubai Travel Tips for the Tourists on Budget
Dubai is commonly observed as one of the most luxurious tourist attractions in the world which are over the budget of travelers many times. The desert hotspot has transformed itself tremendously in recent years which attract people from around the world.
The major Dubai attractions including luxurious hotels, shopping malls, water parks, and desert safaris are pricey but they are among some of those attractions which entice you to visit Dubai at-least once.
First and foremost, Dubai defines a lavish and extravagant lifestyle which is embraced beautifully by the people living here. But if you think traveling on a budget in Dubai is not possible, you are certainly wrong.
Dubai Travel Trips
There are a lot of things to do in Dubai that will keep you entertained throughout your tour, even on a budget. Dubai warmly welcomes budget travelers and offers affordable accommodation along with many other enjoyable activities.
The list of amazing things to do in Dubai is endless, but if you are thinking what to do in Dubai on a budget, here we are sharing some of the best ones which you can enjoy on a low budget.
Recommended Read: Things You Can do in Less Than 50AED in Dubai
1. View The World's Tallest Building – Burj Khalifa
If you are planning to check out the world's tallest building Burj Khalifa from inside, and observe the far and wide areas of Dubai from its 123rd floor, then it will cost you a little over 100AED, but observing it from the bottom is absolutely free.
To enjoy good views of this glorious man-made structure, go to Dubai Mall where you will find a great chance to admire the beauty of Burj Khalifa. The best time to visit this amazing place is at sunset when the magnificent lights of the building turn on and dancing fountain show takes place in the rhythmic background music.
Among other things to do in Dubai, Burj Khalifa is one of the main Dubai attractions which you can't miss out on your trip.
2. Explore the Desert Dunes
There are a variety of activities in Dubai that you and your family can enjoy under a low budget. When visiting Dubai, keep in mind that no matter how much landscaping has been done, Dubai is still a desert and offers you tremendous safari experience.
You must escape the city for a complete day and drive towards the desert where you will experience extreme adventure by driving over red sand dunes. We bet! You will find it one of the best things to do in Dubai. You can enjoy Evening Desert Safari with your friends and family that offers a spectacular sunset view.
You can also ride dune buggy or quad bike in the sand dunes and spot camels in the desert. Although Dubai is expensive for a luxurious holiday, desert safari can fit any budget.
3. Retail Therapy at Old Souks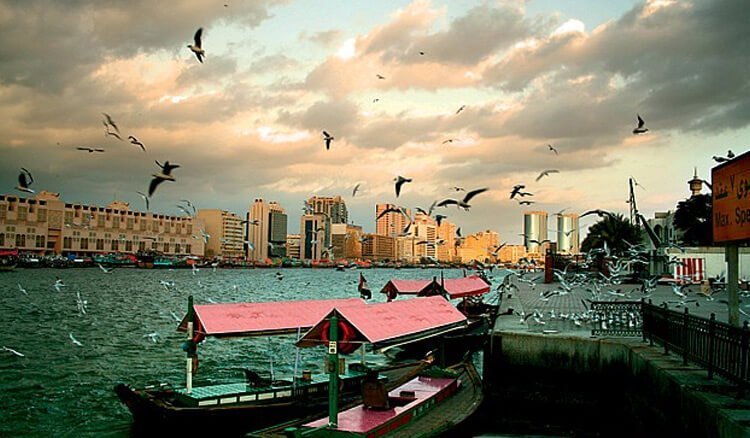 There are many high-end places to visit in Dubai that are pretty pricey. For instance, Dubai Mall and Deira City Center which offers you the world's most expensive brands.
But you can head to the Creek to shop from the traditional old souks and take home some souvenirs of your trip. You can buy gold, traditional spices and a variety of other items from Deira and Bur Dubai bank.
Once you are done with shopping, take an abra (small Arabic boat) to get across the Creek for as low as 1AED. You can't enjoy your cheap holidays in Dubai better than that way.