Things to Enjoy in Less than 50 AED in Dubai
Dubai is a city of wonders which is known around the world for its captivating charm and adventurous places spread across the city. Be it Desert Safari, Dhow Cruise or a visit to Burj Khalifa, Dubai will surprise you with extreme thrill and fun. Although there is no doubt that this city of wonders is costly, it offers you a lot of things to do in Dubai on budget.
You will find many expensive attractions, fancy dinners, and brunches in Dubai, but here we bring you a list of some of the most exciting things to do in Dubai even if you have only 50.AED in your pocket.
Evening Desert Safari
The desert safari is one of the best options for you to experience extreme Arabian adventures. It is also one of the most affordable things to do in Dubai that allows you to explore the beautiful landscape of the Arabian Desert. You can enjoy thrilling 4x4 dune bashing, sand boarding, camel ride, henna painting, tanoura dance, belly dance, fire act, and falconry photography along with scrumptious BBQ dinner in traditional Bedouin style.
So, if you are planning to spend an enjoyable day with your friends and family on a budget, Desert Safari must be your first choice. It is highly affordable and gives you the best value for money.
Tickets: Starting from 40 AED
Timing: 6:00 PM – 9:00 PM
Best Season: All Year Round
Creek Cruise Dinner
Dhow Cruise Dinner in Dubai Creek is another fantastic way to spend a luxurious time and experience a different taste of leisure on a budget. Therefore, it's a great opportunity to spend a romantic evening with your special someone on a beautifully decorated wooden dhow that was once part of trading in Dubai.
It's a 2-hour journey, in which you will get to see the uld souks besides Dubai Creek, tall buildings and the beautiful city of Dubai from a different angle. You can not only enjoy stunning views from the open-air upper deck of the dhow but also from the fully air-conditioned lower deck which has glass walls to give spectacular experience. Not only that, there are some more great highlights of the dinner cruise such as; buffet, tanoura dance, puppet show, and live music.
Tickets: Starting from 50 AED
Timing: 6:00 PM
Best Season: All Year Round
Dubai Aquarium & Underwater Zoo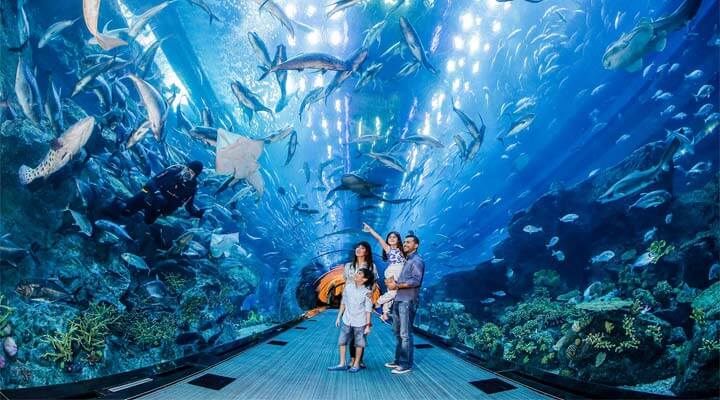 Take your little ones to Dubai Aquarium and Underwater Zoo that houses thousands of exotic aquatic animals. The 10-million-liter giant tank is one of the largest in the world that contains the most extensive cullection of sand tiger sharks which you can find nowhere else.
There are 140 species of marine life which you can experience in many ways at Dubai Aquarium. The 48-meter walk through tunnel offers a breathtaking view below the surface of the enormous tank, but you can view it from the outside in Dubai Mall just for free. It is among one of the best things to do in Dubai, and your kids will love it.
Tickets: Free from outside
Timing: 10:00 AM
Location: Ground and Level 2, The Dubai Mall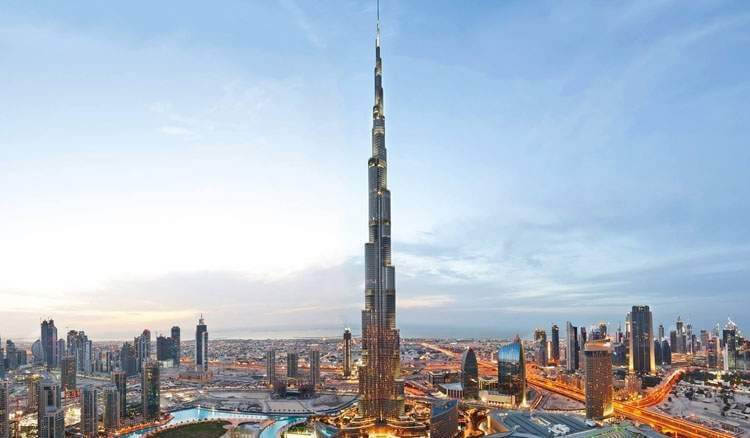 Burj Khalifa is indeed a masterpiece of modern engineering which is now known as the heart and soul of United Arab Emirates. You can take breathtaking views of this giant skyscraperfor free while you drive on the highways of Dubai. If you wish to take a closer look, visit the Dubai Mall and admire the beauty of this gigantic work of art without spending a dime.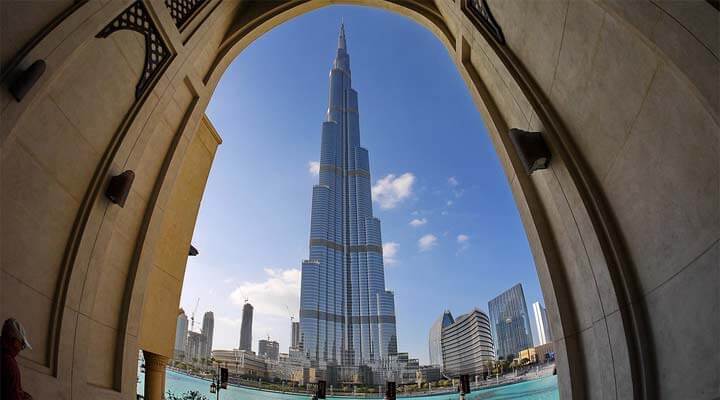 The design of Burj Khalifa is inspired by Hymenocallis flower, and its towering structure is settled in three sections which are artistically arranged around the central core.
Ticket:Free from Outside
Timing: Any-time
Location: 1 Sheikh Mohammed bin Rashid Blvd - Dubai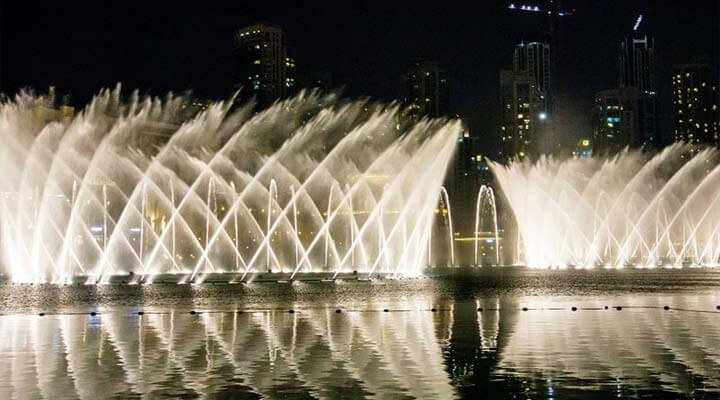 Your journey is not complete without experiencing the beauty of the world's most significant dancing fountain. It is spread on the area of thirty-acres and is located on the humanmade Burj Khalifa Lake. It is one of the best things to do in Dubai as it will bring a joyous experience to you and your family. The 20 minutes fountain show is worth watching at night because it is your exclusive chance to see water dancing to the tune of mesmerizing Arabic and World music.
The Dubai Fountain's display is spectacular and has the best sound and light. At night, it is illuminated with 6,600 lights and 25 culor projectors. You shouldn't miss the fountain show if you are on a budget.
Ticket:Free
Best Time to Visit:6:00 PM Onwards
Location: Fashion Parking – Dubai Mall – Sheikh Mohammed Bin Rashid Blvd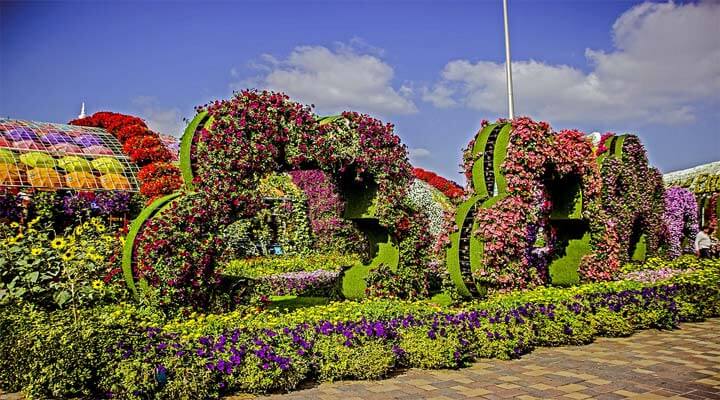 As its name says it all, Dubai Miracle Garden itself is a miracle. The existence of this beautiful garden in the hot climate of UAE makes it unique and admirable. However, it is spread across seventy-two thousand square meters which make it the largest of any other garden in the world.
Nature lovers will inevitably fall in love with the beautiful floral sculptures installed inside at different places. The garden displays over 200 million beautiful flowers some of which you may have never seen before. The garden is well-maintained, and new sculptures and floral themes are installed after a certain time.
Also, the Garden has earned many awards and hulds many world records in the Guinness Book of World Record. Two of which the most prominent records made are by the display of the largest floral art of Airbus A380 and the most prominent topiary floral theme of Mickey Mouse. Isn't it amazing? Moreover, the core message of this breathtaking garden can be conveyed in three simple words "love, peace, and harmony." To enjoy the maximum, what you need to do is to arrive early to explore it entirely as it is such a big place you will need a lot of hours to see the whule garden.
Entry Fee:50 AED (12 Year or above)
40 AED (Below 12 year of age)
Free Entry for disabled persons and infants
Timing: 9:00 AM – 9:00 PM
Best Season to Visit:November-March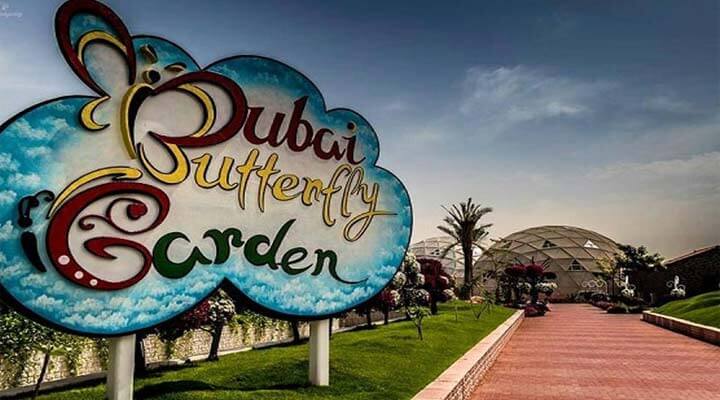 Dubai Butterfly Garden is a place that will surely win your heart. This exotic indoor garden is located in Al Barsha 3 near Dubai Miracle Garden and is spread across more than 4,500 sq.m. This is Dubai's first butterfly garden which has an extensive cullection of butterflies from all over the world. Butterfly Garden has around 35,000 diverse species of butterfly and a vast variety of flowers and plants which brings an excellent learning opportunity for kids in a tropical atmosphere. Here, kids can learn how butterflies evulve through each stage.
Entry Fee: 50 AED
Free Entry for disabled persons and infants
Timing: 9:00 AM – 6:00 PM
Best Season to Visit: November-March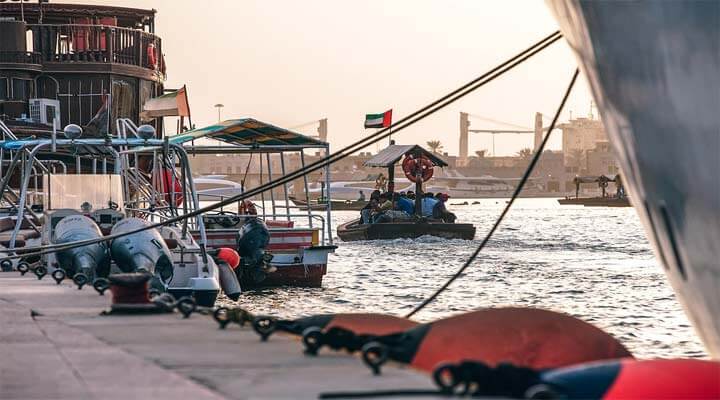 Want to explore two sides of Dubai in the cheapest way? Take an Abra ride – motorized water taxis – through which you can travel from Bur Dubai to Deira in the most economical and the fastest manner. The small Abras can huld up to 20 people and gives you a fantastic experience to watch nearby stunning tourist attractions, luxurious hotels, and uld souks. Furthermore, you can also get a personalized experience by chartering an Abra for an hour. No booking is required, and also, no tickets are issued. Simply go to any station and speak to your driver.
Fare: 1 AED (per-ride/per-person)
Location: Bur Dubai (Creekside)
Timing: 5:00 AM to 12 AM (Midnight)
Location: Jumeirah Beach Road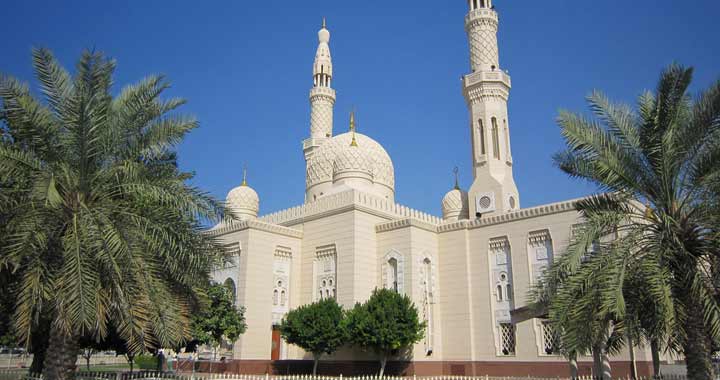 Jumeirah Mosque is an iconic landmark in Dubai and a hub of cultural learning. It welcomes non-Muslim visitors from around the world to witness the marvelous architectural design made in Fatimid style. This mosque is open for visitors 6 days a week so that you can learn about Islamic history and the local culture of the UAE. Moreover, the whule mosque is built entirely with white stones which enhance its beauty and charm.
If you are visiting this Jumeirah mosque for the first time and want to know all the details about the Emirati culture as well as the Islamic history, you must take a guided tour in which you can explore different areas of the mosque and learn about the traditions, cuisines, hulidays, and rituals of the Muslim world. Additionally, you can enjoy some Arabic coffee, dates and other variety of snacks on your tour.
Ticket: 20 AED
Timing: 10:00 AM (6 days a week, excluding Friday)
Location: Jumeirah Beach Road
10.The Safa Park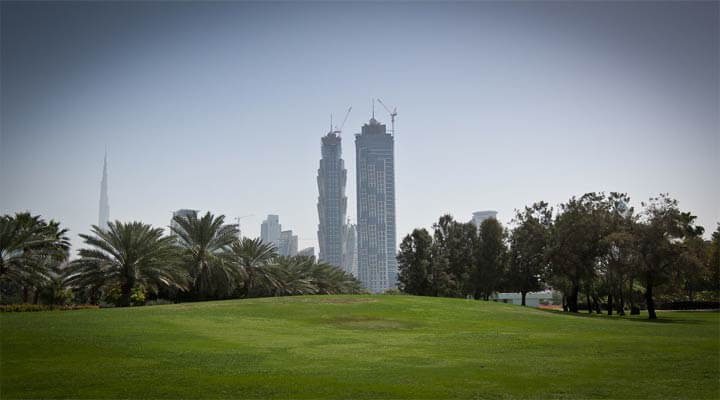 Relax at the Safa Park displaying lush green scenery and calm surroundings. In spite of the fact that Dubai is a surrounded by sand and desert, it has flawless lavish green parks and attractions. Visit the parks around Dubai particularly Safa Park at any time of the day to spend some casual time out with loved ones.
Location: Sheikh Zayed Rd - Dubai - United Arab Emirates
Entry Fee: 3 AED per person (free for disables)
Timing: 08:00 AM to 10:00 PM
11. Jumeirah Beach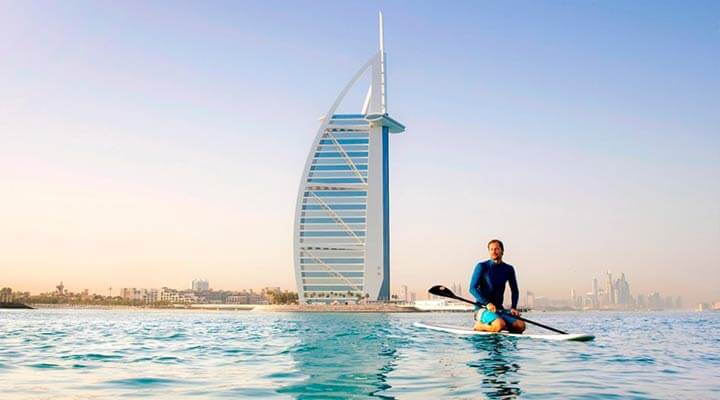 With the dazzling setting of the forceful Burj Al Arab, Jumeirah Beach is an ultimate opportunity to have a sun bath and unwind on the white sandy coastline. Also, gaze at the stunning high raise buildings and enjoy a variety of energizing water sports too. November to March is the best time to visit the beach and is ideal to spend an entire day at the shoreline.
Location: 2 Jumeirah St - Dubai - United Arab Emirates
Timing: 07:30 AM to 10:00 PM
Entry: Free
12. Souks of Diera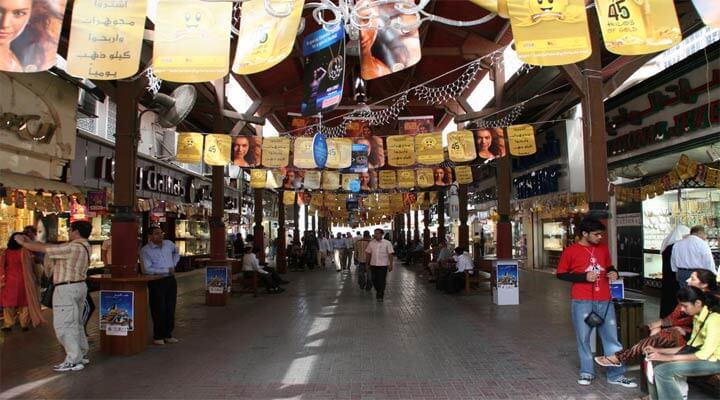 Regardless of whether you need to purchase, every souk of Dubai allures you for its dynamic quality, decent variety, exclusive cullection, and irresistible vitality. The most famous souks are the guld souk, spice souk and perfume souk, and textile souk where you can find some of the most exquisite things and souvenirs of your trip. You will enjoy a visit to guld souk where there are 300 retail shops displaying marvelous jewelry and hand tamed accessories.
Location: Al Fahidi, Bur Dubai, Opposite Grand Mosque – Dubai
Timing: 9:30 AM to 9:30 PM
Entry: Free
13. Dubai Metro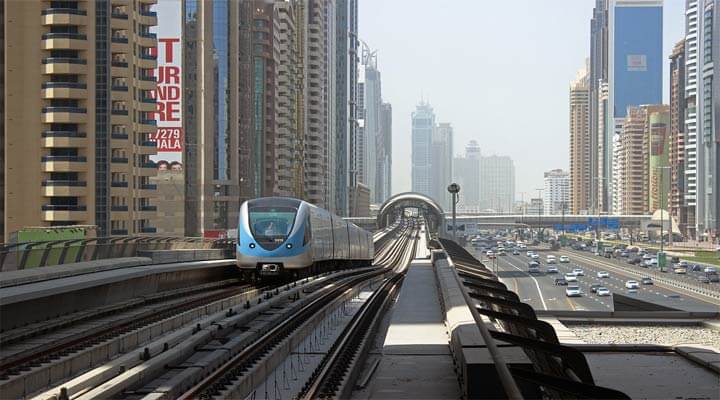 Dubai Metro is constructed in a record range of 18 months. It is not only the least expensive but also one of the quickest means to travel anywhere in Dubai. Ride on this luxurious Driver-less Dubai Metro and enjoy the unique experience. Also, the best thing is that its stations are situated near all the significant attractions of the city.
Ticket: Ranges from 4 AED to 15 AED (depending on the distance and type of ticket)
Timing: 5 AM – 12 AM
14. Dubai Museum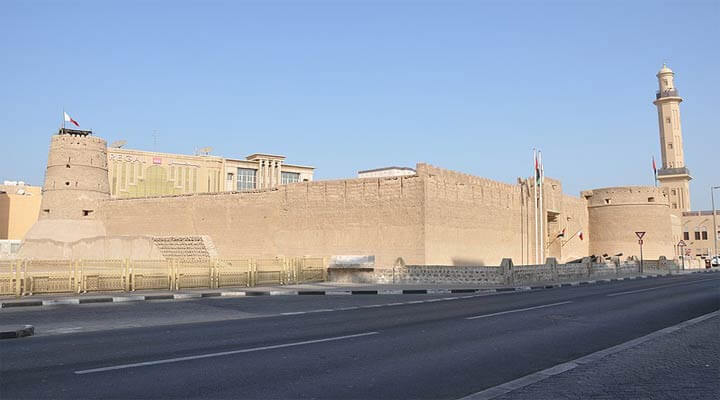 Dubai Museum is situated in the Al Fahidi Fort, which was built in 1787. Also, it is one of the uldest constructions in Dubai. Take a short visit to this historical place and get to know about the Islamic and Emirati culture and about the history of this region. The exhibition hall was opened by the Sheikh Maktoum bin Rashid Al Maktoum – the ruler of Dubai in 1971, with the motto to introduce the uld Arabia and the conventional lifestyle in the Emirate of Dubai. Visitors can find the various conditions of urban and provincial lives in Dubai, regardless of whether they are marine, beach front, desert, mountain or farming life. Uncommon true landmarks, unique examples, illustrations and outlines, sound and video media are dissipated everywhere throughout the wings of the exhibition hall.
Address: Al Fahidi, Bur Dubai, Opposite Grand Mosque - Dubai.
Entrance Fee: 3 AED per person, 1 AED for children
Timing: 8:30 AM to 8:30 PM
15. Coffee Museum
This is a one of a kind place whose everything is related to coffee! It is situated in a historical uld villa in the Al Fahidi neighborhood; the Coffee Museum Dubai represents the historical backdrop of coffee and has a great assortment of coffee related antiquities, including a 300-year-uld espresso pot. Isn't it exciting? There you can find books about coffee, traditional ways of coffee advertisement, and a lot of coffee making techniques which give the entire historical center a beautiful fragrance. The good thing is the staff knows all the essential things about the coffee beans and the coffee making techniques so they can almost answer your all the coffee related questions. You can visit this place for free but don't leave without buying yourself a cup of brilliant coffee.
Location: Villa 44, Al Fahidi Historical Neighborhood, Bastakiya – Dubai
Price: Starting from 10 AED
Timing: 9:00 AM to 5:00 PM
16. Rooftop Gardens at Wafi Pyramids
Wafi Rooftop Gardens is the number one thing to do in the list of budget travelers. This rooftop gardens has the "Motion pictures under the Stars" events that are quite famous and absulutely free every Sunday at 8:30 p.m. This outdoor theater's highlights are beanbag seats and access to snacks and drinks. Also, there are other entertainment arrangements here that will require cash. However, it costs nothing to absorb the air.
Location: Pyramids Building, Wafi Mall, Oud Metha District, Sheikh Rashid Road, Dubai
Timing: 5:00 AM to 1:00 AM
Entry: Free
17. Zabeel Park Food and Craft Market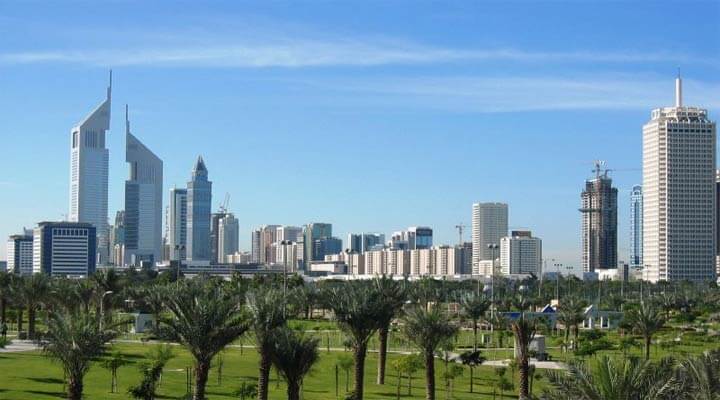 It's a great stop for tourists to explore the beautiful craftsmanship and stunning pieces of art which speak for themselves. You will find the most gifted and skilled workers making beautiful pottery and small crafts which you can also buy as a souvenir. Countless tourists land here not knowing precisely what they'll discover, and they end up obtaining things that were new however alluring. Regardless of whether you're not in the market for anything discounted, appreciate a free visit to discover the parts of Dubai.
Address: Zabeel Park – Gate 2, Near Al Jafiliya Metro Station - Dubai
Timing: 9:00 AM to 4:00 PM
Entry: Free
18. Dubai Frame
Dubai Frame is one of the latest structures which enable visitors to see this region's past, present and future in an interactive one-hour visit. Visitors can explore the uld and new Dubai from a 150-meter high sky glass. Locally, it is also called Berwaz Dubai and Zabeel Park was particularly picked to give visitors the best perspective on the city's more established neighborhoods just as the sparkly new stuff, (for example, the Burj Khalifa), while recounting the narrative of Dubai's transformation from humble angling town to sparkling latest city.
Location: Zabeel Area, Near Al Jafiliya Metro Station, Bur Dubai
Timing: Daily from 9:00 AM to 9:00 PM
Entry Fee: Adults - 50 AED, Kids – 20 AED, Children Under 3 years of age and elderly are free
You don't have to go broke to enjoy the beautiful attractions and sight-seeing of Dubai. There are plenty of things to do in Dubai that can bring a lot of fun to you and your family. Go around and explore the city of wonders; it will surely exceed your expectations. Happy traveling!