Hit the desert with the safest dune bashing by Happy Adventures
What is Desert Safari?
Desert safari UAE is a steep jeep ride of dunes in deserts of UAE aka desert dune bashing. However, the term doesn't conclude until the jeep ride but also includes different sand activities like sandboarding, quad bike, camel riding, and on-site camping. And for availing the best Dubai desert safari offers, Happy Desert Safari should be your ultimate choice.
Is Desert Safari Safe?
With Happy Adventures, you do not need to worry about your safety as our 4*4 vehicle are equipped with roll cages to ensure maximum safety, and we have on-site emergency services and first aid kits within all our vehicles with accurate tire pressure check so that you have the safest dune bashing experience.
Why choose Happy Adventures?
We offer different packages at affordable rates to cater every type of traveller whether it's an alone soul seeking for a calm desert view or a thrill thirsty adventurer who want to experience the tops and turvy dune bashing experience or a family guy who wants to have a fun vacation, we have got it all covered.
1. Morning Desert Safari
There are three categories in morning desert safari that vary in terms of services and rates.
Our basic package includes direct meeting at the desert Safari location with no pick and drops service and 10-15 minutes of red dune bashing in Dubai with desert Camp. The package is initially rated at 315 AED, but we make sure to offer discounts now and then.
Advanced package of Dubai Desert Safari includes pick and drop services from Dubai and Sharjah with 10-15 minutes of electrifying dune bashing in 4*4 vehicle. This package costs around 415 AED.
Golden package:
It includes pick and drop services from Dubai and Sharjah, dune bashing in the desert for 25-30 minutes and a magnificent quad bike ride only in 675 AED.
You can also customize the morning desert safari trip according to your preference and add any particular activities or services that you want. We can offer it as a package deal.
2. Evening Desert Safari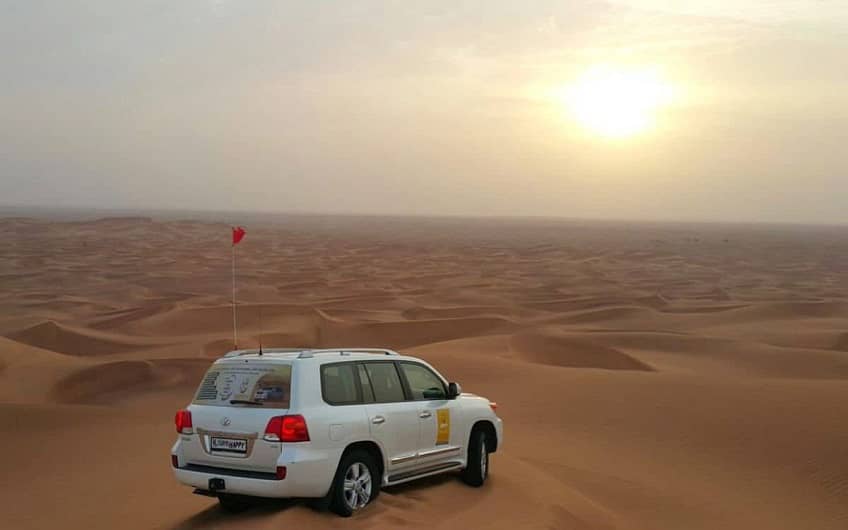 We offer three different categories of packages under evening desert safari, i.e. standard, unique and exclusive packages.
The standard package includes subcategories i.e.
The self-drive package which includes a direct meetup at the site and 10-15 minutes of desert safari. (100 AED)
The basic package includes pick and drop from Dubai/Sharjah in a bus and 10-15 minutes of desert safari. ( 175 AED)
Advanced package includes pick and drop from Dubai/Sharjah into 4*4 land cruiser and a 25-30 of red dune safari. (265 AED)
Special package has two subcategories:
Platinum Basic that includes pickup from Dubai/Sharjah in a bus, 10-15 mins of sand bashing, and a traditional regional buffet around a serene atmosphere of sunset. (150 AED)
Platinum Plus includes 4*4 pickup from Dubai/ Sharjah, 25-30 mins of dune safari, quad bike ride and traditional high-class buffet. ( 500 AED)
Exclusives package has two subcategories:
The exclusive package includes 4*4 vehicle with 25-30 minutes of dune bashing, quad bike ride and an exclusive buffet. (700 AED)
The VIP package includes exclusive land cruiser from Dubai/Sharjah, 25-30 mins of dune bashing, quad bike ride and a buffet with highly traditional table serving. (2000 AED)
Furthermore, we provide overnight desert Safari with exclusive desert activities so that you can enjoy a starry night around a sandy bonfire and live a time of your life. You can arrange any special occasion celebration with Happy desert Safari, and we will make sure to make your event the best till date.