Best Time To Visit Dubai - You should Know Before You Plan The Trip
The perfect time to travel or explore Dubai is from November to April. Where desert activities and other live entertainment shows are fit to visit. In March, April, September, and October. Because these days there would be no crowd. But the rest of the days you can plan a tour of amazing landmarks and the architecture. In short, there is always something to do in Dubai throughout the year.
Best time to visit Dubai - For Different Types Traveler
1- Travelers Having Limited Budget:
They should visit Dubai in May, June, July, August.
2- For Beach Lovers:
They should visit Dubai in March, April, September, and October.
3- For Outdoor Explorers:
They should visit Dubai in January, February, March, April, November, and December.
4- For Honeymooners:
They should visit in January, February, and December.
5- For Shopaholics:
They should visit in January and July.
Seasons Of Dubai Through the Year
1- High Season:
In Dubai, the high season starts from November to April. In this weather, there is a bright sun with cool weather temperature. In this season Live events, concerts. Tours (dhow cruise, Dubai desert safari, Musandam, Hatta) and Shopping festivals are held. It is when tourists come down and lead to high hotel rates and airfare.
2- Low Season:
Low season means summertime in Dubai. This low season lasts from May to August. This season is best for those who have a limited budget. And looking for some discounted deals or cheap airfare. So they can have an indoor experience where the hall is air-conditioned. But they are not able to do outdoor or sea activities.
3- Shoulder Season:
This lasts from September and October. This season is fit for swimming and thrilling water activities. Such as wakeboarding and Jet Ski. This shoulder season is also known for the school season. This is why many tourists come to visit Dubai to make sure of the cheaper rates of everything.
Best Season To Visit Dubai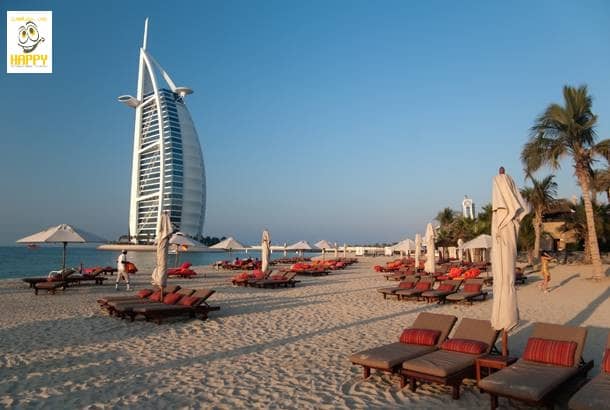 Let's have a look:
1- Dubai in Spring Season
Dubai is situated in the desert and this weather. You will experience glorious weather with a perfect amount of sun. This weather lasts from March to April. It is the perfect time when you are planning to experience outdoor and water activities.
2- Dubai in Summer
From June to August, it's summertime in Dubai. But it doesn't you can't plan the Dubai city tour. You can plan your venture early morning or after the sunset. Also, in this season you can experience the theme parks in Dubai because there would be no crowd this season.
3- Dubai in Winter Season
Dubai is a perfect getaway in the winter season. For those who don't like snow and cold temperatures. They can enjoy an outdoor trip. Where they can head to the desert and enjoy adventurous desert activities. In winter a lot of people enjoy events and other shopping festivals.
4- Dubai in Autumn Season
It is the season where summer ends completely. So you could start exploring the desert and other outdoor activities. Also, other cultural events have started hosting this season.