Complete Guide to Wild Wadi Park for Best Experience
Located in Dubai and situated near the cool Burj Al Arab Jumeirah, Wild Wadi offers 30 attractions and rides for the whole family. This theme park is around the tale of Juha which is a famous character from the Arabian folklore.
This world resembles a book, and those who avoid traveling are still on the first page of that book.
While growing up, you need not stophaving fun. Work hard but travel even harder.
Essential Things to Know About Wild Waadi
Adventure is when everything comes alive. Imaginative structures, great slides, rides, pleasant and friendly staff all make this place the best vacation spot to enjoy. A journey of thousand miles indeed begins with a cash advance. Get the Wild Waadi tickets now and set out for a brilliant fun day.
Recommended Read: Budget Breakdown – Enjoy a 2 Day Tripin Dubai
Visit Wild Waadi With Kids
It does not matter what age of people are going to visit this place as it offers something special for everyone. There are about 30 attractions where you can surf board, swim, ride daring slides and have the best fun within the Middle East's largest wave pool.
Shallow Beach Area in Wave Pool:
This park is quite good for young children too. There is a shallow beach area in the wave pool where your young ones can play and paddle happily.
Juha's Dhow and Lagoon:
This is an interactive play structure which is aimed at young children. It has five colorful slides and more than 100 water activities.
The Lazy River:
This is a family-friendly tube ride where you can enjoy and have a great time drifting and merely watching the rest of the park go by.
Wild Waadi Restaurants:
Food enthusiasts from far and wide love to visit this place to enjoy the amazing food items here. Many people prefer enjoying here hosting corporate events and family parties. This allows them to have a fun-filled day.
Wild Waadi restaurants offer some of the best dishes in the world. There are six restaurants and outlets in this park where you can enjoy the delicious food. You can also have the joyful moment in the park's restaurants and have a great time sipping the excellent drinks.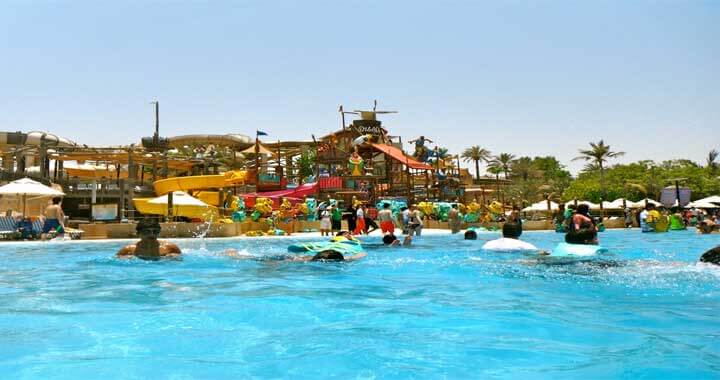 The little ones can enjoy the chicken nuggets, sandwiches and hot dogs with flavored milk and fresh juices. There are also ice creams, cotton candies, popcorns, and fruits.
Also, you need to be aware that bringing drink and food from outside isn't allowed in this park.
Juha's Family Kitchen and Julshan's Burger:
These are the two main restaurants of Wild Waadi that serve the tasty fast food like fried chicken, burger shawarmas and fries. There are some healthy food options too like sensational sandwiches and salads.
Smoke House:
The Smokehouse offers the food with a little extra punch. It serves upmouthwatering dishes that are American inspired and are infused with BBQ flavor. The best dishes which you must give a shot include BBQ roast chicken and a wide array of smoky dishes.
Riptide Pizza:
Enjoy the freshly made pizzas at Riptide's Pizza. Visit this place and watch the animated chefs cooking the Pepperoni and Margherita in a traditional oven.
It offers excellent flavors and freaks ingredient to satisfy your hunger after an enjoyable time at Wild Waadi.
Shahbandar's Cafe:
This cafe provides quick serve snacks like popcorns and ice cream. It also offers lip-smacking milkshake to beat the high heat.
Lelia's Fruit and Snacks:
This is an excellent place where you can enjoy healthy refreshing drinks and snacks. Moreover, it also serves fresh juices and freshly cut fruits.
Adventurous Rides: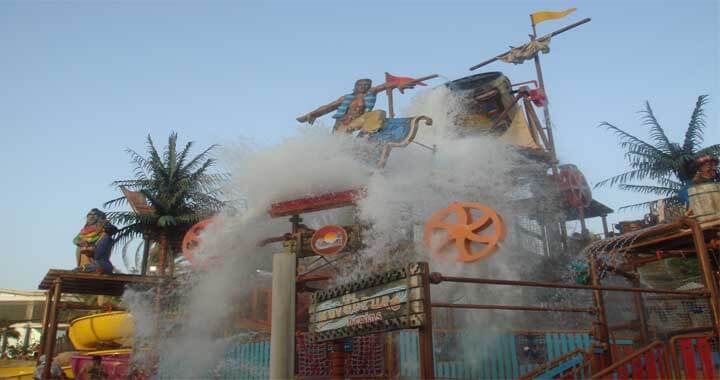 The bravest and enjoyable rides of Wild Waadi are:
Jumeirah Sceirah:
Get on this adrenaline pumping ride at Wild Waadi which is a must-visit for the thrills seekers. Climb upthe breathtaking 32 meters tower where there is a capsule waiting for you.
Stepinto the capsule while your legs and arms being closed, and the floor beneath you start opening, and you slide at 80 km per hours.
Tantrum Alley:
Hold on tight on this four-seater ride as you enter the massive tornado screaming and spinning. You will then slide, back and forth and then hit the second and third tornadoes. Then, at last, you will have a fun splash in the pool.
Burj Surj:
Come along with your friends and enjoy the fast slides of Burj Surj. You will surely enjoy on the slides and in the spinning bowl.
Master Blasters:
This is an adventurous series of 8 fantastic rides that will make you scream, twist and turn.
Things to Avoid in Wild Waadi
Abusive language and fighting
Bringing outside food
Diving and running in shallow water
Queue jumping
Intoxication
Horse playing
If you are carrying some bags with you, then you might be a bit nervous about their safety. For this reason, you can buy the safety lockers there and make your bags secure. There are small, medium and large lockers where you can store your items and have a blast day in the park.
Cabanas:
You can also book uber-exclusive cabanas at this waterpark. Enjoy your private seating area that can accommodate eight guests in comfortable lounges. You can book this cabin online.
Shops:
There are a few retail stores in Wild Waadi where you can buy impressive stuff for your loved ones. If you are missing some swimwear, then you can easily buy them from these shops. The most famous retail outlets include:
Souk Al Waadi
Air Tattoo
Sinbad's Cart
Shahbandar's Souk
Final Words
All in all, Wild Waadi is among the most enjoyable and famous parks of UAE where you can have some unforgettable time with your loved ones. So get your ticket now and set out for some thrill. Book your tickets now with Happy Adventures Tourism LLC and get the best tripoffers in UAE.