Desert Safari Dubai - Welcome to the Christmas Safari 2020
Come join us and explore the Christmas safari with Happy desert safari. Which is the best way to spend Christmas Eve than sleeping under the blanket. Where you will enjoy the lavish environment, tastiest foods. Refreshing beverages, thrilling rides, and entertaining live performances. Plus this Dubai desert safari tour is way cheap than the tour you visit on normal days. You will get the best Christmas discount deals in the evening and overnight packages. Exploring the desert in the evening and the night in the month of Christmas is next level. You will get to enjoy some upgraded things in the tour, let's check this out.
Dubai Desert Safari - Christmas Evening Safari Highlights:
In the evening desert safari, This evening tour lasts for 6-hours. Where it will be started by picking you up at around 2:30 pm to 3:00 pm. Where you will be picked up by a luxurious 4X4 vehicle or by an air-conditioned bus. This thing will be completely dependent on which package you select. Then your journey will be headed towards the desert safari camp. Where you will get to experience the thrilling rides. Such as desert safari, hatta safari, dune bashing, camel riding, horse riding, quad bike, dune buggy, and falcon photography. Some activities are included in the package but some are not included. If you want to enjoy those unincluded rides, then you will have to pay extra for them.
Desert Safari Camp - Number Of Facilities:
As you enter the camp, you will find that the camp is decorated. With Christmas trees, bolts of flashes of lightning, and other things. Where you will get to enjoy the snacks, tea, coffee, and soft drinks. Where ladies can make free Henna tattoos on their hands. And everyone can enjoy Arabic costume photography.
Desert Safari in Dubai - lIve Performances and BBQ Buffet Dinner:
The live entertainment shows on Christmas Eve are next level. Where the dancers put on the red Santa hat and entertain the audience with their dance moves. Then the BBQ buffet is opened in the mid of the performances. So you could enjoy the food while enjoying the performances. Sometimes the Santa comes there and distributes the gifts among the guests. Your journey will be ended by dropping off at your home or the place, you were picked up.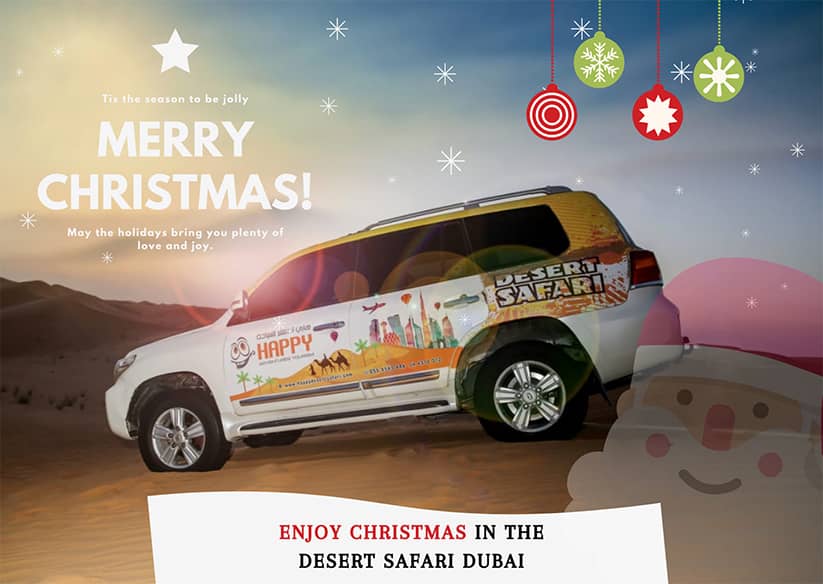 Dubai Desert Safari - Christmas Overnight Safari Highlights
Just like evening the overnight desert safari tour also lasts for 6-hours, where you will be picked up from around 2:30 am to 3:00 am. This will fully depend on the package you have selected, that you will be picked by a 4X4 vehicle or a bus. Then from thrilling rides to the live performances and BBQ dinner buffet. All things will remain the same much like an evening safari. Let's discuss overnight camping facilities.
You will be provided sleeping bags and tents to make sure you sleep peacefully. There will be an overnight arrangement of Arabian coffee and tea to make you refresh. Next morning when you will wake up, an amazing breakfast setup will be arranged for you. Where you can enjoy the sunrise views while sipping coffee/tea. From around 8:30 am to 9:00 am, you will be dropped safely to your destination.