New year's Eve in Dubai 2021 - Best Places To Celebrate
Dubai is famous for record-breaking fireworks and has become one huge celebration to raise a toast with your friends and family. But the main thing is What is special there to enjoy the finer celebrations? Do you have different ideas for celebrating the New Year with your loved ones? The timer will strike at midnight on the 31st of December. Many people visit Dubai for the Dubai city tour or celebrating special occasions. But the desert destination is one of the magical places to ring in the New Year 2021. Where you will get to enjoy a blast after parties or spectacular fireworks. Following are the must-enjoy activities in this new year 2021.
New Year Eve 2021 in the Desert Safari
There is a special discounted new year desert safari Dubai offers for those who visit Dubai to celebrate. From an international buffet with delectable cuisines, unlimited refreshments and beverages, cake cutting, and champers at overnight or midnight to live entertainment performances such as belly dance shows, Tanoura shows, fireworks, and other fun. Their overnight party is sure to wake your all senses up. It is mandatory to experience this when you visit Dubai for the new year party. However, it is thrilling to enjoy the dune bashing, which is followed by a piece of extravagant live music, buffet spread, henna designing with the fireworks countdown to the New Year 2021. Where you will get the best new year's eve pocket-friendly packages as compared to the normal days.
Tour Highlights:
You will be picked by the 4X4 vehicle from your residence. Or if you want to make this tour with someone other than you will be picked by a lavish bus from standard location points. You have a free choice to select the best package according to your budget or needs. Then your journey will be headed towards the camp, where at a campsite you will be experienced dune bashing on high red dunes, camel riding, horse riding, and other sand activities.
There are also many shops in the desert safari camp if you want to purchase something for taking your home so you can. When you're done to experience these activities, you will be requested to go inside the camp, during this or another special occasion the camp is decorated and gives the next level look. In the camp, there are also many facilities you will be provided such as henna designing, Arabic costume photography, and unlimited refreshments. Such as snacks, coffee, tea, and soft drinks. The main fact about this tour is that you will extra facilities as compared to the normal days. Plus you can get up to 50%-60% discount on the normal prices
New Year Eve 2021 in the Romantic Dhow Cruise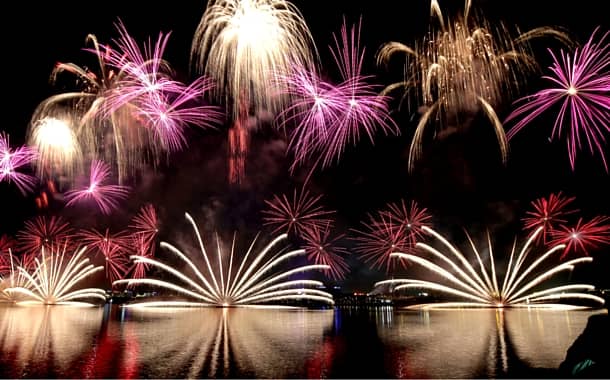 Have you ever imagined to enjoy an exclusive party gliding in a charmingly lit dhow? If not then it should be in your options. Where watching the amazing fireworks, feet tapping music, and having a scrumptious meal are worth indulging to celebrate on a dhow cruise. The best way to avoid traffic jam thing, most of the people go for this option. This option will usually allow you to enjoy several fireworks displays and at the same time allowing you to avoid traffic congestions and the oftentimes full-packed crowd. This is a perfect way to have fun in the evening and at the same time view the many fireworks across the city, either Dubai Marina or Dubai Creek. The cruising gives you the chance to sail on the traditional dhow. Moreover, when the timer strikes at 12, you would be enjoyed with amazing fireworks and New Year cake served.
New Year Eve 2021 - Get Fascinated with Fireworks
These are the moments that should not be missed. Such as mesmerizing laser displays and the spectacle blends enthralling LED shows. Plus the mega-fireworks display at Burj Khalifa, Atlantis, The Palm, Jumeirah, and more 5-star hotels in Dubai.
Burj Al Arab Fireworks: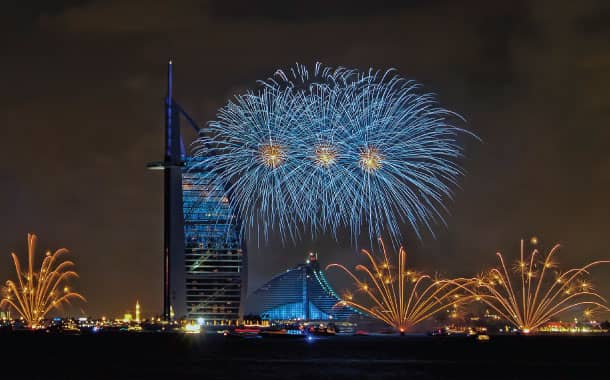 Let's put behind 2020, it's time to celebrate the arrival of 2021. This year the Burj Al Arab fireworks show returns, Which will be headed to Black Palace Beach, Kite Beach, The Dubai Mall, Souk Al Bahar, and the Souk Madinat Jumeirah. But among them, the Black Palace Beach is quite peaceful because of the thinner ratio of the crowd.
Burj Khalifa Fireworks: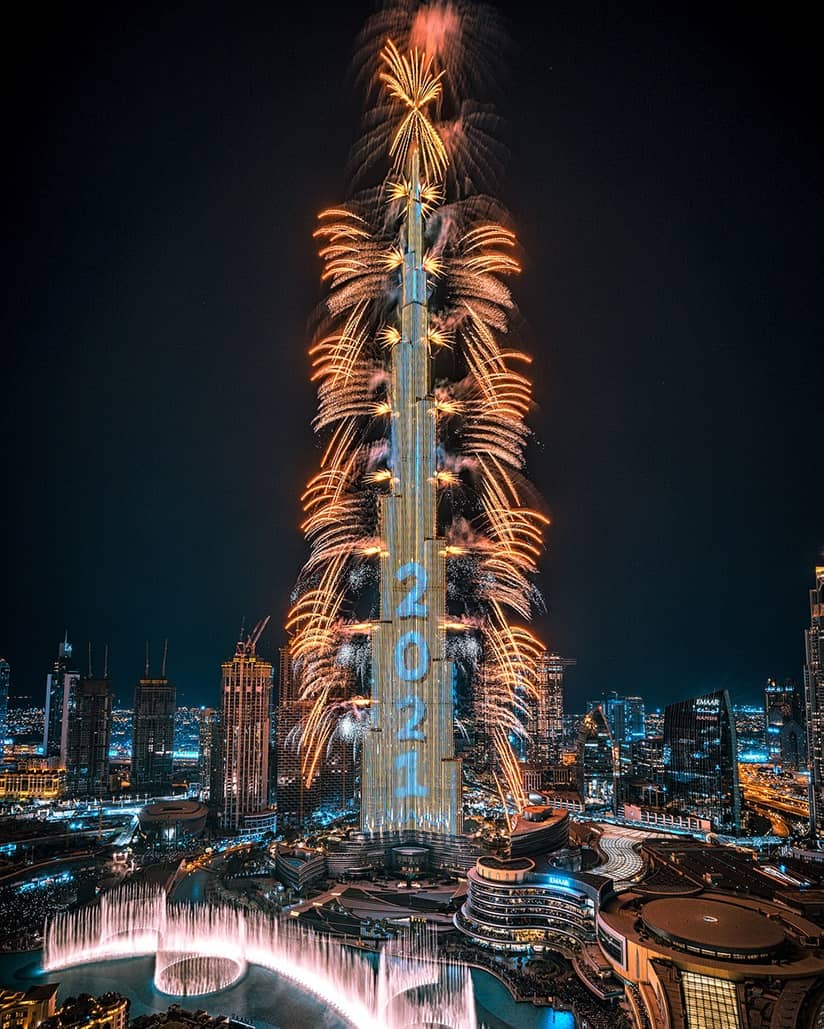 Get ready to celebrate the arrival of 2021 in Dubai's style. Which are the laser show and the massive firework in Downtown Dubai. This celebration will be broadcast live globally, also live-streamed on many new channels of Dubai. This coverage is amazing for those not able to make it to the show. Where social distancing, Thermal cameras, frequent deep disinfection, and cleaning will be in place.