Why Opt For the Dhow Cruise Dubai Dinner? Infographic
There are many incredible things to enjoy in the Dubai city, and the Dhow cruise dinner is among such wonders with which you won't ever get bored. This is a family-friendly activity in which you will have a delicious meal along with other exciting entertainments.
What are Dhows?
Dhows are traditional boats that were built by the local fishing communities and used for cruising the Red Sea and the Indian Ocean. Today, these dhows have emerged from being small sailing boats to exceptional models of luxury cruises
Places to Enjoy Dhow Cruise Dinner
Dhow Cruise in Dubai are held formerly in the Dubai Creek or Dubai Marina.
Dubai Creek
Sailing along the Dubai Creek will catch you backward in time as you pass the old Souks and behold pearl diving.
Cruising through Dubai Creek will allow you to witness the older part of town.
Dubai Marina
A tripby Dubai Marina will blow you wide-eyed as you cross through places like the legendary Palm Jumeirah and Burj Al Arab in the Venetian style canal district.
Dubai Marina is a reasonably advanced construction and the skyscrapers encircling it have a large assortment of architectural elements within them.
Price
The minimum price for Dhow Cruise Dinner is 40 AED. Furthermore, private functions and groups there is the likelihood of lunch and 'sunset' cruises.
How the Dubai Creek and Marina cruises look like?
If you are cruising through Dubai Creek, you will surely get immersed in the antiquity of the desert city.
On either side of the creek, its districts Deira and Bur Dubai spread out in all their majesty. You will see the timeless hubs of the gold and spice souks, move by the heritage village, Sheikh Saeed's house, Rolex Twin Towers, and National Bank of Dubai.
In contrast, the Dubai Marina offers you a chance to get astonished by the cheerful modernity of new Dubai a.k.a. Dubai Marina. This canal is lined by some of the modern skyscrapers of the city.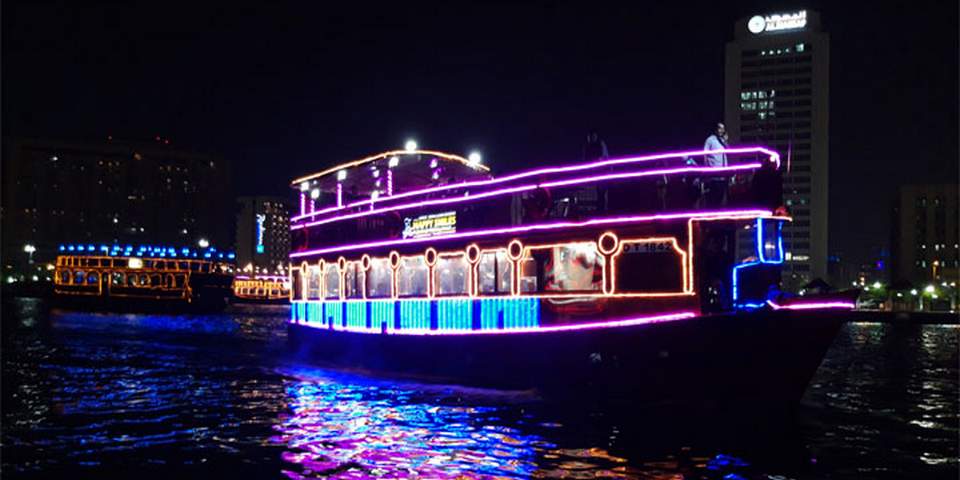 Highlights
MAGICALLY DECORATED DHOW
The cruise ships are decorated with charming designs and lights that shine in the night sky.
LOVELY ATTRACTIONS
As you cruise down the lovely sights of Dubai; you will witness the beautiful and breathtaking attractions.
SOFT BACKGROUND MUSIC
The lovely background music will make you forget all your daily life stress and have a relaxed and carefree time on the cruise.
BBQ DINNER
The delicious BBQ buffet dinner on the cruise will tickle your taste buds for a longer time. This dinner has the best cuisines from all over the world.
UNFORGETTABLE ENTERTAINMENT
Enjoy the lovely sights of Dubai from your comfortable seats while getting entertained by fantastic dances including tanoura dance, belly dance, puppet show and magic show.