Dubai Miracle Garden - Journey Via Floral Wonderland
Dubai Miracle Garden is a man-made floral paradise. It is the biggest garden in the world, which is opened to the public on February 14, 2013. Which is featured by the brilliant pink flowers and Impossibly green grass edged the extensive highway. One of the best things is the twisted displaying views of picturesque beauty and floral blossoms in the Miracle Garden. Dubai is a city of splendid landmarks and fancy malls, many tourists are welcomed this golden city to explore the natural and man-made beauty of the city. Where through Dubai city tour, they discover pure nature.
There are 45 million flowers open out over 80,000 sq meter area. Besides, inside it there are 1000 floral themes with dozens of them are stood as mega-structures. The floral collection changes in every season with every single visit. Which enables visitors to reflect on a wonderful experience over and over again. So they can look forward to a new experience every time.
Dubai Miracle Garden - Why Go For it?
As in the golden city, many adventure enthusiasts go for desert safari Dubai. Likewise, many nature-lovers go for this man-made and natural beauty in the city. Where visitors can visit from 09:00 am to 09:00 pm on every day of the week. Let's check the lovely highlights of this beauty.
Desert Bloom:
You will find a magical display of flowers modeled into countless shapes. Where some are giant but you can walk easily. If you are an anthophile (flower lover), then this is the visit you should not miss. In the desert bloom, the desert background with vibrant colors is spectacular. Besides, the aroma generated from these flowers is kinda experience beyond imagination.
Butterfly Garden:
Here you will find multiple and gorgeous butterflies. It is the additional eye-catching element, comprises around 9 domes that stretch across 1800 sq feet for travelers to explore.
Awards Winner:
Over its 6 seasons, the Miracle Garden has been an award winner. Which are as follows:
For being the biggest floral establishment across the globe, It has received 2 Guinness Book of World Records.
In 2015 by the Garden Tourism Board, it has received Moselle Award.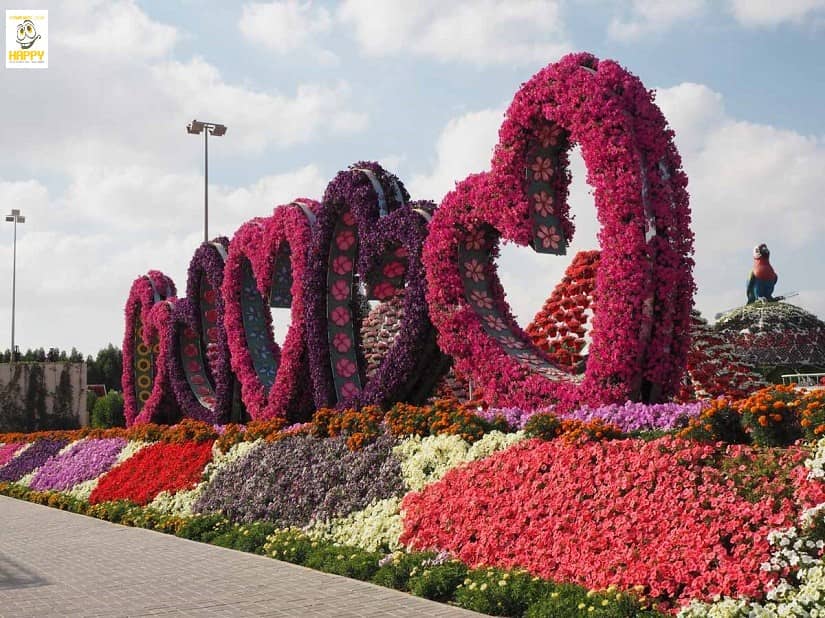 Always Changing:
Given that the subject of the Miracle Garden stays a secret as time passes, giving travelers a flower wonderland worth each visit.