Top 10 Things to Do in Musandam Dibba from Dubai
Posted On: 13-07-2021
Many people desired to experience things to do in Musandam when they travel across UAE. Musandam is a beautiful drop of land surrounded by the Persian Gulf and Omani separated by a piece of land from the UAE. It is situated in the northernmost point of Oman. Which is best known for its friendly locals, traditional souks, marine life and slow pace of life. There are also refreshing oceanic views, boat tours, 4X4 rides and limestone coastal scenery as things to do. However, you can travel here by road or by air. You will find many 4 stars or 5 stars hotels or guest houses to stay. Where diving equipment and food are available. Also, you can camp here too but permission from Musandam Municipality is required.
But do you know what makes Musandam special? That place is natural, where along with the nature enthusiast as well as the adventure lovers go for this tour. Where they will get to experience nature's artistry at its very best. Such as mind-blowing dive sites full of great coral, Stunning fjords, mountains that force you to discover them, eye-catching marine life, feast your eyes on manta rays and Dolphins underwater. To make your dreams come true, make sure to select the best tour operators in the UAE, such as Happy Desert Safari. Along with the magnificent cliffs offering excellent oceanic views. You will also get to explore traditional villages, where only boating is accessible.
Musandam Dibba - How to Travel
But there are some terms and conditions to travel across Musandam Dibba. Which entirely depends on your nationality. If you have a UAE visa then the entry fees will be supposed to pay 50 AED. But if you have a UAE tourist visa, then you purchase the entry visa by Omani officials and the entry fees will be 200 AED. The best way to explore Musandam Dibba is via a 4X4 vehicle. It does not matter, it is private or rented. Because you won't find any public transport here. Many other people travel via boat too.
Ideal Time to Visit Musandam Dibba:
If your goal is to just explore Musandam, then from October to March months are ideal. Where the heat is bearable. However, if you're visiting Musandam Dibba for diving purposes then the months October to January are perfect. Where the weather was lovely while the temperature will be 69.8 Fahrenheit or 21 degrees Celsius.
History of Musandam Dibba:
The traditional Persian Gulf culture is being followed among the people of Musandam. Where during medieval times one part of the Persian kingdom is best known for Ormus. While the other part has become the Portuguese empire. Where the language of the town's people is used to speak "Kumzari". Which is issued from Hindi, Arabic, Portuguese and Persian. Today People of Musandam also speak Arabic and Hindi along with the Kumzari.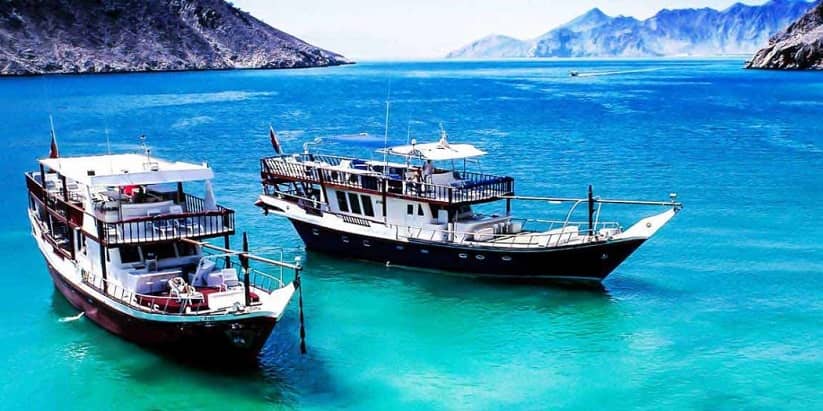 Things To Do in Musandam
Here are the 10 best places and things to do in Musandam. So without any further ado let's get into it.
1. The Visit Of Khasab Castle:
Let you know Khasab is the capital and was made in the 17th century. However, it is built by the Portuguese colonials, they desired to control the Strait of Hormuz. During past times, Omanis used this Castle. Later the Portuguese were kicked out by the Omanis. So this is the castle, which is now a tourist attraction. Where the international visitors come to visit the wedding decorations, jewellery, kitchen equipment, weapons and clothes. Because these are the things that were used during the Portuguese times.
However, this Castle has few classical wooden Omani boats and several building models. Which were used to study Quran and store dates.
2. Musandam Dubai Beaches:
Musandam Dubai, many visitors mostly those who came from international countries are travel from Dubai to Musandam. Mostly to facilitate those pristine beaches with golden sands, gorgeous rare birds and turquoise waters. The best thing about these beaches is that they are clean and offer eye-catching views of the surrounded cliffs and mountains.
Where the visitors camp overnight, experience boating, swimming and lounge on the sands. If you are visiting to explore these beaches, make sure you explore Bassa Beach, Khasab Beach, Khor Najd, etc. Those beaches are counted as one of the best places to visit Musandam. During the summer as well as the winter seasons.
3. The Visit of Jebel Harim:
The visit of Jebel Harim is one of the best things to do in the Musandam. It is the highest point in the region, also best known for the "Mountain of Women". The height of the Jebel Harim is 2,087-meters, where the women from the old days to save themselves are used to hide from pirates. For this, that mountain got a name and has been, also come the ideal tourist attraction. Many international visitors visit here from different countries and explore its stunning views. While trekking and riding along the eye-catching roads of the mountain. Which take the visitor up to the height.
4. Snorkelling and Scuba Diving:
The aquamarine life in the Musandam is famous in the world for its manta rays, multiple types of corals and colourful fish. Under the supervision of the diving professionals, you can avail yourself the diving fun. Where the friendly dolphins are come out to say Hello. However, you can also explore Numerous lovely dolphins. When some are bottlenose and the other ones are humpback.
The ideal way to get to know these dolphins and explore them is to get a boat ride. These dolphins are s curious that once you start to go they come out and say you and your boat hello.
5. The Charming Fjords:
Explore the gulf water by the Musandam cruise or any local boat. Where the delightful water hitting through the rocky fjord. While sipping Kahwa and enjoying traditional dates chat with the residents. You will also be recommended to swim in the azure water, and if you're a good swimmer then experience your skills.
6. A Speed Boat Trip:
A speed boat tour is one of the most experiencing things to do in Musandam. Where it's gorgeous fjords and crystal blue water are ideal for the speed boating trip. Along with this thrilling water activity, it gives the best opportunity to make some lovely memorable clicks. This tour brings numerous options, either you explore a picturesque coastline or discover a speed boat tour or rent a boat. You will get to cherish the cold refreshing winds, a thrill which never experienced before and the attractive views of the mountains and sea all around.
7. Discover Khor Najd Bay:
As you know, Musandam Dibba is famous for its natural beauty. However, Khor Najd is one of them which cover the whole natural beauty of Khasab city. You can explore Khor Najd by 4X4 vehicle along the curving road or you can visit here on board via the Strait of Hormuz. You will find a different pleasure when you discover its beauty from the top of the mountains. Where all you just need to do is take a deep breath and enjoy the spectacular views of Fjords. Along with it, you will also get to do many other exciting activities. Such as diving, fishing, finding hidden treasures and camp near the bay.
8. Go Paragliding and Parasailing:
This is an activity that gives you lifetime memory for sure. Like, assume you're in the ground and in the next minute you're in the sky with the birds. Where your pilot or instructor makes sure your comfort level and safety and gives his best to land you on the soft sand of the Zighy beach. Where while enjoying this activity you enjoy the magnificent views of the Al Hajar mountains, expansive Gulf of Oman and ancient fishing villages. which is 1,000-feet above ground.
9. Fishing:
This passion will never go out of fashion, Musandam is a perfect place to experience fishing. In the Khasab Musandam, that activity is taken place, where many people cherish it. However, there are some other sandy places, from where you may find everything that may wish for. Fishing in Musandam is ideal for every type of person, no matter that activity is experienced by solo, duo, trio, friends or families. At the same time, enjoy the beautiful views of the beach. Also, the fishing equipment will be rented or provided by tour operators in the UAE.
10. An Adventure in the Al Hajar Mountains:
Last but not least, this part is especially for adventure enthusiasts. Where they will get to experience the roller coaster in the face of a 4X4 vehicle thrill on the magnificent stunning Al Hajar Mountains. However, this looks quite scary but no worry there will be a team of experts is there. Where all these adventures are experienced under expert supervision to make sure your safety. This rollercoaster ride makes in and out or up and down of the wadis. Where along with the adventure the wadis tour is explored. Such as in the Wilayat Khasab wadi tour, the place Jebel Hareem Fossils to discover. Where you will get to explore the fossils of 250 million years old marine creatures. However, the canyons in the Wadi Rawdha and Wadi Shab are the real natural beauty to visit. Where the water flow, forces you to swim, cliff jump and canoeing.
Conclusion:
These things to do in Musandam are worth every moment and every penny. Where nature forces you to explore it more and more. Along with nature lovers, Musandam Dibba satisfies adventure seekers. Whenever you're on vacation or holiday, must visit UAE. Where along with the varieties in the tours it is cheap. So long story short, these are the main ten reasons that are answering your question. This is how you choose this place to visit. Just make sure, you book your tour with Happy Adventures Tourism LLC. Because if you want high-quality services at a low price, so this is the only resort left. Where a smooth trip will be guaranteed without hiccups.