Explore the Norway of Arabia – Musandam Dibba Cruise
Musandam Dibba Cruise is one of the many exciting things you can do while in Dubai. Away from the crowded and noisy city life, Musandam houses some of the best natural attractions for nature lovers.
Musandam Trip From Dubai
Musandam trip from Dubai offers exotic views of Limestone Mountains, honey-colored cliffs, low foothills, and crystal clear water enclosed by magnificent wadis that will leave you awestruck.
The exotic place is also referred to as the "Norway of Arabia" because of its beautiful landscape and wonderful sceneries around the coastal area. If you haven't been to Musandam yet, now is the time to take Musandam Dibba tour and add a beautiful experience to your travel diary.
Here we bring you the top highlights of the Musandam Dibba tour to get you excited for the journey!
Experience the breathtaking dhow cruise like never before. Musandam Dibba tour gives you a chance to explore the beauty of Norway of Arabia in a traditional wooden Omani dhow.
You can cruise along the Musandam coastline and relax on the deck while admiring the beauty of untouched shores. You can see the beautiful and colorful fishes when the dhow stops at any specific spot.
Musandam trip packages also include delicious continental buffet lunch on the dhow, so you will enjoy your trip and grasp every essence of nature without running out of energy.
Banana Boat Riding
Musandam Dibba tour packages unlock unlimited exciting activities for the visitors that include Banana Boat Riding which is one of the most sought-after water sports.
You will enjoy splashing the turquoise water of Musandam Dibba with your family and friends in an unforgettable and vibrant Banana Boat ride.
During the ride, the boat is flipped upside down by another power boat to give you a thrilling experience. The professional staff and experienced divers are always there to ensure you enjoy a pleasant journey without worrying about your safety and security.
Spot Dolphins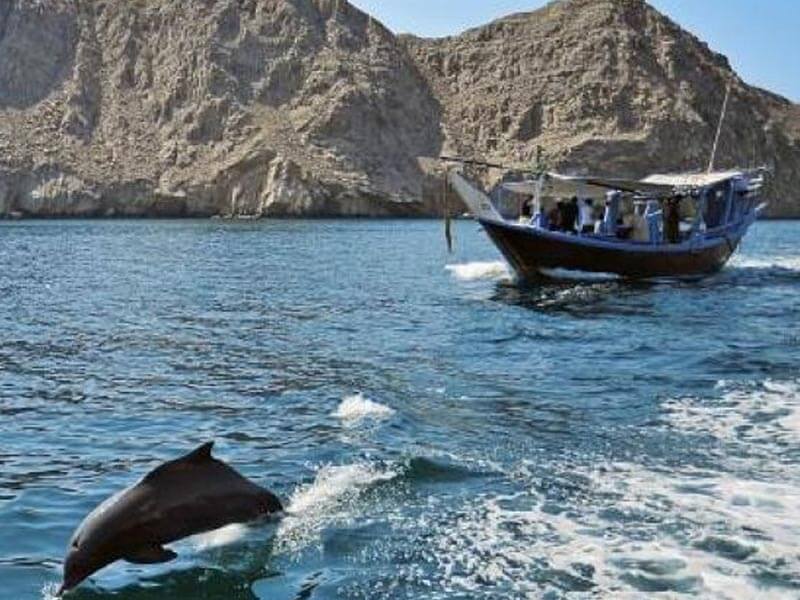 You will be lucky to spot dolphins on Musandam Dibba Cruise. While cruising around the beautiful mountains of Musandam, you will get a chance to see several dolphins jumping euphorically around your dhow.
Typically there are twenty-one diverse kinds of dolphins which you can find on your Musandam Dibba tour, but majorly you can spot Humpback dolphins, Bottlenose dolphins, Acrobatic Spinner dolphins, and Risso's dolphins.
The beautiful area is enriched with marine life and dolphins are habitually accustomed to this sparkling turquoise water for millions of years even before the arrival of the human.
Swim, Dive, Snorkel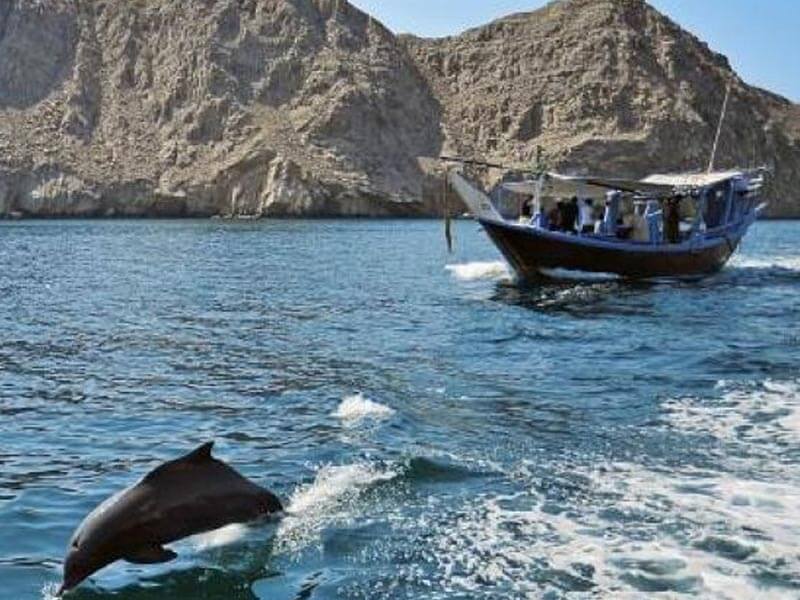 Explore the underwater marine life on your Musandam Dibba tour which is amazing. While you experience watching the dolphins up and close, Musandam tour packages allow you to do snorkeling for an hour around the stunning coastline.
Oman is one of the best snorkeling destinations in the world that will make you fall in love with the world beneath the water.
You will get an exclusive chance to snorkel with turtles and clownfishes which can be experienced nowhere else.
If you are a nature lover and wants to discover the stunning and magnificent fjords landscapes alongside the bay, Musandam Dibba is the place you need to visit.