Upgrading Your Desert Safari Deal was Never been So Easy
Choose the Right Desert Safari Deal For You
Beyond the luxury hotels, glamorous malls and towering skyscrapers of Dubai, you will find a fascinating metropolis with an incredible landscape. Embark on a thrilling evening desert safari in Dubai to experience the top-notch adventure and have a fun-filled day. Hit the sandy waves and get a fix for your overwhelming excitement for as low as 40AED. This fantastic desert safari is worth every penny of your Dubai trip.
What to Expect?
Enjoy a beautiful day in the desert with the dune bashing in an air-conditioned Land Cruiser. You need not to worry about your safety in the Land Cruiser as all vehicles are inspected before every tour and are secured with roller cages top.
The Outstanding Experience:
Witness the thrill like nowhere else and enjoy among the golden dunes in the Dubai desert safari with your friends and loved ones. The beautiful desert sunset will bring a big smile on your face as this scenic beauty is the loveliest thing you might have ever seen.
Delicious Arabian Dinner:
Savor the mouth-watering Arabian dinner with the real cultural entertainment by skillful experts.
Upgrade Your Desert Safari Packages Now
The detailed itineraries of the best packages will blow your mind, and you will start running on your foot to grab them as soon as possible. There are some add-ons in every package which you can enjoy by a little more payment. You can also choose the best package which is the VIP package offering all that you desire.
The Charming Standard Package:
Our evening desert safari standard package includes a self-drive package, a basic package, and an advanced package.
Self-Drive Package for Just 40AED Per Person:
In the self-drive desert safari package, you won't miss your dear car as you are allowed to come to the desert driving your vehicle. Then our skillful professionals will welcome you from the pickup point mentioned in the package and will take you to the tremendous off-road desert safari.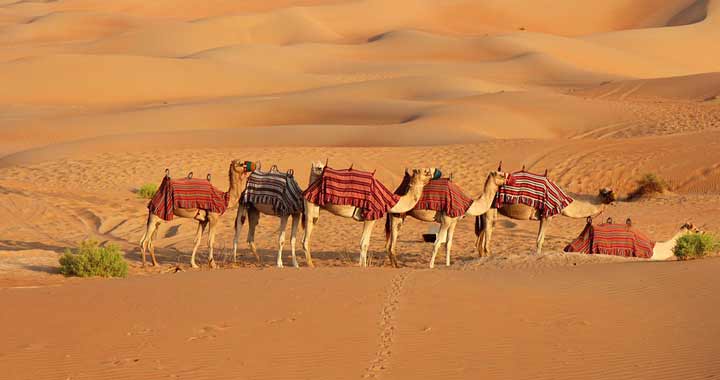 Free Inclusions:
The Main Inclusion of this Package are:
Dune bashing
Sandboarding
Camel riding
Unlimited drinks and beverages
Snacks
Dinner buffet
Henna designing session
Sunset photography
Toilet facilities
Exciting live entertainment shows
Paid Add-ons:
You can avail the following add-ons by spending a little more bucks.
Flacon photography
Camel safari
Full hand henna tattoo
Souvenirs shop
Sand art
Fresh juice
Horse ride
Quad bike
VIP services
The Basic Package for Just 69AED: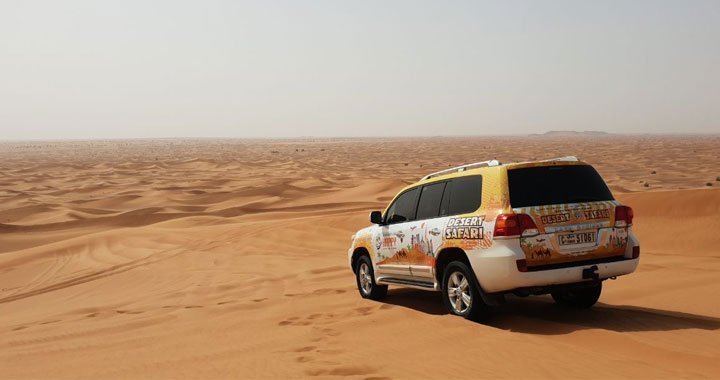 The basic safari package can be enjoyed in joys 69AED per person. It includes all the main inclusion of the self-drive package with an additional pickup service. You will be picked up from a bus standard pickup point and then taken to the vast land of sand to have a fantastic day. All other paid add-ons of the previous package are paid in this package too.
Advanced Package for 105 AED: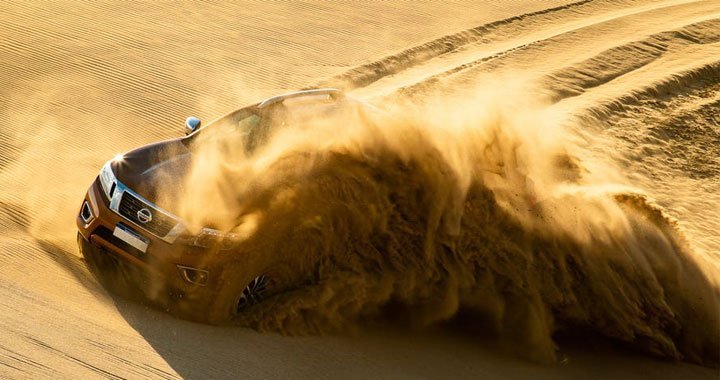 Do upgrade to this advanced package in 105AED if you desire to go with a large group of friends on this trip. This package offers amazing charm for big groups and includes all the primary inclusions of the basic package. The remaining paid add-ons of the basic package are paid here too.
The Most Attractive Special Package:
This special package includes an evening safari platinum basic and platinum plus package.
Platinum Basic Package for 150 AED:
This marvelous package offers many amazing service and entertainments that were included as paid add-ons in the previous packages. It contains all the loveable and free inclusion of the last package plus the falconry photography and VIP services for free too. You can easily upgrade to this package if you desire to enjoy the VIP service and have cool falconry photography for free.
Platinum Plus for 200 AED:
Quad bike lovers need to upgrade to this page as soon as possible to enjoy the thrilling all-terrain vehicle ride in the lovely dessert. All primary inclusions of the platinum package are included here plus the adrenaline pumping quad biking.
Exclusive Package for 700 AED Per 7 Person:
This private desert safari is a wonderful trip for those who desire to book their private car and don't want to share it with other guests. You need to pay 700 AED for your big group of 7 people and avail the private 4x4 safari, dune bashing, sand boarding, camel riding, snack and drinks, BBQ dinner, Henna designs, photography and the incredible entertainment shows. The paid add-ons for this private safari package include:
Falconry photography
Long camel safari
Full hand henna tattoo
Souvenirs from shops
Sand art souvenirs
Fresh and tasty juice
Horse ride
Quad bike
VIP service
The Most Demanding VIP package for 2000 AED per 6-7 person:
This VIP desert safari package in 2000 AED is the most popular one and is recommended for thrill seekers who desire to enjoy the desert safari like royals. It includes all the fun and free inclusion of the previous Exclusive Package plus the thrilling quad biking, horse riding, and VIP services. The only paid add-on in this package is the fresh juice, souvenirs from shop and sand art souvenirs.
Helpful Tip:
Wear loose and comfortable clothes to stay cool and enjoy your day to the fullest. Keep your stomach empty while dune bashing and also gives a shot to our interesting add ons and complementary facilities.
Conclusion
All trips require booking which you can do comfortably from our website. You will enjoy the best quality service with us like nowhere else and will surely be delighted by the fantastic trip. Contact us if you desire to upgrade any of your desert safari packages, and we will love to respond to your queries. Our professional people strive their best to ensure your satisfaction on this exciting tour and make it a memorable one for you.