Dubai Garden Glow - Explore the Magical Arabian World
Dubai garden glow is one of the exciting places in the UAE and a top attraction to visit. Dubai is a golden city that is filled with many splendid attractions. Dubai garden glow is located in Zabeel Park, spread over acres. Every year, many tourists visit and admire the beauty of its landscape. If you want your evening majestic with your family and kids, then this place will be ideal with the added feature of a Dinosaur Park. Every year you will get to admire multiple themes for the season. Where the amazing installations and light play show bring its uniqueness.
Want to know more? Check out this article to find the attractions in the park.
Dubai Garden Glow - Wonderful Attractions
Dubai garden glow has magical attractions, for this reason, many international visitors and locals are used to visit. These attractions provide them additional happiness just like desert safari Dubai. Back in 2015, many artists, engineers, and technicians around the globe gathered and built exceptionally fascinating and realistic exhibitions. In the last 4 years, Dubai garden glow has gained massive popularity and became one of the top landscapes to visit in the city. So these are the must-check attractions while visiting.
Art Park
Art Park is a gorgeous world, which is recreated with pure recycled stuff such as CDs and bottles. About 5 lacs pieces are recycled and give a beautiful display together. The beautiful man-made trees and bird display will amaze you like no other. Besides, in the art park, many other magical installations made out of recyclable pieces have to be seen to be believed. Which are a huge panda, a lovely peacock, lion, Rabbit, and a king cobra have been built out of tiny glass bottles. Whereas from colorful CDs, you will get to see many tall Camels and a giant elephant with pottery dishes.
Ice Park
The ice park is the most chill experience in a hot Dubai city. Where the temperature remains -7°C but no worries, you will be provided thermal jackets. There are about 500 tons is used to build gorgeous wildlife, monuments, and sculptures. While visiting Dubai garden glow, you are supposed to pay extra for the access ticket to the ice park.
Magic Park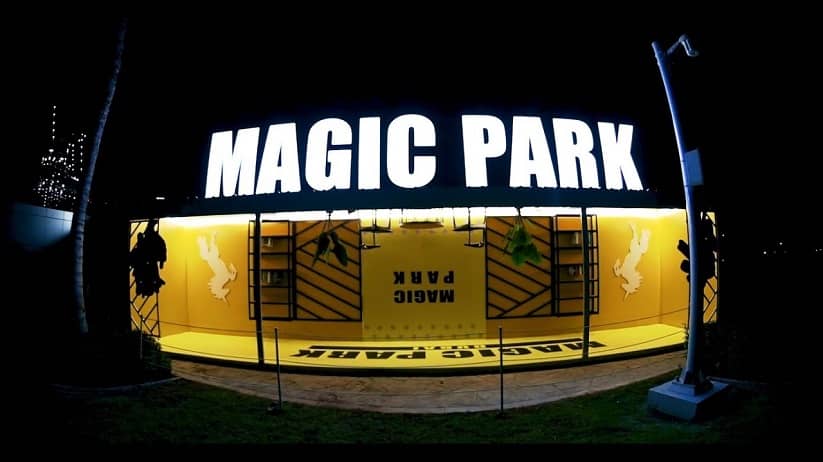 The magic park is famed because of the geometric forms and 3D art installations. Where in the park the lights create magic, which would be an eye-treat for the visitors.
Dinosaur Park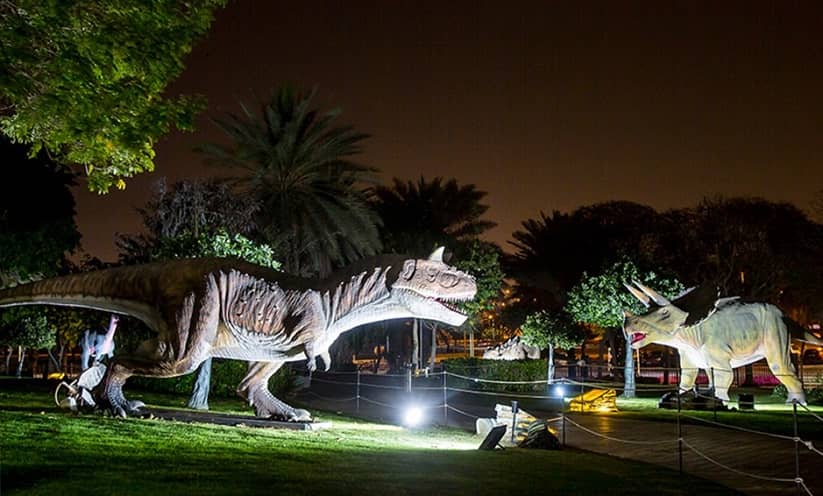 The Dinosaur Park is a never-miss thing in the Dubai garden glow and a modern-day Jurassic Park loved by kids and adults. In the park, there are more than 100 animatronic dinosaurs. Besides, you will find their stories of becoming extinct. The Dinosaur models are installed realistically that are ready to scare the visitors. Also, must check the Dinosaur lab and Dinosaur Museum has a collection of dinosaur skeletons.
Happy Forest
The happy forest is a gorgeous exhibit of wildlife in a unique way. These sculptures and installations are created with recycled fabric. For this, a happy forest would make you feel closely linked to nature.
Happiness Street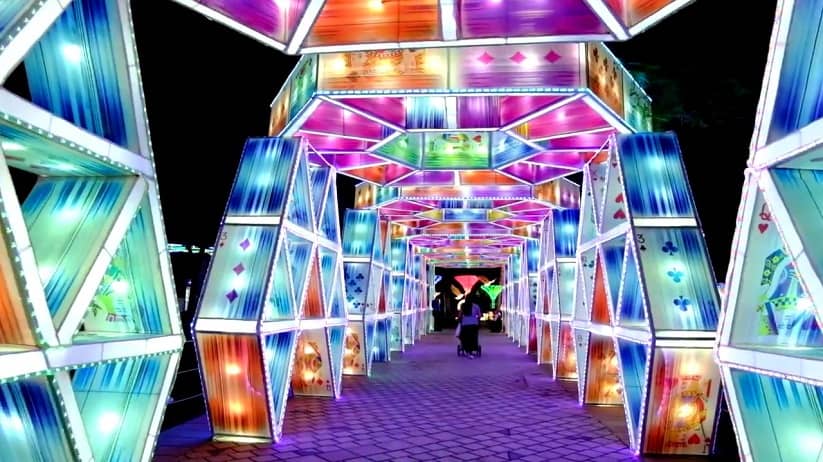 Happiness street is influenced by the motto of systematizing happiness. Where the magical representation of the aim section is made for an amazing spectacle at supporting this global cause. In happiness street, everything you will experience would be so wonderful and give you the aroma of positivity.