Ferrari World in Abu Dhabi - A Comprehensive Guide
Ferrari World amusement park is one of the major attractions in Abu Dhabi. It is located in the heart of Yas Island and ideal for people of all age groups. Ferrari World in Abu Dhabi has won many awards for being the best in the world. In 2015 & 2016, at the world's travel awards this theme park was named the "Middle East's Leading Tourist Attraction" and in the 2017 East's Leading Theme Park". Here is a complete guide to tell you everything about the thrilling rides at Ferrari World indoor Amusement park. So without any further ado, just fasten your seatbelts and get ready for the fun-filled read.
Why Should Visit Ferrari World Abu Dhabi?
This is a great opportunity for those to love to spend their evening in the indoor amusement park. In this manner, there are many reasons to enjoy the Ferrari world trip. Let's check out.
1- Ferrari Ride
This indoor amusement park is a feature of truly outstanding and most celebrated organizations in motorsports history. For engine geeks and enthusiasts of Formula 1 dashing, it's a paradise and probably the best spot to visit in Dubai. An amusement park that will give you firsthand experience of the marvelousness that lies under the banner of Ferrari. Steer the 'most upscale vehicle of the year' round the track with a co-pilot or have a good time with the entire family along.
2- High-Speed Roller Coaster On the Planet
An array of Ferrari themed adventurous rides all intended to dissolve your face away with speed, give a viewpoint of the rush the experts of F1 dashing live with every day. Make a point not to miss the world's quickest exciting roller coaster that goes at the speed of 250 km/h in an incredible 4.9 seconds!
3- Mouth-watering Italian Food
In the amusement park, you will also get to enjoy the delicious Italian goodies to enjoy.
4- Daily Events
You will enjoy many captivating events and activities partake in. Such as live shows, racing simulators, fun shows, electric-powered go-kart racing, and tons of racing memorabilia standing by to be collected.daily
Things to do in The Ferrari World
Let's enjoy the best experience of rides, entertainment, and food. Which will make your trip worth-enjoying.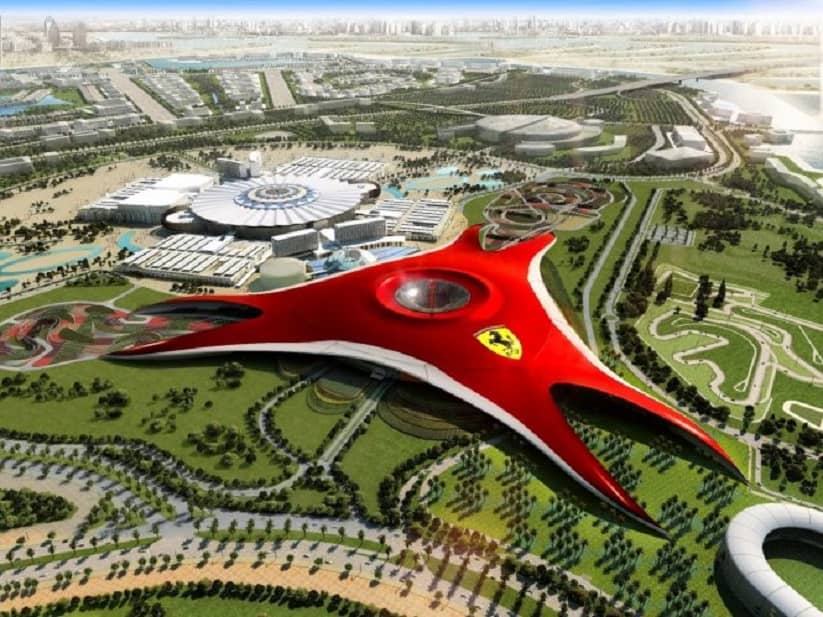 1- Flying Aces
Enjoy the world's most elevated rollercoaster, both under a similar rooftop in Abu Dhabi city. This ride is designed according to an incredible pilot called Count Francesco Baracca. Flying Aces will take you to statutes of 63 meters at an amazing 51-degree slant that makes certain to make anybody's heart race. Hit the world's most elevated rollercoaster bands at velocities of as high as 120 km/h at the Flying Aces!
2- Fiorano GT Challenge
Rival your companions on these equal tracks displayed after a genuine GT racecourse in your own personal Ferrari F430 Spider. Tie in for elating exciting bends in the road, and the soul of competition on this sensible racecourse, where you can go to speeds up to 94 km/h!
3- Speed Of Magic
Switch in for an impossible experience with Nello, a wicked Ferrari driver who will take you on an undertaking that fantasies are made of! This 4-D wonder will make you experience dynamic changes in temperature, dampness, light and development graciousness of the best in class reproduction innovation. Ride into seas and the most elevated bluffs in the most reasonable setting conceivable.
4- Il Podio
The most ideal approach to have a bona fide feasting experience at a theme park, the Il Podio is designed according to the genuine staff refectory in the production line at Maranello. The café has a wide assortment of foods going from Indian, Arabic, Continental, to the undeniable Italian satisfaction. The best part of this spot must be the scope of desserts they have.