Dubai Festival City Mall - A Comprehensive Guide
Posted On: 25-03-2021
Dubai Festival City Mall is one of the most amazing retail. Dining, and entertainment development in Dubai city. The Festival City Mall is located in Deira Creek and a wonderful attraction for tourists and locals. By the way, this city of gold offers visitors many exciting things to try. Such as adventurous desert safari, splendid skyscrapers, huge markets & souks, water & theme parks are a treat. But Mall experience is the next level for a happy shopping experience.
Where almost all the malls of the golden city have famous brand stores with cost-effective prices. Besides the shopping experience, you will also get a chance to enjoy a thrilling ride to Ain Dubai, which is operated from 2 PM to midnight. But as shopping facilities the Dubai Festival City Mall (DFCM) offers a remarkable range of department stores and outlets to pick from. Which is dedicated to fashion, fun, and lifestyle, this mall is always charged with the latest designs from all brands outlets. Having 500 brands in the mall some are as follows:
Dubai Festival City Mall - Some Popular Brands
Fashion and LifeStyle
No shopping is completed without purchasing clothing. From kids to adults, and from adults to senior citizens. Everybody loves to look for a dress. Especially when the shopping centre is in Dubai city. So head to probably the best places referenced beneath to shop the most recent designs and styles.
Zara
Old Navy
River Island
American Eagle Outfitters
Massimo Dutti
Kiabi
Iconic
Charles and Keith
Accessorize
Kate Spade
Guess
Marks and Spencer
H&M
Aeropostale
Topshop
Banana Republic
GAP
Koton
Centrepoint
Steve Madden
Kate Spade
Guess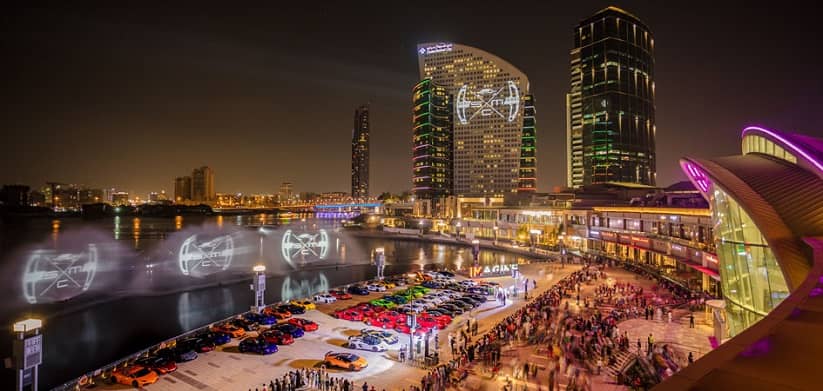 House Furniture
Home interior themes sure get the eye of all. Like everyone loves to see their home looks lovely and bright. Brighten your place by purchasing astonishing stylistic layouts and furniture from the following mentioned places, and who realizes you may be lucky to find some exciting deals or discounts.
Jashanmal Home
Royal Furniture
Pan Emirates
Al – Futtaim ACE
Danube Home
The Comfort Store
Dwell
The Mattress Store
Jewellery & Watches
Wondering what is an ideal gift for your partner? Easy peasy, there is no better gift than the watch and the jewellery. These are the following mentioned places.
Pandora
Damas Jewellery
Fossil
Swaroski
Pure Gold
Guess
Sports
When it comes to fitness, everyone wants to look fit and smart. The major thing is that everyone wants to look good in their workout outfits. You can get your best sporty outfits made out of high-quality fabrics from these places.
Athlete's Foot
Skechers
Soccer Scene
Under Armour
Stadium
Hamac
Sand Sports
Health and Beauty
When grooming gives your happiness and satisfaction, so self-love is important. So these are the best places, where you can find your best beauty products with discounted deals.
Bath & Body Works
The Art of Shaving
Victoria's Secret
Tips & Toes
Aster Pharmacy
Swiss Arabian
Sephora
Arabian Oud
Boots Pharmacy
Restaurants and Cafes
Shopping becomes exhausting when you run throughout the mall. Satisfy your hunger and quench your thirst by visiting these amazing food outlets in the mall.
The Cheesecake Factory
Peppermill
Motomachi
Famous Daves
Cafe Bateel
Eataly
Hardees
Krispy Kreme
Hard Rock Cafe
PF Chang's
Sugar Factory
Al Fanar Restaurant and Cafe
Big Fernand
Bareburger
Wendy's
KFC