Museum of Illusions - Explore the Beautiful World at Al Seef Dubai
Posted On: 23-02-2022
As we all love to visit museums because Its visit blows your mind entirely. As whatever seems is different from actuality. Concluding some spine relaxing occasions for one to admire at. While most of us are curious about visiting museums. However, others discover it boring and just ignore it. But, if you considered any museum in Dubai. To witness history, science, arts etc. Then we have valid information that will verify you're wrong.
Dubai city never forgets to keep counting fun & quirky attractions in its store. Besides, this time it is launching a museum. That is called a new Museum of Illusions is founded in September 2018 at Al Seef Dubai and it will leave you amazed with what it presents. It has the most extensive displays of optical illusions and about 80 productions. On the other side, this wonderful attraction is covering every case of human interest.
Some of the presentations that the Museum of Illusions Dubai presents are a Vortex tunnel. That tricks your mind into believing that the ground under your feet is moving. While other displays "Ames room", makes you grow, shrink, and do many more additional tricks. You will get amazed. For one thoughtful, amazing and exciting experience. You will get into the glamorous world of optical illusion. Here are occasional amazement and activities to partake at the Museum of Illusions Dubai.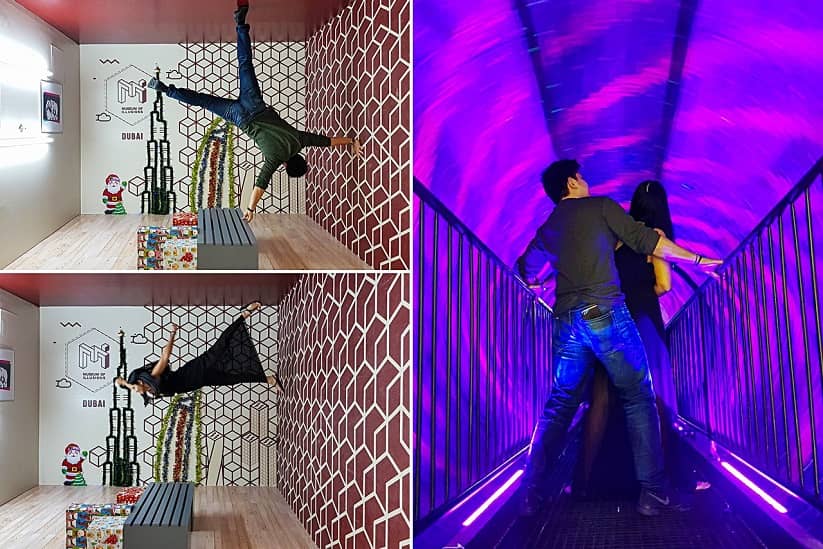 Museum of Illusions Dubai Attractions
1. The Vortex Tunnel:
The Vortex tunnel is the foremost of its style in the United Arab Emirates. Thus it carries an impressive trick in the enchanting world of optical illusion. It is quite different trickery that offers people a fantasy of walking. Which is via a rotating cylinder. The vibes will get your funfilled feelings very high. As you will feel like you lose floor at every step. The falling fear and head-spinning thing occur at the same time. Suppose all this is on the entirely steady and balanced ground.
2. The Anti Gravity Room:
The orientation of an anti-gravity room is different and next level. Where the things operate against the physics laws. It will make you wonder if it's a fantasy or things are actually ensuing. However, the trick will work on your eyes to an area where it interrupts your mind.
It forces you to feel that you are standing on an unbalanced surface. Where the support might be needed. With bouncing objects like balls moving upwards or water flowing uphill. it is happening where you will surrender to surreal circumstances.
3. The Chair Illusion:
The chair illusion is mere magic as it is completely established on the law of proportion and perception. The path you sense things are recollected via its altitude. Whoever grabs the chair go through the same situation. It is fascinating to view the illusion of a spoken individual having the tiniest state. while the person sits on a seat and an average-sized person. Next to the person sitting on a chair looks completely different and funny. A photo from a separate angle will garner rave misconceptions. Where the person can play with the size and roll to spread the magic.
4. The Rotated Room:
You can step on the walls of the Rotated Room in the Museum of Illusions. Or you can oppose the laws of gravity or perception. This room is kind of enjoyable to be in because you consider the world near you upside down and twisting at 180 degrees. Participate in all these thrilling activities while you click as many wonderful pictures in every imaginable pose. Due to this reason, it is pleasure to take shots and share them with colleagues or friends. While you step on the roof of the room or fetch your vision wild with your companions.
5. The Ames Room:
Ames room is an outstanding optical illusion of the museum in Dubai. That pushes visitors immense massive in size at one side. Besides, it makes them tiny on the other side when they step back. It can shake you to your humorists to believe in unfolding the magic. As the individual walks to and fro directly from existing a dwarf to a giant size person.
6. Turntables:
If you expect to lose your mind and explore a unique pastime. Besides, being mesmerised surely is the soundest trick. It is based on visual illusions created by two rotatory turntables at the same time. This support forms specific practices to produce different mind tricks.
7. The Infinity Room:
W
alking into an infinity room is an almost unspeakable sensation. We can say it is Part claustrophobia or part confusion. These sensations fastly decline and are substituted by astonishment. Have you ever been amazed? at what it's like to gaze into always. We consider that the infinity room is as packed as you will ever reach. Each path you examine and witness by yourself. Besides, the room, move on, on, and on… If you haven't seen the Museum of Illusions Dubai yet, then you might be acquainted with the infinity mirrors idea in the outcomes of stylish artist Yayoi Kusama. She is renowned for her use of mirrors, lights and polka dots. Also, she constructs immersive structures that sense like the person steps through the abyss, space, or even a world of endless places.
8. Head Served on the Plate:
It is mesmerized about making shots and videos appearing on the internet. Where the image is someone's head is placed on a platter. You will get to see the same view here. It is kinda scary trick that scares you while watching a horrible sight. Or it left you astonished from seeing the shocking stuff. The head illusion is a must-see events with your friends, family or colleague. However, joy does not harm you.
9. The Clone Table:
The Clone table vision offers the prospect to sit at the table with yourself. Yes, exactly this thing happens. It examines like a standard large round table, which is really a circular shape. That reflects your vision at a 60-degree angle into an entire circle. Where while sitting, you will get to see your five clones.
10. Ambiguous Cylinder:
The vision of an Ambiguous Cylinder assembles a notable shape of the geometry. Such as a cylinder or a quadrant relying on your perspective. In front of the mirror, the object is put in a box. Then it is witnessed from two opposite sides at any point. You can turn or spin the object at an angle of 180 degrees. Also, move the handle in the direction of left or right.
11. The Swap Noses:
If misshaping is joy in photos, watch it is for yourself. Admire your reflection in the mirror and witness your unique version. It definitely will preserve your amusement all the course. While showing you another facet makes laugh.
12. Stereogram:
Last but not least, the Dubai Museum of Illusions introduce a stereogram, which is a three-dimensional puzzle. However, the hidden object is positioned inside it. They can be found only if one manages to obtain an acceptable view of the three-dimensional puzzle from a particular place.
13. Conclusion:
The Museum of illusions Dubai is a promising place in the Middle East. It should not be overlooked while exploring the golden city of UAE. It is a whole pleasure to the whole group friends or family. The Dubai Museum of Illusions leaves behind all your inhibitions to bring you back the most of it. Go visit here and make some memorable memories!