New Year's Eve 2022 in Dubai
Posted On: 31-12-2021
As everyone will get a fresh start with positivity and love. Where everybody makes goals for personal transformation. It's time to cheer "Happy New Year 2022" to your loved ones in the United Arab Emirates. For this, an epic celebration through record-breaking fireworks displays by the Burj Khalifa - At the top. Not only there but also some star-studded performances and glamorous galas on the beach are counted too. Where many people around the world visit Dubai to welcome the year 2022.
Some people celebrate by letting their families enjoy Dubai's festivities. Such as camping at the desert safari tours, exploring family gatherings with exciting activities, enjoying dhow cruise dinner etc. This golden city of United Arab emirates never disappoints its locals and international visitors. Where everyone is waiting for striking the clock on 12, so they enjoy the famous fireworks displays. Where there will be beachside celebrations and live concerts held to splendid the fun. The live concert will be at Atlantis The Palm by Robbie Williams, Music filled Opera, a party at the penthouses, a celebration at the Lotus Mega Yacht and some secret parties are enjoyed to say to each other Happy New year 2022.
But due to COVID, everyone has to follow guidelines while having fun. So everyone will enjoy their best time without getting sick. Because the atmosphere in Dubai is colourful and cosmopolitan at that time. Where the plane tickets and tour tickets prices get higher and higher. So it's better to make your tour, hotel's reservation in advance. So let's what are those places where the celebration is begun.
7 Best Places to Explore on New Year's Eve 2022
An Eye-Catching Fire Work's Display at Burj Khalifa:
The most people things to do in Dubai, where people wish each other "Happy New year" is its impressive firework's show at the World's tallest building. Which is amazing, unique and well organized every year. Along with the fireworks, light shows on the LED panel and laser lights cover the full height of Burj Khalifa. Besides, this display is streamed live around the globe.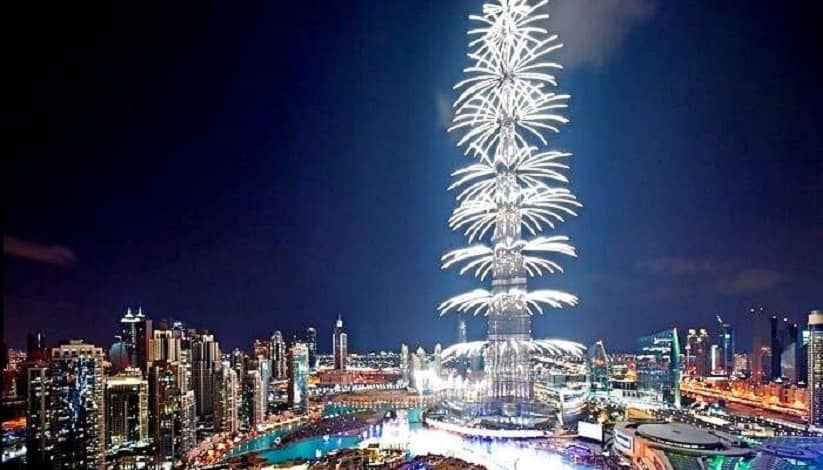 Luxury Dhow Cruise Dinner:
Dhow cruise dinner is the second most unique thing to do after the fireworks show. Where you will be provided luxurious magical sightseeing on a comfortable and modern traditional wooden boat. From there, you can get impressive and remarkable views over the city. Besides, enjoying a delicious buffet dinner containing local specialities with a giant salad bar and mouthwatering Arabic desserts. But you're supposed to make your reservations in advance as transportation things are very congested this month.
Desert Safari Tour:
Many tourists and locals celebrate new year's ever in the desert, however, some stay at midnight or some stay the whole night by enjoying the overnight desert safari tour. But believe it or not, the fun becomes double. Because as you know November, December, January and February are the best months to explore the Arabian desert. As the temperature remains mild and pleasant. Where transportations service is available for the residents in Abu Dhabi, Sharjah, Al Ain and Ajman. But it is essential to book your desert tour in advance as the majority experiences this tour in these months. So must try this, because it is the cheapest thing to do on New year's eve 2022.
An Exclusive Celeberation at the Burj Al Arab:
The most exceptional gala dinners are held in the Burj Al Arab this month. The dinner is starred the menu of haute cuisine prepared by the international award-winning chefs with their experts. Where on the other hand, live entertainment shows and DJs set splendid fun. Since this thing is pretty expensive, where the minimum stay for 5 nights costs around 30K USD or 110000 AED. But the majority comes to enjoy fireworks for free, which can be easily covered from Kite Beach or Jumeirah Beach. However, the residents visit Black Palace Beach. Where the fireworks display of both Atlantis and Burj Al Arab is easily seen.
Atlantis the Palm:
If you're a luxury lover and desire a luxurious celebration, the Atlantis the Palm's restaurants are perfect for you. It is the one expensive place where many luxury lovers explore to welcome the new year with zeal and zest. Where it offers the memorable delicious & lavish dinner prepared by world-class chefs, entertainment shows, dance and music. Its many restaurants offer several packages with multiple menu proposals and multiple themes. Where the package prices including the celebration start from 2000 AED and the gala dinner cost 3000 AED. Along with them, an impressive fireworks display is held at the Atlantis the Palm beach. Those dinner packages are booked for the hotel's guests. Furthermore, some dedicated stuff "Superhero party" is designed for the kids. While adults will get to enjoy a gala dinner and fireworks show.
Dubai Opera:
Dubai Opera is five minutes walk away from the Burj Khalifa and hosts exhibitions, ballets concerts, and live shows throughout the year. Where multiple musical performances, such as live bands and Live DJs are performed. It is a perfect place for music lovers, can also be facilitated by the delicious and glamorous cocktail dinner with access to unlimited drinks. Many people visit and enjoy the live performance of the 2020 finalists of Britain's Got Talent "Aaron & Jasmine". Where covid guidelines are mandatory to follow and the age restriction is 12+.
Hatta UAE Mountain Tour:
If you're a nature lover, then you must celebrate new year's eve 2022 at the Hatta tour. Where the exceptional beauty of the Al Hajar Mountains splendid the pleasure. However, some electrifying activities help you to put more colours. Such as Hatta Kayaking, zip-lining, mountain biking and hiking are offered with the necessary equipment on rent. You can also visit some cultural places such as Heritage Village, like a museum consisting of 30 ancient buildings. Which explain the history of the Middle East. Moreover, Hatta is covered around the beautiful lake with turquoise water located between rough high mountains
If you desire to have a memorable experience, then you must explore the following attractions at least once in your life.