Restaurants in Abu Dhabi - Satisfy the prosperous Gastronomic Pleasures
Posted On: 24-06-2022
Explore the best fancy restaurants in Abu Dhabi and enjoy delightful cuisines. The capital of the United Arab Emirates, Abu Dhabi attracts and fascinates visitors from across the globe. Along with its incredible experiences and temptations. The enthralling and graceful Sheikh Zayed Mosque and desert safari Abu Dhabi are the sights to notice in the city. While Ferrari World with its exciting activities, including the fastest roller-coaster in the world.
It guarantees continual explorations and adventures. World-class museums, UNESCO world heritage sites and fascinating shopping. Along with infinite culinary pleasures make your excursion to the town memorable. The restaurants in Abu Dhabi are a meditation on their metropolitan feels. As well as elegant splendour, relating various alternatives. Besides, cuisines to satisfy your hunger and palate. We have discussed some of the promising restaurants in Abu Dhabi for a culinary understanding as wealthy as your travel fantasies.
Top 11 Restaurants in Abu Dhabi for Best Dining Experience
Browsing for the reasonable and top restaurants in Abu Dhabi? The location proposes a high-standard gastronomic festival for the foodies. By exploring and around the capital city of the United Arab Emirates. While there are countless restaurants in Abu Dhabi, these 11 different restaurants are located where you must try different cuisines as per your choice. For an exotic dinner feast. Take a glimpse!
Byblos Sur Mer – Lebanese, Mediterranean & Middle-Eastern
The Terrace on the Corniche – Middle-Eastern & Arabian
Villa Toscana – Mediterranean, Italian & European
Punjab Grill – Asian, Vegetarian Friendly & Indian
BOA Steakhouse – Steakhouse & American
Hakkasan – Chinese
Zuma – Sushi, Japanese & Asian
Li Beirut – Arabian, Lebanese & Middle-Eastern
Chamas – Brazilian
Finz Restaurant – Seafood
Almayass Restaurant – Lebanese & American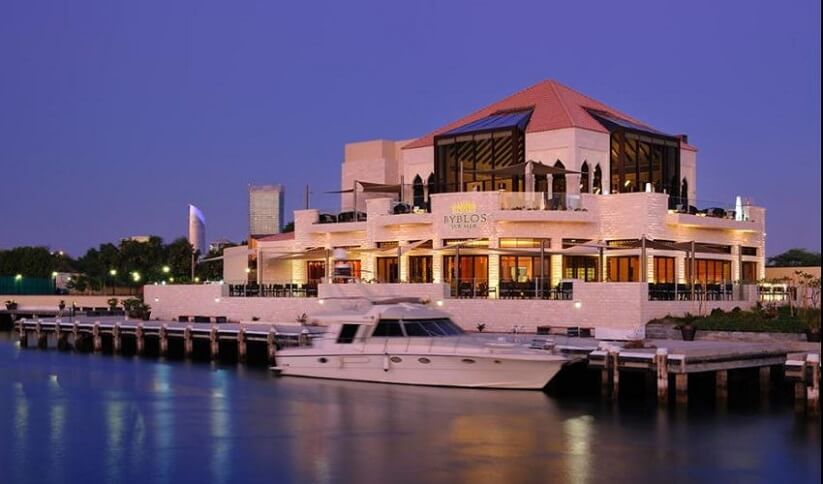 1. Byblos Sur Mer:
Your exploration of the top-class restaurants in Abu Dhabi with a lovely impression. That also fulfils the extensively true Lebanese cuisine in the city at this tremendous delicious dining platform. With an elegant outdoor dining space, the selection to smoke shisha. Along with a few of the favourable cocktails is an event to observe.
However, the Friday brunch is amazing and you can also admire wonderful music over weekends. Along with a bunch of Lebanese dishes. Must try their seafood, kebabs, hummus and fattoush. They are precisely excellent and the well-mannered faculty raises the bar. To present the best customer service to the visitors.
Location: King Abdullah BinAbdul Aziz Al Saud - Al Khubeirah
Timings: 12 PM to 2 AM on Sunday to Thursday and 12 PM to 3 AM on Friday to Saturday
Also Read: Eastern Mangroves - Explore the Best Kayaking Experience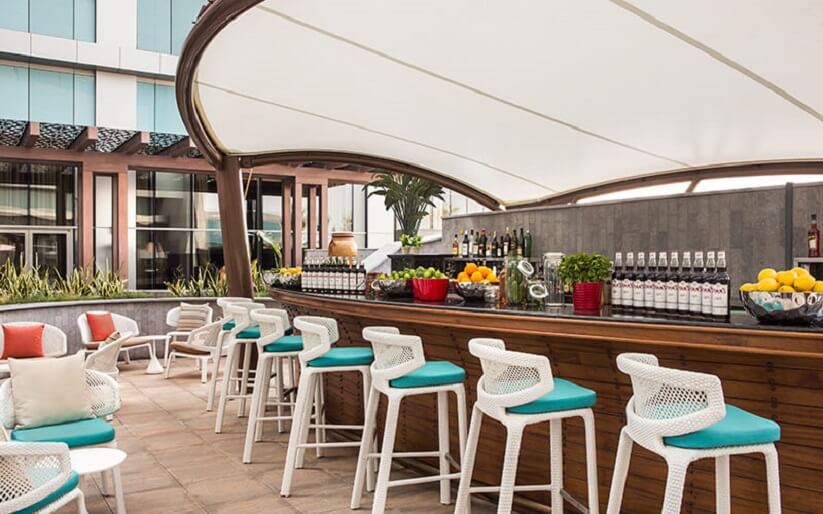 2. The Terrace on the Corniche:
Certainly, one of the promising buffet restaurants in Abu Dhabi. This one of the restaurants attends to a tremendous choice of food for all three categories. Such as for breakfast, lunch and dinner. The fashionably formulated position is checked by incredible & skilled faculty, who obtain considerable attention to the guests.
However, the Friday brunch at the diner is relatively prominent for its reach and outstanding choice of dishes. Also, the remarkable main course, hors d'oeuvres and the dessert setting surpass prospects. Their chocolate fountain, carved cakes and extra such pleasures are trivialities brief of an endeavour of craft.
Location: Nation Tower – Corniche Abu Dhabi
Timings: 6:30 AM to 11:00 AM and 7:00 PM to 11:00 PM on Sunday to Thursday. However, the morning hours differ from Friday to Saturday.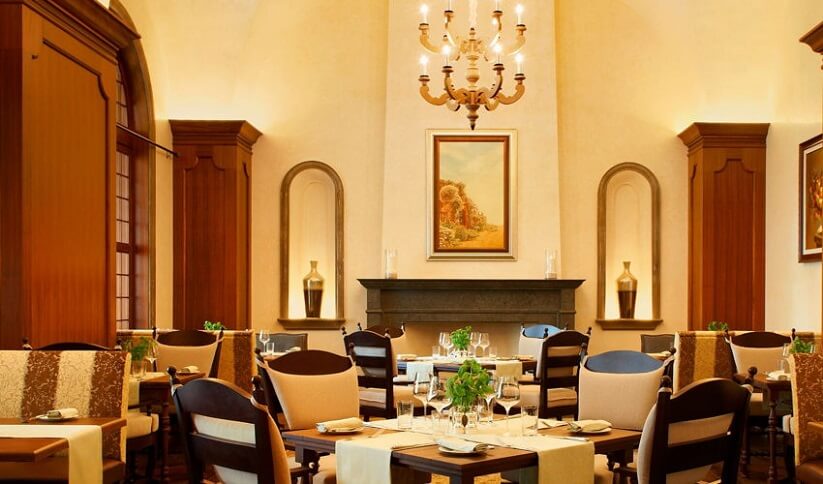 3. Villa Toscana:
unmistakable, one of the top outstanding restaurants in Abu Dhabi for true & flavorful Italian cuisine. Villa Toscana fulfils its name, where the scenery is luxurious and fashionable. The faculty is skilled and the atmosphere is precise for a satisfying meal. With delicate homemade pasta, ingredients, considerable seafood alternatives and charitable amounts. You will enjoy every variation of your meal at this elegant diner. Indicating outstanding customer assistance, they even pour amazement with some favourable food in between your meal orders. It's among the promising Corniche Abu Dhabi restaurants to eat out at.
Location: St. Regis Abu Dhabi – Nation Towers, Corniche Rd W
Timings: 12:00 PM to 3:00 PM, 7:00 PM to 11:00 PM on Sunday to Thursday. Or 12:30 PM to 4:00 PM, 7:00 PM to 11:00 PM on Friday and Saturday.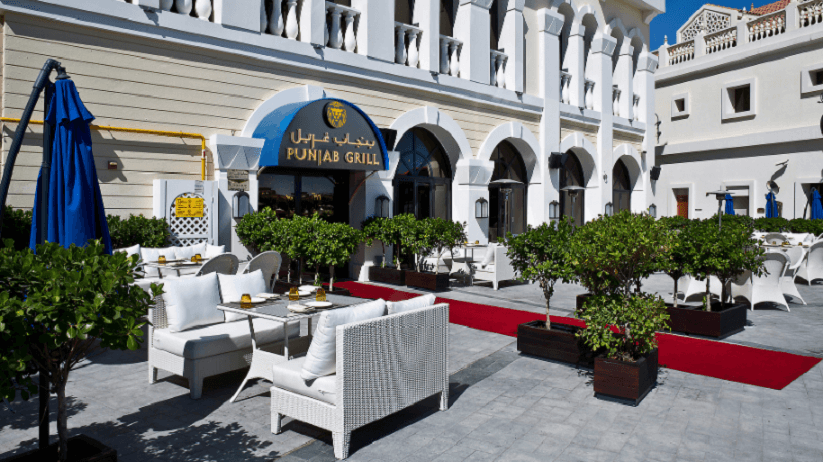 4. Punjab Grill:
Encountered the inner side of the Ritz Carlton. It proposes top-class restaurants with an excellent atmosphere. One of the high-class Indian restaurants in Abu Dhabi. The Punjab Grill brings you a memorable gastronomic happening with its delicious flavours & spices. The provided service is flawless and the staff formulates beneficial recommendations for your food order.
You can order both vegetarian and non-vegetarian food prepared to perfection and some outstanding appetizers. Such as tasty watermelon sliders carve your day. One of the best Abu Dhabi restaurants with a lovely impression of the connecting bridges and the mosque is the precise option for elegant Indian food to eat out.
Location: Venetian Village – The Ritz-Carlton Grand Canal
Timings: Every Day from 12:30 PM to 12:00 AM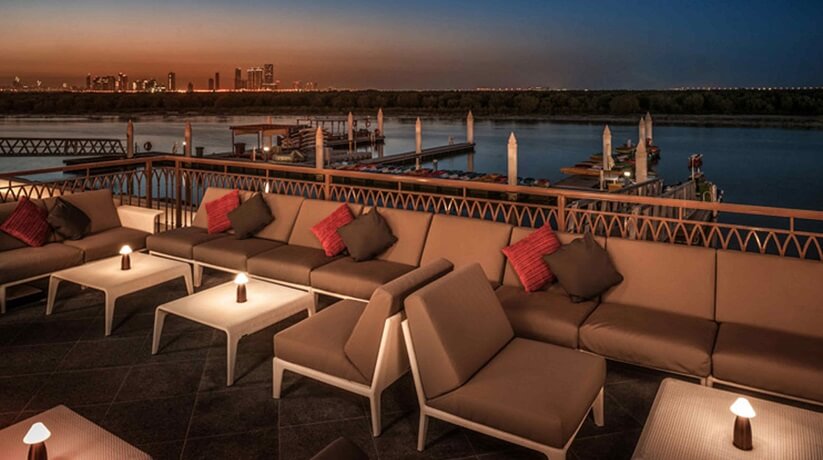 5. BOA Steakhouse:
This contemporary day steak house with a fashionable and comfortable atmosphere is one of the promising restaurants in Abu Dhabi. For a lavish American-style lunch and mind-blowing Friday brunch. Steaks and American cuisine are prepared flawlessly. Besides, the special steaks & chops are filled with an alternative of rubs and house sauces. The bartender, Benny, readies some wonderful cocktails and serves them with a lovely smile. Also, in the dessert section, they must have their Bounty dessert.
Location: Sheikh Zayed Bin Sultan St
Timings: 12:30 PM to 1:00 AM from Saturday to Wednesday, 12:30 PM to 2:00 AM on Thursday, 12:30 PM to 5:00 PM and 6:00 PM to 1:00 AM on Friday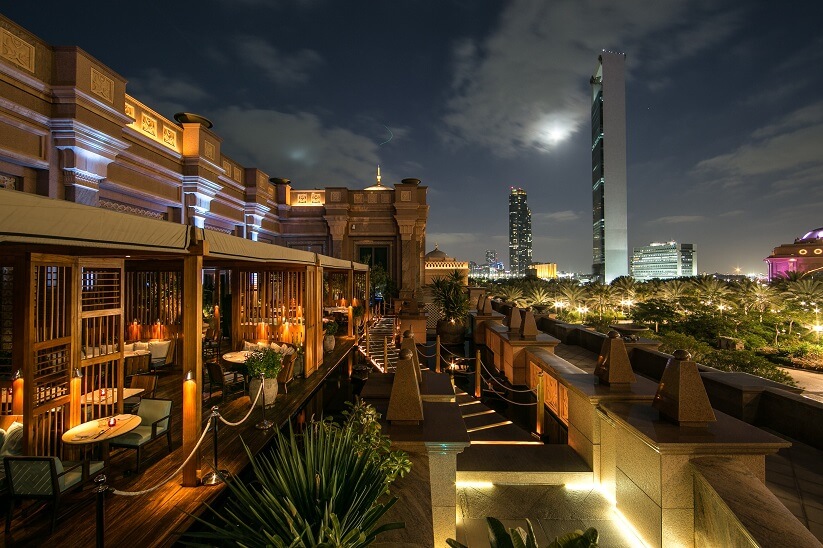 6. Hakkasan:
this Michelin star diner surpasses intentions both in the summary of the wonderful dishes and flawless service. The gorgeously ornate innermost and exterior eating-out areas are remarkable. Besides, the ordered dish is flavorful and foreign. The amazing impression of the skyline from their balcony renders it one of the top romantic restaurants in Abu Dhabi. The faculty is familiar and valuable, and the comprehensive bar fulfils incredible cocktails.
Location: Emirates Palace Hotel Al
Timings: Every day from 3:00 PM to 12:00 AM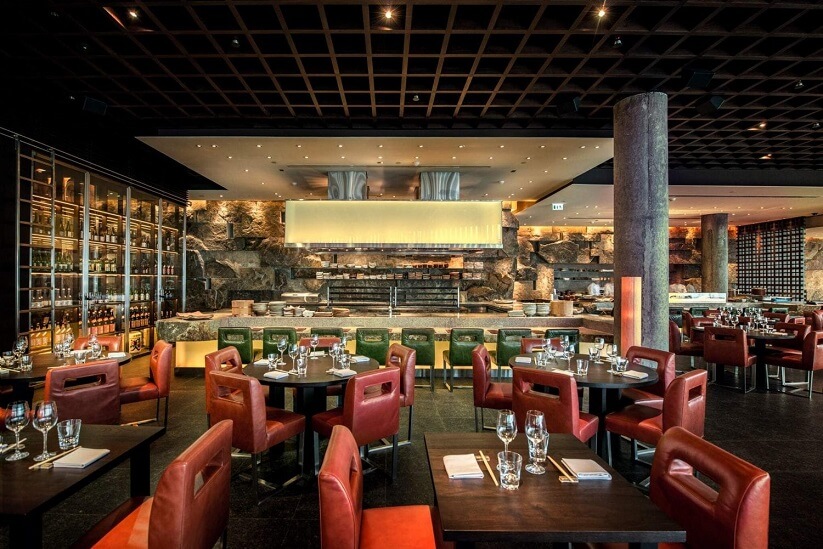 7. Zuma:
This modern and exclusive sushi bar surely stars among the most amazing restaurants in Abu Dhabi for delicious Asian and Japanese cuisine. The atmosphere is wonderful, the music reassuring and the assistance excellent. They fulfil amazing dishes, such as miso-marinated black cod, asparagus with wafu sauce, thinly sliced seabass, sashimi and soft crab sushi. They feed vegetarians too with tremendous sushi and additional foods as good as the non-vegetarian cost. The bartenders ready some cold beverages, while the delicious bar bites will retain you satisfied till you excavate into the main course.
Location: Sowwah Square – Al Maryah Island
Timings: 12:00 PM to 1:00 AM on Saturday to Wednesday, 12:00 PM to 2:00 AM on Thursday and 12:30 PM to 2:00 AM on Friday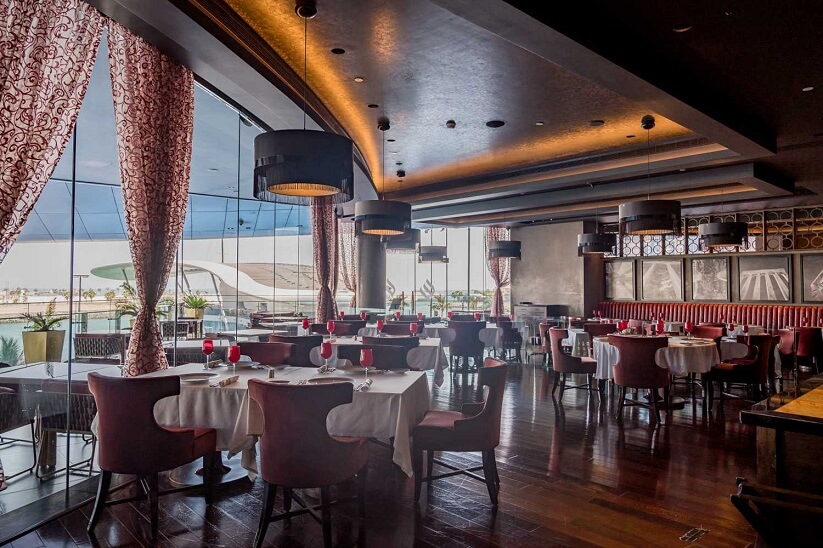 8. Li Beirut:
One of the outstanding Lebanese-styled restaurants in Abu Dhabi, the cooks at this prosperous Lebanese diner. They have refined the craft of heightening the top amazing food. Such as kebabs & falafel into something outstanding and fascinating. The wonderful eating-out location, flawless service and excellent food will bring you the wish to appear back for extra. The scenery makes you believe that you're crouching in Lebanon. On the other side, the informed faculty assures you're enjoying a great time. There is a different region for liquor, and the desserts section enlarges your ideal feast.
Location: Corniche Road West
Timings: Every day from 12:00 PM to 3:00 PM and 7:00 PM to 12:00 AM
9. Chamas:
Encountered in the soul of the UAE' a capital city. This one of the Brazilian-themed restaurants fulfils 16 categories of quality slashes of meat. In which each tasting promising than the previous. With their all-you-can-have strategy, this is the best feast for meat lovers. They must try, whenever they come across the UAE's capital city. Also, it is one of the early Brazilian restaurants in Abu Dhabi. From where Chamas gives a vibrant atmosphere and promising music also. Nobody is extremely difficult with the beneficial and knowledgeable faculty.
Location: InterContinental Abu Dhabi – King Abdullah Bin Abdulaziz Al Saud Street
Timings: 6:00 PM to 11:30 PM on Saturday to Tuesday and 6:00 PM to 12:00 AM on Wednesday to Friday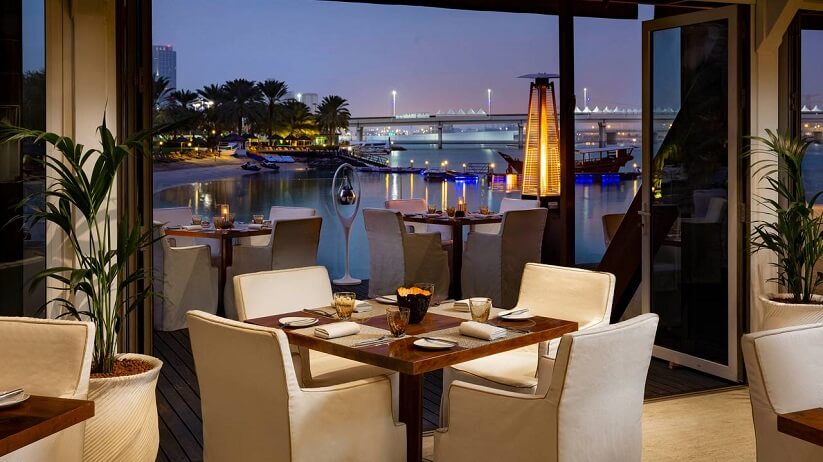 10. Finz Restaurant:
If you have a craving for seafood and to enjoy a bite of the exotic formulae fulfilled in Abu Dhabi. Then Finz restaurant is in an outstanding position to relieve your craving. One of the restaurants is located near the Beach Rotana. Besides, you can capture the sensations of the glistening ocean while enjoying the scintillating seafood.
Location: 10th St – Beach Rotana
Timings: 12:30 PM to 3:30 PM and 6:00 PM to 11:30 PM every day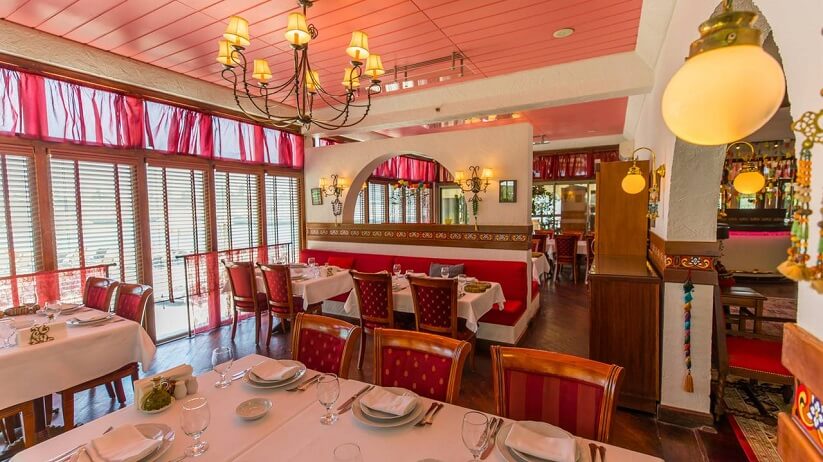 11. Almayass Restaurant:
Almayass is understood for its outmoded layout and traditional atmosphere. It fulfils Lebanese and American cuisines. Besides, it is amongst the top animated spots in the town, where you can apprehend the regional vibe. Don't skip to bite Batinjan harr if you explore the diner while living in Abu Dhabi.
Location: Sheraton Hotel and Resort – Corniche Rd
Timings: 12:00 PM to 3:00 PM and from 7:00 PM to 12:00 AM daily