Al Wathba Fossil Dunes - A Natural Treasure in Abu Dhabi
Posted On: 01-07-2022
UAE has many breathtaking attractions in every region. In, Al Wathba Fossil Dunes spot is a hidden treasure in Abu Dhabi city. However, it is relatively extraordinary and doesn't jump on the formal bucket list in the city tours and Sightseeing. Such as Places to visit in X city. These are attractions, which are not very distant from UAE's city. Besides, it can effortlessly be wrapped up in a day tour. Also, if you are exploring UAE's capital city. Then after a desert safari Abu Dhabi must experience a tour of Al Wathba Fossil Dunes.
The United Arab Emirates is comprehensive and its regions especially the capital city, have several attractions. Along with impressive realistic panoramas. The Fossil Dunes will be straight among the high-rated attractions. Along with Wathba Wetlands, Jabel Hafeet etc.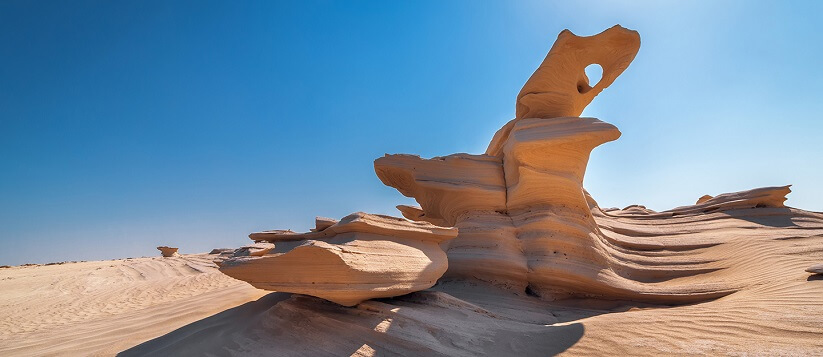 Al Wathba Fossil Dunes, Abu Dhabi - Brief Overview
The incredible Fossil Dunes of the Al Wathba desert are 100% organic landscape arrangements. One of the high-rated and remarkable facts about this place is that its entrance is FREE. Besides, you can tour whenever you desire to. All you need to do is pick your cameras or smartphones. Capture the fascinating structures that notice impressive.
Charming Fact:
Although Al Wathba Fossil Dunes are not so well-known among international visitors. Besides, some locals are not aware of its presence as well. But Abu Dhabi's deserts and its supernatural landscape have enthusiastic Hollywood moviemakers for a long time. The fossil dunes have been starred in many Hollywood movies. Such as
Star Wars: The Force Awakens released in the year 2015
Six Underground in the year 2019
Location:
Fossil Dunes are found in the Al Wathba desert, Abu Dhabi.
It is near the Al Dhafra Military Air Base.
How Al Wathba Fossil Dunes Came in Contact:
Generously, just like patterns of Arabian sand, fossil dunes are also constructed by the progression of Arabian sand-loaded winds. It is over an extended duration thus the pattern of these fossil dunes stays shifting over the period (decades).
Likewise, the Al Wathba fossil dunes are constructions of wind-swept Arabian sand. It is saturated with calcium carbonate. However, it is strengthened to form unique, distinct and conceptual organic desert arts. If you will fetch an opportunity to glimpse nature, then the artist will be praised for his work. Although the precise geo-scientific explanation as to why fossil dunes at Al Wathba get established in particular areas of Abu Dhabi city. Besides, not being in another area is not yet entirely appreciated.
How are Fossil Dunes at Al Wathba Desert Look?
The arrangements are prepared with wind-swept sand. That, when penetrated with calcium carbonate, launches to strengthen and create distinct, fluctuated and conceptual patterns.
All sand patterns will be remade over time. Besides, no two arrays are perpetually similar.
It takes centuries to shape after an organism is concealed into the planet and subjected to warmth and stress.
Authorities View:
Arrangement of the sand patterns in the Al Wathba desert in Abu Dhabi can be created from the residues. That resolved on the bottom when the whole area was aquatic millions of years before.
Remainders were fastened together by minerals. Such as mainly salt crystals.
Breeze and the calcium carbonate in the environment functioned to establish these fascinating arrangements and patterns.
Each dune shape is different, owing to the numerous paths of wind in the United Arab Emirates.
Also Read: Corniche Road in Abu Dhabi
When to Explore:
Standing as the organic layouts that too in the heart of an Arabian desert. There are no specified timings to explore the eye-catching Al Wathba fossil dunes. However, we would recommend you avoid exploring during the summer season. The ideal visit is between October to February. Unless you tolerate the heat of Summer. Since the weather condition will be reasonable, you will be eligible to admire yourself for additional treasures.
Moreover, there are no shades close to the attraction. For this reason, exploring during the summer months can be burning. However, travellers usually adore camping until the early mornings. Besides, enjoy picnics or family gatherings in the evenings.
Sight Highlights:
It takes 40 minutes to ride or drive from the Abu Dhabi International Airport to the location and Arabian sand patterns. Through the E30 and E11 roads.
the patterns of Arabian sand are encountered barely off-road and are very impressive. Mostly from the distance.
It is not easy to discover them and important to fulfil the Google coordinates.
You don't need a 4x4 vehicle for this tour. But if have then the ride will splendid your trip
Camping is permitted here, as long as you do not throw any trash behind.
The attraction is a huge remarkable realistic sight in Abu Dhabi.
Pricing:
The visit is absolutely FREE.
Visit Al Wathba Fossil Dunes travellers are inquired to be responsible and not effect any harm or leave trash on the location.
Treat the place with appreciation and it will be there to admire for many years to appear. Also, for many additional to seek themselves
Things You Should Know Before You Explore Al Wathba Fossil Dunes in Abu Dhabi
Please avoid rushing and hopping on the patterns. As it might harm them. Ministry of Climate Change and Environment (MOCCE) requests all travellers to touch or provoke the patterns.
If you grab a rental 4X4 vehicle, then must go for the SUV choice. This will authorize you to grab your vehicle inside the Al Wathba desert. Or you can wish to park your vehicle from the standpoint of the road. Then take a walk of 6-7 mins to the location.
Don't ignore to bring water and some light refreshment along with you. As there are no restaurants in Abu Dhabi nearby.
Kindly be cautious that there is an army headquarters not too distant from the area. Hence particular categories of the highway have been characterized as 'photography restricted'.
The Best of Fossil Dunes:
Al Wathba Fossil Dunes in Abu Dhabi are a natural beauty.
It is established by a combination of wind, Arabian sand and precious time.
Appearances are readied by wind-swept Arabian sand.
Places to Visit in Fossil Dunes:
Visit the location in a 4×4 vehicle due to the span through the tough landscape.
With another 4X4 car, it's fortunate to place it aside and stroll towards the sand patterns for the best tour experience.
Touring the Al Wathba Fossil Dunes in Abu Dhabi is a tremendous photo stroll.
The Finish Line:
After all narratives and amazing highlights, the patterns of Arabian sand are a tremendous place for a quick trip. Especially for those planning to smash the boredom of living at the residence. Besides, get out of the boring shell to admire nature. We highly advise visiting here. These appearances are a must-experience at least once you adore the Abu Dhabi city tour.