Deira City Centre - An Ultimate Guide
Posted On: 08-05-2023
In 1995, the inauguration of Deira City Center Shopping Mall marked the beginning of its reign as the top-rated destination in Dubai, UAE.
Dubai malls and shopping centers are renowned for their cutting-edge architecture, upscale boutiques, opulent decor, and other lavish features.
City Centre Deira is a comprehensive family-oriented mall that not only boasts an array of exceptional retail outlets. But it also offers various entertainment options. The mall is situated adjacent to two renowned hotels - Aloft Dubai and Pullman Dubai Creek. If you are lodging at either of these accommodations, your visit will be convenient.
Deira is a pivotal and historic district of Dubai, and a visit to the fascinating Al Bidyah Mosque is not to be missed. If you are enchanted by the atmosphere of old Dubai, you can rent an apartment in this area. Deira is often referred to as a haven for retail therapy. City Centre Deira is an ideal destination for refreshing your wardrobe and lifting your spirits.
City Centre of Deira - Things to Explore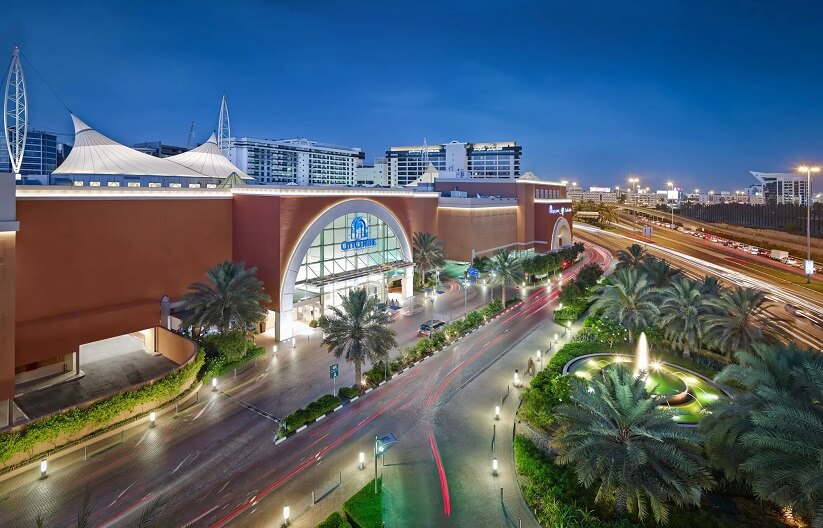 The City Centre of Deira has emerged as a premier shopping destination for both locals and tourists, thanks to its extensive selection of brands and shops. The mall features an astounding array of clothing and accessory outlets for adults and children. As well as numerous dining options and entertainment zones.
In addition to that, adults can choose from a plethora of options. Such as Beverly Hills Polo Club, Bershka, Balmain, and more. If you are short on time, a shopping tour in Dubai is recommended, with the City Centre of Deira being a must-visit destination. You can also indulge in luxury shopping, particularly if you are passionate about fashion.
Deira, an essential and ancient district of Dubai, invites you to explore the fascinating Al Bidyah Mosque for intriguing insights. If you are enamored by the vintage ambiance of Dubai, renting an apartment in this area can enhance your experience.
Deira is popularly known as a hub for retail therapy, and the City Centre Deira provides an ideal opportunity to rejuvenate your wardrobe and uplift your spirits.
It has gained immense popularity among locals and tourists as a top shopping destination, owing to its diverse array of brands and stores. The mall boasts an awe-inspiring assortment of outlets for children's and adult wear, accessories, food, and entertainment. Some of the widely recognized brands available here include Babyshop, Mothercare, The Children's Place, Carter's, and several others.
Furthermore, adults have access to a myriad of options, such as Beverly Hills Polo Club, Bershka, Balmain, and more. If you are pressed for time, a shopping tour in Dubai is highly recommended, with the City Centre of Deira being an unmissable stop.
City Centre Deira Shopping Outlets
Indulging in some self-care is made easy with the City Centre Deira, which houses several of the finest and most sought-after shopping outlets. The mall offers an extensive range of fashion labels to cater to varying budgets and preferences, making it a beloved shopping destination for many. Below, we will explore some of the must-visit outlets in the mall.
Marks and Spencer:
Marks and Spencer, a renowned fashion retailer originating from the United Kingdom, boasts a collection of superior quality clothes and accessories. The store offers a wide range of products, including size-inclusive apparel, organic beauty items, and shapewear, all available under a single roof. Additionally, home decor items are also available in-store.
Kashka:
For those seeking tasteful clothing options, Kashka should undoubtedly be at the top of their list, and fortunately, it is available at the City Centre Deira. The store boasts an extensive range of traditional yet sophisticated Arabian clothing and accessories. Including commonly worn items like jalabiya and hijab. The hijabs available at Kashka come in an array of quality fabrics and shades, ranging from chiffon to luxurious silk.
Khaadi:
Fashion does not necessarily have to be synonymous with Western clothing. The popularity of fusion wear is on the rise due to the stunning look it offers for all body types. For those seeking such apparel, Khaadi is an excellent option. Originating from Pakistan, this fashion brand has become the talk of the town since its opening in the City Centre of Deira. The store offers a wide variety of products, ranging from ethnic suits and embroidered dresses to handmade shawls.
Brands:
In addition to women's clothing, there is a dedicated men's store that offers perfect outfits for businessmen. If you prefer formal wear, Brands is the ideal destination for you. Some of the popular brands available here include DKS, Jack Morgan, Francisco Tolli, Mosaique, and many more.
Men are generally very particular about their fashion choices, and the store caters to their needs by offering versatile fits, colors, and fabrics suitable for all ages. Additionally, the store offers a wide collection of accessories such as shoes, cufflinks, and more. You may also want to check out the nearby Lamcy Plaza shopping mall, located in Dubai City.
Levi's:
Levi's has been a prominent player in the fashion industry for several years, renowned for their timeless and effortless collection of casual clothing items. Including jeans-shirts. Their range caters to those who prefer classic styles that never go out of fashion. Levi's outlet in the City Centre of Deira offers a diverse selection of jeans, casual tees, and denim outfits that exude a Western flair.
Shoes, Bags & Other Miscellaneous Stuff:
To elevate your look, complementing accessories are essential. The City Centre Deira boasts a diverse range of accessory stores that cater to your unique style and outfit. Browse through these recommended shops to complete your ensemble.
Omega:
Everyone has different preferences when it comes to fashion, some like to collect clothes and shoes while others are interested in quality timepieces. If you belong to the latter category, Omega is a must-visit store for you. Their signature timepiece collection is sure to impress you with its precision and elegance. Some of the collections to check out include the iconic Speedmaster, Seamaster, and many others. These watches are crafted to showcase the excellence of Omega's timepiece collections.
Mont Blanc:
Mont Blanc is a synonym for elegance and is a well-known global boutique situated in the City Centre of Deira. For numerous years, the company has been displaying exceptional craftsmanship in various fields. Like leather goods, writing instruments, perfumes, and more. If you're seeking a distinctive gift for a loved one, then Mont Blanc should be on your shopping list.
Fascinating Facts about Deira City Center:
The City Centre Deira, a flagship mall in the Deira district, was established in 1995 and offers a plethora of options for a fun-filled day out with family or friends.
To make the most of your visit, don't miss indulging in Aseelah's authentic Emirati cuisine, taking a stroll through the Waterfront Market, bowling at the Dubai International Bowling Centre, or exploring the Hor Al Anz Library.
The name "Deira" holds a beautiful meaning, translating to "dwelling" or "home".
Timing:
The operational hours of the mall are from 10 am to 10 pm from Sunday to Wednesday. Also, it extends till midnight on Thursdays and Saturdays.