Al Bidyah Mosque - A Worthy Visit in Fujairah
Posted On: 20-05-2023
The Al-Bidyah Mosque, also known as the Ottoman Mosque, is a well-liked destination in Fujairah. It is a distinguished historic place of worship that showcases the 15th-century narrative to its guests. Al-Bidyah stands as the oldest worship house in the UAE, symbolizing Fujairah's cultural legacy. The mosque's charm, design, and significance have made it a cherished attraction in Fujairah.
Al Bidyah Mosque - A Brief Overview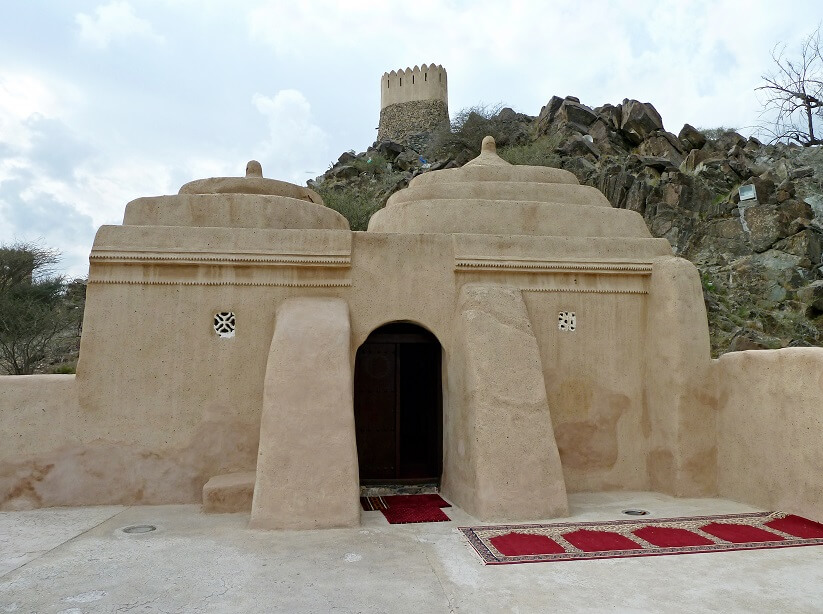 The Al-Bidyah structure is a medieval edifice constructed with sturdy stone walls and domes. Intricate carvings and rock art adorning the walls showcase exceptional artistry. Besides, its craftsmanship prevalent during the mid-15th century
Constructed in the year 1446 AD, the worship house exhibits a modest composition of brick and mud. It serves as a testament to the awe-inspiring skills of the architects who crafted it. Al-Bidyah's 'musalla'. Or the prayer room boasts proper ventilation and is adorned with Islamic architectural elements.
Also Read: Yas Marina Circuit
The mosque is situated along the coastal highway, and entry is permitted to non-Muslims who are attired in suitable garments. Adjacent to the worship house, there is a vast burial ground housing an ancient tomb from the Iron Age. Within this site, an assortment of artifacts, pottery creations, and arrowheads from the period circa 1000 BC are carefully preserved.
Al Bidyah Mosque History:
The Al-Bidyah Mosque holds immense reverence among the residents as it stands as the oldest. As well as the s continuous operational essence of worship in the Emirates. According to local belief, this worship house was erected during the mid-15th century. It has since provided spiritual solace to the people of Fujairah.
Furthermore, its significance is acknowledged by its designation as a UNESCO heritage site in the UAE. Locals and visitors alike gather here daily for worship. Remarkably, the identity of its builder remains unknown to this day. With no historical records or written accounts shedding light on the origins of the Al-Bidyah Mosque. Nevertheless, it is widely assumed that the worship house takes its name from the individual responsible for its construction, referred to as Al-Bidyah.
Also Read: Jumeirah Mosque
An assemblage of Australian archaeologists utilized carbon dating techniques to ascertain the age of the mosque by analyzing several samples. Despite its modest size, the mosque holds substantial importance as a prominent tourist attraction. Particularly for those seeking to explore activities in Fujairah. Consequently. The worship house frequently draws hordes of tourists from various corners of the world. Within the worship house. There is a rectangular courtyard designated for prayer. Additionally, an ancient water well, presumably utilized for ablution rituals in bygone eras, can be found on the premises
Timing:
For an unhindered exploration of the mosque, free from the presence of bustling crowds, it is essential to plan your trip thoughtfully. Choose a time when you can wholeheartedly immerse yourself in the experience without any disruptions. The mosque's operational hours are from 9 am to 5 pm. It is advisable to arrive early, immediately after it opens. So you can avoid the influx of visitors and ensure a tranquil visit.
Nearby Attraction to Explore Al Bidyah Mosque
Snoopy Island:
You must Snoopy Island, it's mind-blowing. If you harbor an affinity for Snoopy, the beloved cartoon character, you will be delighted to discover a striking resemblance to Snoopy Island. From there a rock formation bears an uncanny likeness to Snoopy lying on its back. This captivating destination annually hosts vibrant aquatic sports and music festivals, drawing both locals and tourists. Participating in exhilarating water activities such as scuba diving, kayaking, and an array of other options is an enticing prospect for visitors.
To preserve the marine ecosystem, fishing activities are strictly prohibited on Snoopy Island. Thereby ensuring the protection of its vibrant aquatic life. As a result, visitors are treated to an expansive expanse of captivating marine reefs. The presence of graceful green turtles, and the opportunity to witness an array of fascinating and rarely-seen marine creatures.
Kalba Corniche Park:
Situated near the Al-Bidyah mosque, the Kalba Corniche Park serves as an ideal locale for families seeking a delightful picnic or barbeque experience. This beloved destination boasts a spacious playground for children and grants easy access to the beach. Instantly igniting excitement for leisurely activities. However, it is important to note that swimming is not recommended at this location. The well-maintained Kalba Corniche Park also features numerous cafeterias and food establishments. They are offering a delectable array of culinary delights to enhance your visit.
Sheikh Zayed Mosque:
Emirates is renowned for its breathtaking architectural marvels, and the Sheikh Zayed Mosque stands as a testament to this legacy. Regarded as the world's most magnificent worship house, it proudly holds the distinction of being the second-largest in the Emirate.
While access to non-prayer visits is restricted, one can still marvel at its splendorous beauty and architectural grandeur from the exterior. Adorned with resplendent minarets and domes, the Sheikh Zayed Mosque spans an impressive area of 22,400 square meters. The prayer hall itself is vast enough to accommodate a staggering number of over 28,000 devoted worshippers.
Fujairah Museum:
In addition to its stunning coastlines and majestic mountains, Fujairah holds a wealth of historical and cultural importance. One prominent testament to this is the renowned Fujairah Museum. It proudly exhibits invaluable archaeological discoveries that offer profound insights into the rich heritage and history of the UAE.
Exploring the museum's fascinating facts and remarkable artifacts will provide a captivating journey through the ancient past of the Emirates. Visitors can also include the Fujairah Museum in their itinerary for immersive tours of the captivating east coast of Fujairah. Further details about these tours can be found here.
Within these hallowed halls, you shall behold a captivating assortment of artifacts hailing from the early Bronze Age. It is showcasing a remarkable glimpse into the past. Marvelous exhibits abound, showcasing magnificent treasures unearthed by archaeologists in the historic sites of Qidfa and Bithnah.
Among the remarkable findings, are a host of other captivating items belonging to the Bronze Age that await your discovery. Furthermore, an intriguing aspect that awaits your exploration is an ostrich egg, which is 2200 years old.
How to Get the Location of Al Bidyah Mosque?
The journey to Al-Bidyah from Fujairah is conveniently accessible. With a mere twenty-minute drive separating the mosque from the heart of the city. Situated approximately 8 kilometers north of Khorfakkan, the worship house serves as a favored stopover for tourists in Dubai en route to their intended destinations. To visit the worship house, you can easily hail a taxi cab and embark on an enriching excursion.