Topgolf Dubai: A New Level of Golf Entertainment
Posted On: 08-03-2023
In Dubai, it is the first Topgolf venue in the Middle East. However, it has quickly become a must-visit destination for sports enthusiasts and entertainment seekers alike. Here's everything you need to know about Topgolf Dubai
This game has been a popular sport for centuries, but in recent years, it has evolved beyond just hitting a ball around a course. Today, this sport has become an entertainment experience, with a variety of high-tech and immersive facilities popping up around the world. One of the newest and most impressive of these is attraction.
Topgolf Dubai - A Brief Overview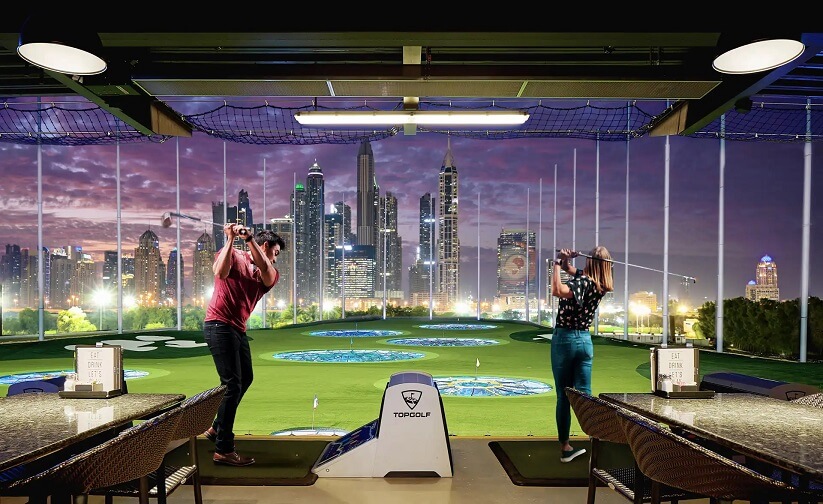 Before we dive into Topgolf Dubai specifically, let's take a moment to explain what this attraction is. It is a sports entertainment company that has created a new kind of fun experience. Instead of a traditional sports course, the venues are large, multi-level facilities. That features a variety of games and challenges that are designed to be fun for players of all skill levels.
High-Tech Interactive Games:
At the heart of each venue is a high-tech driving range. Each driving range has multiple bays, where players can hit good balls out onto the range. The range is equipped with microchipped balls, which track each shot and record the distance and accuracy of the ball.
Touch Screen:
But this attraction isn't just about hitting balls. Each bay also comes with a touchscreen monitor. That allows players to choose from a variety of games and challenges, such as hitting targets or playing virtual sports courses. The games are designed to be fun and interactive, and they're perfect for groups of friends or family members.
Entertainment:
This attraction is a sporting, entertainment, and leisure hub housed within the Emirates Golf Club. Located in Dubai city, it is the first of its kind in the Middle East! A massive draw for sports lovers and non-players alike. This venue comes across as a futuristic driving range, but with food and drinks. It is essentially a modern take on an ancient sport, and aims to inspire people of all ages and skills through a mingling of play, food, and music!
Topgolf Dubai - Things to know
It's the Best time to visit during Weekdays as you can enjoy yourself fully with your family and friends.
Its Suggested duration to enjoy is 2 Hours.
The Starting Tickets price is from AED 130 to so on.
Its nearest Metro Station is the Al Khail Metro Station.
Opening Hours:
From Su to Wed, you can visit from 11:00 AM to 12:00 AM.
On Thu, you can visit from 11:00 AM to 1:00 AM.
On Friday you can visit from 9:00 AM to 1:00 AM.
On Saturday, you can visit from 9:00 AM to 12:00 AM.
Address:
Emirates Golf Club/ United Arab Emirates
Topgolf Dubai: A Sports Entertainment Oasis
Now that you understand what attraction is, let's talk specifically about Topgolf Dubai. The venue is located in the heart of the golden city's new entertainment district, City Hills Estate, and it covers a whopping 60,000 square feet.
Like other venues, it features a state-of-the-art driving range with multiple bays. But what sets Topgolf Dubai apart is the stunning view. The range overlooks the Dubai sky views, including the iconic Burj Khalifa, which is the tallest building in the world.
The venue also features a restaurant and bar, where visitors can enjoy a variety of food and drink options while they play. The menu includes everything from burgers and wings to sushi and poke bowls. Also, there are plenty of drink options, including beer, wine, and cocktails.
In addition to the driving range, Topgolf Dubai also features a variety of other entertainment options. There's a mini-sport course, a rooftop terrace with a bar and a view of the Dubai skyline, and a VR gaming lounge where visitors can play virtual reality games.
Packages:
The following attraction is open seven days a week, and visitors can book a bay by the hour. Prices vary depending on the time of day and day of the week, but a standard bay rental for up to six players ranges from AED 130 to AED 250 per hour.
Is Topgolf Dubai Worth Visiting?
If you're a sports enthusiast or you're just looking for a fun and unique entertainment experience, then Topgolf Dubai is worth a visit. The venue is unlike any other sports facility you've ever seen, and the stunning view of the UAE's golden city horizon only adds to the experience.
But even if you're not a game fan, this attraction has plenty to offer. The games and challenges are designed to be fun for players of all skill levels, and the food and drink options are sure to satisfy anyone's cravings.
Overall, Topgolf Dubai is a must-visit destination for anyone who loves to play the game and entertainment.
Why should we get the Experience of Top Golf Dubai?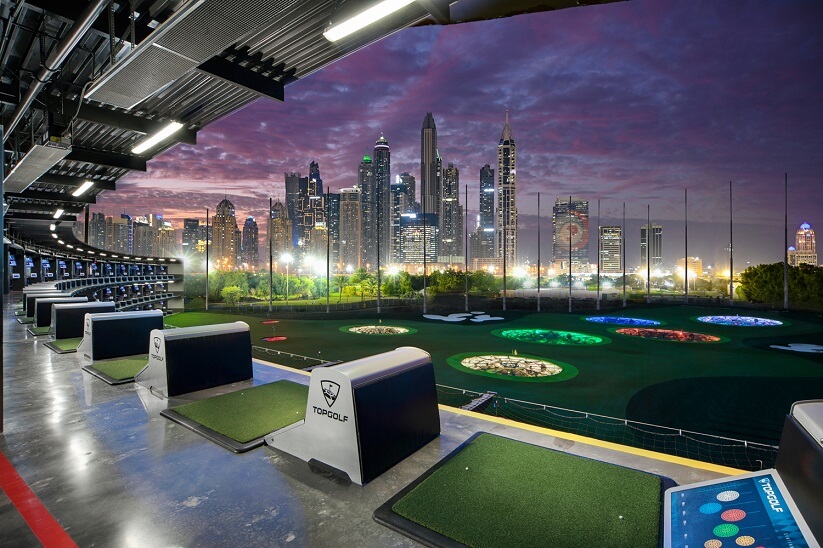 Topgolf Dubai is a unique entertainment venue that offers a fun and interactive Playing experience for people of all ages and skill levels. Here are some reasons why you should consider getting the experience of this fascinating place in the golden city of UAE.
Fun and engaging:
Topgolf Dubai provides a fun and engaging atmosphere that is perfect for socializing, competing, and having a good time with friends and family.
Playing experience for everyone:
This place is designed to cater to both experienced and inexperienced players. It provides a safe environment for beginners to learn and improve their skills, while also offering a challenging experience for experienced players.
State-of-the-art facilities:
It boasts state-of-the-art facilities that are equipped with the latest Playing technology. From the hitting bays to the ball tracking system, everything is designed to enhance your Playing experience.
Food and drinks:
It offers a wide range of food and drinks that are perfect for any occasion. Whether you are looking for a quick snack or a full meal, you will find plenty of options to choose from.
Entertainment:
It offers more than just a game. It also provides a range of entertainment options such as live music, sports events, and other fun activities that are perfect for a night out.
Overall, Topgolf Dubai is a must-visit destination for anyone looking for a fun and engaging Playing experience. Whether you are a seasoned pro or a beginner, you will find something to enjoy at this unique entertainment venue.