Yas Marina Circuit - Abu Dhabi's Racing Paradise
Posted On: 17-05-2023
The Yas Marina circuit is located on Yas Island, around 30 minutes away from Abu Dhabi. What's unique is that you can discover various attractions besides the racecourse. Including a waterpark, theme park, resorts, residential areas, and beaches. It's an exciting experience for racing enthusiasts. Hermann Tilke, a renowned racer a, and designer created this exceptional rotation. With its remarkable layout, the track offers captivating challenges to the world's top Formula One driver.
Yas marina circuit track in Abu Dhabi - A Brief Overview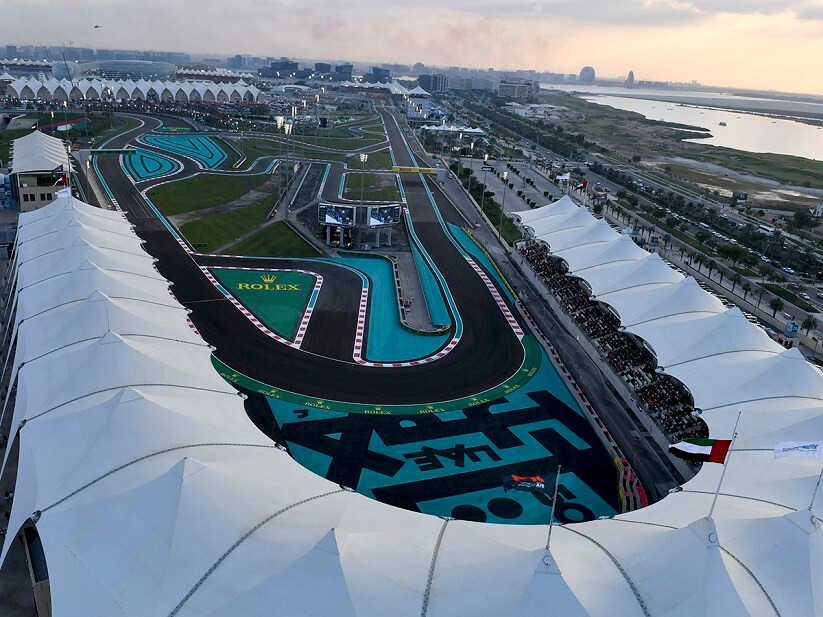 The track's designers and engineers have devoted considerable attention to its design, featuring a remarkable 21 twists and turns. Navigating through these corners offers a breathtaking perspective of the Marina and the Yas Hotel in Abu Dhabi city.
What sets this course apart is the individuality and distinctiveness of each corner. The circuit boasts five grandstands, namely North, South, Main, West, and the Marina Grandstand. Additionally, there are facilities like the Media Center, Team building, VIP Tower, and Dragster Track.
Some facts & stats of this track
Lewis Hamilton has achieved a remarkable feat by securing five victories at the renowned Yas Marina Circuit. Spanning approximately 5.5 km, this trajectory offers captivating views of Marina's luxurious yachts.
Notably, it boasts the world's longest acceleration stretch, spanning 1.173 meters. Drivers can reach astonishing speeds of up to 325 km/h on this track. Along with an average speed of around 190 kilometers per hour. In total, there are 55 laps for the drivers to navigate and showcase their skills.
Where can you get a seat on this circuit?
The track (official website) has been meticulously designed to ensure optimal viewing for every spectator. It is as thrilling as dune bashing on a desert safari Abu Dhabi. Each grandstand offers exceptional visibility, and the overall seating capacity reaches an impressive 60,000.
These seats are distributed among six main viewing zones. The South Grandstand is located at the 11th turn. Besides, it provides a remarkable vantage point to witness thrilling overtaking maneuvers by Formula One drivers. Another prime spot for exciting action is Abu Dhabi Hill, where drivers fiercely compete for positions.
Also Read: Dubai Gold Souk
Yas Marina Circuit Highlights and Facts:
Spanning approximately 161.9 hectares, this rotation boasts a length of about 5.55 kilometers. Including a straight track that stretches 1.14 kilometers.
The renowned designer Hermann Tilke took charge of crafting this circuit. It is leveraging expertise gained from designing prestigious tracks in various countries and cities.
The construction of this rotation involved a staggering investment of around 1.3 billion dollars. It is employing a dedicated workforce of 14,000 individuals who painstakingly contributed over 35 million hours to complete the Yas Marina Circuit.
Hosting the Formula One Grand Prix of Abu Dhabi, this circuit has witnessed numerous crucial races to date. Comprising thrilling Formula One event. Impressively, the rotation can accommodate up to 50,000 spectators. It ensures comfort and protection from the scorching summer heat.
Experiences at Yas Marina Circuit
Drive a SuperCar by yourself:
Visitors to this circuit have the unique chance to immerse themselves in the world of Formula One as a driver. The option to engage in Drive YAS allows you to select your desired racing machine. From an impressive collection of Formula One cars. Including prestigious models like the Ferrari 458 GT, Mercedes-AMG GTS, and Aston Martin GT4.
This extraordinary opportunity grants you a 20-minute experience that will undoubtedly become one of the most memorable moments of your life. Additionally, if you have a passion for speed, you can also consider embarking on a thrilling karting adventure in Dubai for an exhilarating ride.
Look Go-Kart Event
Regardless of your age, you can indulge in pure enjoyment while spectating at the YAS Kartzone. Here, you will have the opportunity to witness the thrilling world of karting firsthand. As they provide karts and all necessary equipment for those who wish to partake in karting on the track. For karting enthusiasts, it will be an exceptional experience to observe top-tier karting action unfold on the track.
Walk around the track at Night
The mentioned rotation offers a remarkable chance to immerse yourself in breathtaking views of shimmering stars and serene sunsets. Furthermore, the circuit transforms into a captivating sight after dark, adorned with stunning illumination. Nevertheless, you can also visit this circuit during its daytime hours. As it remains open for exploration and enjoyment.
Indulge in the spectacle of Formula One racing. Visitors have the opportunity to acquire tickets to witness the exhilarating Formula One Grand Prix race at this very location. This event stands as one of the most electrifying occasions in Abu Dhabi, guaranteed to ignite your excitement.
How to reach?
Accessing the esteemed Yas Marina Circuit is made convenient through the utilization of the Yas Express. This complimentary shuttle service operates daily from 9 AM to 9 PM. It is ensuring seamless and comfortable transportation, both for pick-up and drop-off. Alternatively, you can also avail yourself of affordable cab services from various locations. It will transport you directly to the circuit entrance.
Entry tickets
It is important to note that admission to the Yas Marina Circuit is not free, and visitors are required to pay a fee for entry. However, the entrance fees for different grandstands vary, ranging from approximately 119 AED to 477 AED.
Best Time to Visit
Opting to visit this circuit during a racing event is highly recommended. On such occasions, it is advisable to arrive early in the morning. So you will ensure a more seamless experience and minimize the potential for overcrowding.