Saadiyat Island - A Breathtaking Abu Dhabi's Attraction
Posted On: 12-07-2023
One of Abu Dhabi's most amazing sights is the lovely Saadiyat Island, which is approximately 20 minutes from the airport and is encircled by breathtaking sea vistas.
This 27 square km naturally occurring island is home to some of the most amazing cultural treasures in the United Arab Emirates. In the interview that follows, Naina, our senior marketing executive at Happy Adventures Tourism LLC. It is ready to convey her excitement about the opportunity she recently had to visit this famous place.
Looking for a peaceful escape from the bustling city? Discover the alluring Saadiyat Island in Abu Dhabi, a picturesque location with pristine beaches, lavish resorts, and renowned art institutions.
Also Read: Al Reem Island Blog
Saadiyat Island - A Brief Overview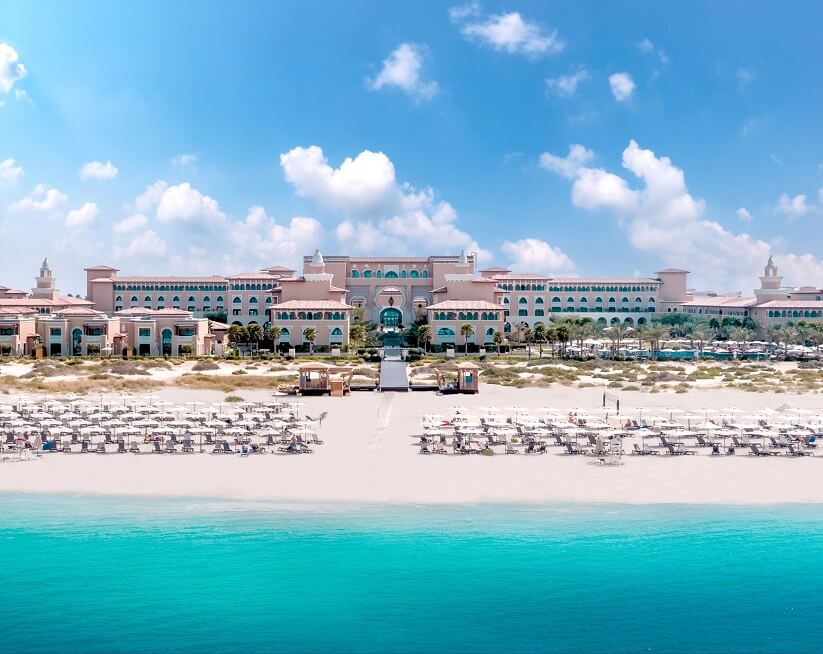 The huge and uninhabited is close to Abu Dhabi, United Arab Emirates. It is currently being developed to become an opulent and popular tourist destination. Along with top-notch hotels, resorts, and historical sites. The Saadiyat Beach Club, Saadiyat Cultural District, the famed Louvre Abu Dhabi & the much-awaited Guggenheim Abu Dhabi museums are just a few of the island's notable attractions.
This detailed guide, which highlights Saadiyat Island's amazing sites and experiences, will help you discover the island's wonders. Discover the easiest ways to get to the island as well as a multitude of activities. Also, the attractions should not be missed. Get ready to be fascinated!
Natural Sightseeing:
It is a spotless natural island that can be found in Abu Dhabi, United Arab Emirates. It is connected to the mainland by a causeway and is situated around 500 meters off the shore of Abu Dhabi City.
Numerous expensive lodging options, including hotels, resorts, apartments, and villas, can be found on the island. It also has several notable cultural institutions, including the renowned Louvre Abu Dhabi, the Zayed National Museum, and the eagerly awaited Guggenheim Abu Dhabi, which is soon to open.
The island was first uninhabited and was used as a fishing and pearl diving location. The construction was started in 1988 by the Emirate of Abu Dhabi to make it a significant cultural center in the Middle East.
Several upscale hotels and resorts opened when the initial phase of building was completed in 2009. Currently, active construction projects are concentrated on creating new cultural landmarks and housing developments.
Culturally Worldwide Resort:
It will eventually become a really magnificent and vibrantly culturally worldwide resort. Exceptional lodging, exquisite eating, upmarket shopping, intriguing art galleries, museums, and a plethora of other attractions await visitors.
Saadiyat Island can accommodate any choice or need, whether you're looking for a peaceful retreat, an adventurous getaway, or beachfront homes in Abu Dhabi.
Activities to Explore on Saadiyat Island
Find out what are the best things to do on n Saadiyat Island:
Spend some time taking in Saadiyat Island's fascinating arts and culture scene. Prestigious cultural institutions are housed in this spectacular location. It is providing a rare chance to experience the pinnacle of Abu Dhabi's creative and cultural legacy.
On the island, you can visit the Zayed National Museum, which tells the history of the country via fascinating exhibitions. Also, the Louvre Abu Dhabi displays a wide variety of artwork from around the world.
Other outstanding works of art and cultural treasures can be found on Saadiyat Island in Abu Dhabi. Including The Emirates Palace Hotel and the Sheikh Zayed Grand Mosque, which is a vast house of worship and one of the biggest mosques in the world.
Variety of Heritage:
Saadiyat Island provides a variety of heritage places to explore if you're looking for real interaction with Abu Dhabi's rich traditional culture.
Don't pass up the opportunity to explore Sir Bani Yas Island and Legacy Village, where you may fully immerse yourself in the area's traditional legacy. Additionally, you can take part in arts and crafts classes that offer insights into Emirati traditions. Besides, let you practice old techniques like calligraphy and pottery-making.
Public beaches on Saadiyat Island
There are many public beaches on Saadiyat Island:
Saadiyat Beach:
This beach, which is located on the island's northern side, offers stunning views of the Arabian Gulf. It offers the perfect environment for swimming, tanning, or just relaxing on the warm beaches.
Kai Beach Saadiya:
Kai Beach Saadiyat is a tranquil and unspoiled natural beach that can be found on the western coast of the attraction. It offers a true calm sanctuary in the middle of the busy city of Abu Dhabi with its soft sandy shores and blue waters.
Best restaurants on Saadiyat Island:
There are so many wonderful dining options on Saadiyat Island that it might be difficult to know where to start. Here are our top picks for the best eateries in the attraction without further ado:
Catch:
Catch is a classy seafood restaurant with stunning views of the Arabian Gulf. Their menu offers a delicious selection of ethically sourced seafood specialties from across the world, as well as delicious meat and vegetarian substitutes.
Neighborhood:
Let's look more closely at what makes each Saadiyat Island neighborhood unique.
Beach District:
This neighborhood is home to some of Abu Dhabi's best beaches, living up to its name. You'll find a variety of luxurious hotels, eateries, and retail establishments along these picture-perfect shorelines, which adds to the area's attraction.
Marina District:
The Marina District, which caters to individuals who enjoy spending time by the sea, is the perfect paradise for water sports aficionados. Along with its lovely waterfront, this area offers a wide variety of restaurants and shopping options, giving guests a well-rounded experience.
Saadiyat Golf Beach Club:
The first 18-hole golf course in Abu Dhabi is housed in the Golf District, which serves as a refuge for golf fans. This neighborhood offers stunning views of the Arabian Gulf alongside the greenery, and it is conveniently close to the Beach District.
Saadiyat Cultural District:
Several highly recognized museums, including the famed Louvre Abu Dhabi and Zayed National Museum, call the Cultural District home. Visitors are further delighted by the variety of restaurants, adorable cafes, and beautiful stores in this area.
Healthcare City:
Abu Dhabi's Healthcare City ensures a major situation as a legendary healthcare center. Comprising assorted hospitals and clinics that administer the area's medical prerequisites.
Attractions on Saadiyat Island
Here are some extraordinary attractions:
Villas:
Wake up to the mesmerizing views of the ocean from your very own private home and indulge in the height of luxury. It offers a variety of opulent property rentals with unrivaled views of the Arabian Gulf.
Additionally, Saadiyat Island villas for sale provide the full package for those looking for a permanent hideaway. Including private pools, sizable gardens, and all the conveniences required for a genuinely lavish 5-star lifestyle.
Apartments:
It has a variety of chic and modern apartments that are offered for rent for individuals who prefer an urban lifestyle. Additionally, apartments for rent are conveniently located in the island's thriving cultural area. It is providing quick access to the best eateries, stores, and activities.
Studio Apartment:
Look no further than the available studio apartments for sale if you're looking for a stylish and modern home in the tranquil setting of the attraction. These stunning studio apartments feature contemporary designs and are lovingly furnished. Along with all the conveniences and amenities required to make living there comfortable and joyful.
Concluding Remarks:
The beautiful and tranquil Saadiyat Island is located in Abu Dhabi. It is a must-visit if you're looking for some peace and a break from the bustle of the city. Its immaculate white sand beaches, lavish hotels and resorts, and world-class restaurants satisfy a wide range of tastes. Whatever the season, it always has something spectacular to offer. Start making travel arrangements right away and be ready for a memorable adventure. Don't worry—you won't be let down!