Barasti Beach - Make your Summer Refreshing in Dubai
Posted On: 22-07-2023
If you're in Dubai, you must without a doubt go to Barasti. This legendary beach bar changes from a laid-back hangout into a raucous party venue as the sun sets, attracting a nice mix of tanned tourists and happy expats of all ages and origins.
Poul and I frequented Barasti frequently when we initially arrived in Dubai. Even though we don't go as frequently now, I always take my guests there, and they always like it. I like going during the weekdays when it's less busy and beverages are less expensive. However, the best thing about the venue is that no matter what night you decide to visit, it's virtually always busy, especially in the winter.
Also Read: Aya Universe Dubai
Barasti Beach in Dubai Complete Overview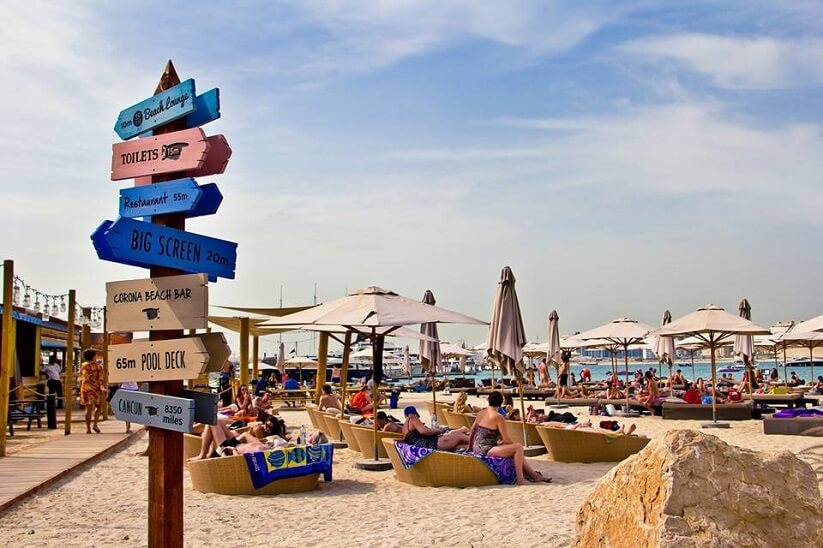 Architecture:
There are two decks in Barasti: the ground floor, which is class with the opening, and the beach-level floor, which is based at the one back. Typically, you hang around with pals on the ground floor while sipping beer and eating snacks. Popular songs that everyone can sing along to are frequently played live by a band, fostering a laid-back and friendly atmosphere. However, the beach-level floor, down one flight of stairs, has a more club-like atmosphere with a dance floor and a DJ.
Although the food at Barasti is adequate, you won't be very impressed, and it can be somewhat pricey. In contrast to other locations in this section of the city, the drinks are relatively reasonably priced. Beers start at 30 AED, while cocktails cost 40 AED.
Although it is a part of the opulent Le Meridien Mina Seyahi hotel, a separate door leads to the beach club to the left of the hotel. Because there is no entrance fee and the restaurant serves food and alcoholic beverages all day, the seaside club is quite popular during the day.
Since there are only a limited amount of free sunbeds available, you should get there early if you want to get one. They have bathrooms and showers. But don't forget to pack a towel for the seaside. Unfortunately, it is not permitted to bring outside food and beverages into the club.
Location:
The ideal getaway location to relax and get away from your routine is Barasti Beach. It is a renowned restaurant on the shore with a calm ambiance that provides pool activities, thrilling events, and vibrant nightlife. There is also a rooftop garden from which you may gaze out over the Arabian Sea with amazing views.
With all the wonderful amenities Barasti Beach offers, you're sure to have a blast. It's without a doubt one of Dubai Tourism's most beloved and popular locations. Bring your family to Barasti Beach for a restful and enjoyable vacation, and don't forget to take in the magnificent sunset while enjoying the best supper of your life.
Barasti Beach Dubai: Things to Do
You will be treated to spectacular views of the Arabian Sea throughout your Dubai holiday, which features blue waters that are crystal clear and breathtaking sunsets.
Tourists can find a wide variety of entertaining and exciting activities at Barasti Beach to keep them occupied for a long time. Enjoy the poolside entertainment while lounging on lounge chairs and sipping delectable cocktails and other energy drinks.
Additionally, a trip to the Middle Deck offers a seaside-like atmosphere where you can indulge in a variety of unique beverages and delicious Arabian foods.
Enjoy the magnificent sunset while dancing on the seaside with your loved ones to the music of the DJ. However, desert safari in Dubai is also one of the fun-filled days out to make your vacation more classy.
Barasti Beach offers a wide variety of experiences by hosting renowned events like live music concerts and festival festivities.
Don't pass up the opportunity to visit Barasti Beach's well-known Roof Garden, where you may savor a selection of delectable foods and intriguing cocktails.
Participate in exciting sports and entertaining activities with other tourists on the seaside and in the area.
Highlights of the Middle Deck at Barasti Beach:
The Middle Deck, a quirky and active location, adds to the distinctive atmosphere of Barasti Beach. This amazing location is a popular bar that is located in the center and serves elegant, delicious, and opulent drinks. As well as matured wines, and tasty cocktails, as well as mouthwatering Arabian delicacies.
The Middle Deck promises an interesting and delightful experience with its welcoming atmosphere, live music, intriguing fire dances, and exhilarating DJ rhythms.
Click Pictures of the Beautiful Views:
Popular Arabian shore Barasti Beach offers stunning views of the turquoise Arabian Sea, which up close resembles shining jewelry. Whether you're on a boat or a cruise, you'll see magnificent vistas and get exhilarating photos that will warm your heart. In addition, the seaside's large pool offers fun pool activities like diving into the deep end. Or just relaxing by the pool while sipping on a tasty cocktail.
Also Read: Aura Skypool Dubai
The Roof Gardens:
Discover Dubai's authentic seaside culture and take in the mesmerizing rooftop views of the limitless Arabian Sea. As day transforms into night, embrace the charm of unique sunsets to make unforgettable memories with your loved ones. Enjoy delicious Arabian food from the rooftop while gathering priceless memories to keep in your heart.
Music All Night:
All night long, the DJ booth plays music, and there are unexpected musical surprises that keep people coming back. Go upstairs for a more leisurely view. Throughout the day, visitors may relax on the lively seaside unsavory a wide variety of meals while taking in the sea scenery.
What Season Is Best for Visiting Barasti Beach?
It usually takes two to three hours to participate in all the enjoyable activities at Barasti Beach. You may anticipate spending more time at places like Barasti Beach Club and the Rooftop Garden, though.
Everyone can enjoy the natural beauty of Barasti Beach for free because there is no entrance fee. However, remember that you'll have to pay for the goods and services you want to use. So make sure you carry cash. Check for future events, parties, and sessions before your visit. You can reserve them in advance to save time.