Discover the Aya Universe – A Futuristic Art Installation in Dubai
Posted On: 19-07-2023
Prepare yourself for something exceptional if you plan on visiting Dubai. You should not pass up the amazing sights and activities that this city has to offer. Aya Universe, an interactive work of art that will take you on an enthralling journey through the universe, is one of the best places to visit.
Aya Universe is a unique exhibit that skillfully fuses art, technology, and science. This article will go further into this alluring attraction and examine everything it has to offer.
Also Read: Aura Skypool
Aya Universe General Information for Dubai Tourism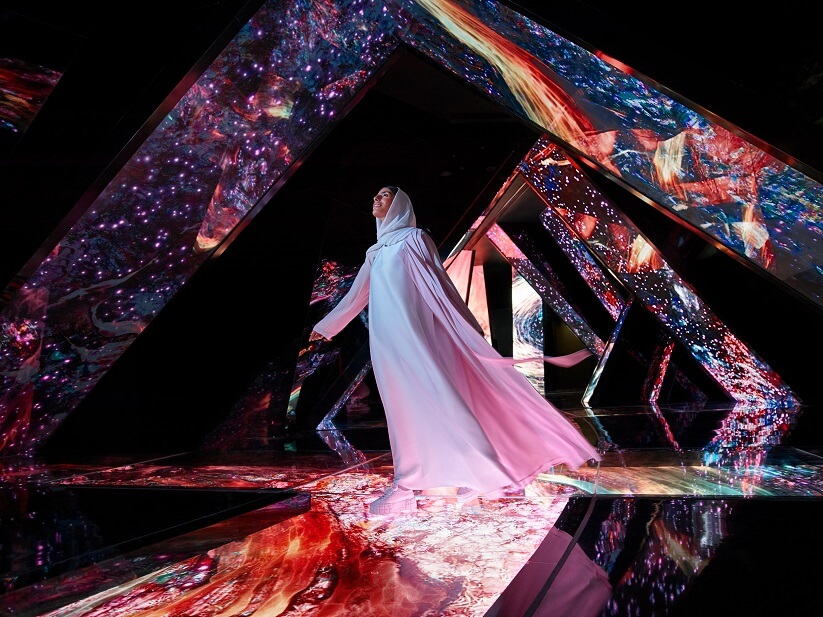 Handy data:
Indicated Duration: 2-3 hours
Promising Time to Visit: November to April
Basic Ticket Price: 99 to 125 AED per person
Closest Metro: Dubai Healthcare City
Must-see:
Aurora
Drift
The Pool
Harmonia
Opening Hours & Address:
Sunday to Thursday: From 10 AM to 10 PM (last entry at 9 PM)
Friday & Saturday: 10 AM to 12 AM (last entry at 11 PM)
Address:
Wafi City Mall, Oud Metha, Dubai, United Arab Emirates
Why We Should Explore the Aya Universe?
Aya Universe is a fantastic and imaginative place in Dubai that is located in the Wafi City Mall. It provides a sci-fi space adventure that skillfully combines technology and enjoyment.
The attraction's cutting-edge technology, which offers an immersive and interesting experience, is its most notable feature. Visitors can take part in virtual reality simulations and interactive activities that transport them to fantastical worlds. Prepare to be astounded when you see the wonders of the attraction for yourself.
Proposed Aya Universe Tickets:
It is recommended that you order your Aya Universe tickets online to avoid long lineups and ensure availability. The additional advantage of getting a response right away is another feature of Happy Desert Safari.
Participate in the unparalleled experience of AYA Cosmos, where the merger of technology and art results in breathtaking, luminous realms.
Discover 12 dynamic spheres, each with a unique design that ranges from the heavenly heights of Celestia to the tranquil depths of Tides.
Explore lush gardens at "Flora," cross bridges over storms and lakes at "The River," and take in an eye-popping display of light and sound at "Harmonia."
You can engage in dynamic encounters with avatars roaming the Cosmos while you unlocked new characters and set out on a metamorphic journey.
Fun fact: This 40,000-square-foot amusement park is both immersive and experiential.
Top Activities to do at Aya Universe:
Explore a variety of areas:
Explore a range of unique planets and dimensions in the Aya Universe. You'll feel as though you've entered a completely different galaxy after traveling to places like the ocean's bottom and the wide emptiness of space.
Capture Beautiful Images:
It is the perfect place to take some amazing pictures with its captivating visuals and futuristic design. Please be aware that flash photography is not permitted.
Explore Fascinating Exhibitions:
The all-encompassing adventure of the attraction immerses you in a way that turns you into a crucial component of the displays. from where sounds, images, and even smells take you to a different universe.
Interact with Other Visitors:
The communal nature of Aya Universe makes it a great place to meet and get to know other visitors.
Also Read: Saadiyat Island
Best time to visit the Aya Universe November to April, when Dubai's climate is milder and more delightful, is the best time to visit Aya Universe. Aya Universe is indoors, therefore it is best to visit in the off-peak season and on a weekday to escape the weekend crowds.
Besides, you can understand additional about the Best Time to Visit Dubai City.
Timings:
From Sunday to Thursday: 10:00 AM to 10:00 PM (last access at 9 PM)
From Friday & Saturday: 10:00 AM to 12:00 AM (last access at 11 PM)
How to achieve the Aya Universe:
It's simple to get to Aya Universe via bus, metro, or cab. Sheikh Zayed Road and Dubai International Airport are both only ten minutes distant from there. You can either take the Dubai Metro to the Dubai Healthcare City station or use RTA Taxis, Careem, or Uber services to get to Wafi City.
Map:
Enigma
Genesis
Serene
Frontier
Aquatic
Rivulets
Cascades
Celestial
Verdure
Ebb
Moonlight
Concordia
They are just a few of the 12 exclusive zones that make up AYA Cosmos, which is a sprawling 40,000-square-foot complex. Each zone has a distinct theme and offers captivating encounters that transport you to other ethereal planes.
Discover the captivating gesture-controlled artwork of Aurora. Take in the sparkling LED pools in the ethereal Source chamber, and go for a peaceful stroll through Drift's verdant scenery. Also, float along the river in the Pool. Meet new avatars in Outland
Observe the stars in Cosmos, and explore Flora's luminous garden. Discover the monolith and mesmerizing LED totems in the mirror-lined Tides hall. Finally, in the Harmonia conclusion zone's limitless mirrored expanse, be astounded by the 3-minute robotic light show.
Insider Tips for Exploring Aya Universe:
It is recommended to purchase your tickets online in advance to avoid standing in a queue at the venue.
To avoid crowds on weekends, schedule your vacation for a weekday.
Make sure you have comfortable walking shoes on.
Always keep a camera or smartphone with a good camera with you.
Share your photos and videos with loved ones with free WiFi.
Bring water bottles that have been sealed with you.
Restaurants Nearby:
There are numerous dining options at Aya Universe's establishment. Listed below are a few eateries in or close to Wafi City Mall:
BIELLA:
One of the most praised and well-liked places in town, this busy and popular Italian café and pizzeria serves the best pizza in Dubai.
WAFI GLOBAL:
The best Lebanese restaurant in the area is Wafi Gourmet. It is a distinctive place to eat and buy, offering genuine goods from Lebanon that are exceptional in terms of quality, flavor, and look.
AZUR:
On the third level of the magnificent Raffles Garden, Azur offers a wide selection of international delights. Including wholesome, plant-based, and regionally inspired options.