The Greatest Halloween Activities in Dubai for a Spooky Good Time
Posted On: 18-10-2023
Even though Dubai is usually exciting, Halloween is particularly special. This once-difficult location becomes a lively and happy city. There are so many different Halloween-related activities, kid-friendly goodies, and spooky costume competitions happening all around the city.
Dubai is a city that knows how to offer original entertainment. There are many Halloween activities from which to choose. The city of Gold goes all out to make your Halloween memorable, so make sure you and your family attend one of their spectacular Halloween parties this year.
Dubai Attractions for the Halloween Bash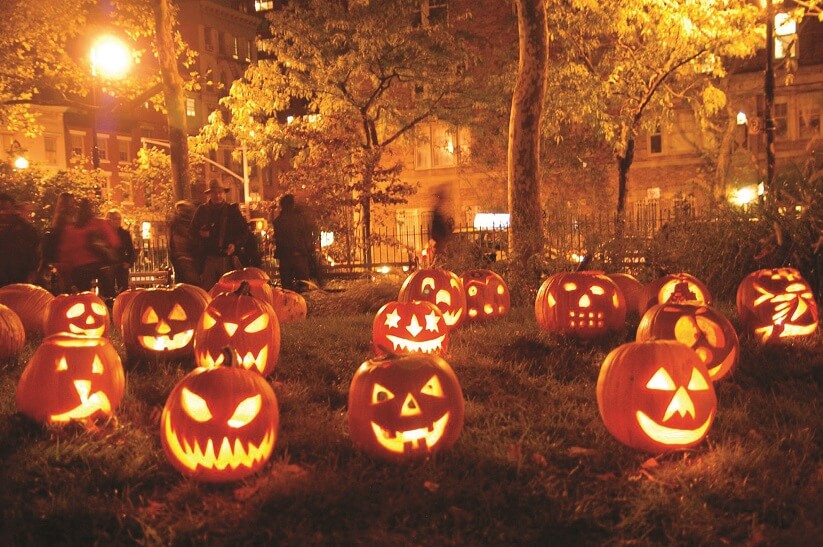 1. Green Planet:
Everyone is welcome to attend the Halloween Bash at Green Planet in October, which promises to be a spooky transformation of an indoor attraction with a rainforest theme. A delightfully scary ambiance will be created by the addition of spooky decorations. Such as spider webs, enigmatic pumpkins, and animal-themed tombstones. Face painting, mask-making, and pumpkin carving are just a few of the enjoyable activities you may do with your kids.
Date of celebration: October 6 to 31, 2023
Timing: 10:00 AM to 06:00 PM
2. The Big Toys Brunch:
The Halloween celebration has been planned by Toys 'R' Us and will include a variety of fun activities, the opportunity to meet Geoffrey the giraffe, and, most importantly, a delectable buffet. It's a fantastic Halloween event that you can take the kids to.
Location: Dubai Festival City's Holiday Inn (Gateway Ave.
Date of celebration: October 8, 2023
Timing: 01:00 PM to 04:00 PM
3. IMG Worlds of Adventure:
The IMG Boulevard within IMG Worlds of Adventure will transform into a frightening location over the entire month of October. As it prepares to host one of the greatest Halloween festivities in the area. The spooky fun and entertainment never end, featuring terrifying coasters, a haunted maze, and the Zombie Apocalypse!
Where: IMG Worlds of Adventure, IMG Boulevard
Date of Celebration: October 1 to 31, 2023
4. Pirate Show & Monster Parade at Riverland Dubai:
At Riverland® in Dubai Parks and Resorts, take part in the most spectacular Halloween event! Take to the streets of Riverland with your family decked up in their scariest attire. It is the spot where you'll find terrifying pirate encounters and thrilling monster confrontations.
Enjoy both great and eerie dining experiences as you tour the restaurants and shops, and indulge in a little retail therapy. Numerous surprises artistically carved jack-o-lanterns, and a plethora of Halloween delicacies are to be expected. Prepare today for Halloween in Dubai in 2023!
Where: Dubai Parks and Resorts' Riverland®
Dates: September 30, 2023 through November 12, 2023
Evenings, Wednesday through Sunday.
5. Halloween Party at Botched Barbieland:
1-Oak, a well-known nightclub in Dubai that exudes the energy of New York, is prepared to transform its opulent setting into a terrifying nightmare. Spooky Barbies, fascinating lighting, and unnerving music by Levier, Ramesess, and MC Tino will all contribute to the strange atmosphere.
Place: JW Marriott Marquis Hotel, Business Bay, 1-Oak
Date: 31st October 2023
Time: beginning at 11:00 PM
6. The Return of Monster Party at LEGOLAND® Dubai:
At LEGOLAND® at Dubai Parks and Resorts, the Monster Party is back for another year. To enhance your Halloween celebrations, LEGOLAND® has planned a variety of activities and experiences.
Among other things, you can participate in the V.I.M. Dance Party, watch the 4D movie Great Monster Chase, and follow the Monster Brick or Treat Trail. Additionally, your kids can participate in the Best Dressed Monster competition.
Where: Dubai Parks and Resorts, LEGOLAND® Dubai
When: October 6, 2023, through October 31, 2023
7. Bong's Bingo: Halloween Special:
Everyone is invited to this unique one-night celebration as long as they dress to spook; there will be excellent cash prizes up for grabs.
Location: Zero Gravity
When: 28th October 2023
Time: beginning at 8:00 PM
8. Horrors At Lucky Voice Dubai:
Join the themed party at Lucky Voice Karaoke Bar if you're looking for a spooky brunch and brunch session in the city of Gold. Remember to dress up for the occasion so you can enter to win a cash reward of AED 4,000.
Where: Barsha Heights, Grand Millennium, and Lucky Voice
Date: 28th of October
Time: 8:00 p.m. to 11:00 p.m. for brunch and from 1:00 to 4:00 p.m. for brunch
9. The Screening Room:
Without a good horror film, a Halloween party is incomplete. Visit Studio One Hotel to take advantage of the midnight movie screening, which includes popcorn and a welcome drink. Keep in mind to reserve your seats in advance because space is limited.
Where: Dubai Studio City, Studio One Hotel
When: 31st October 2023
Time: beginning at 11:45 p.m
10. Halloween Quiz Night:
Come take part in an exciting Halloween quiz with Jono and Rich from Dubai 92 at the Media One Hotel. Enjoy the evening to the fullest, and don't forget to come dressed to the nines for a chance to win a vacation to Sri Lanka. There will be excellent live entertainment, a frightening atmosphere, and lots of Halloween surprises.
Where: Dubai Media City, Media One Hotel
What time: November 1, 2023
Time: 8 p.m. to 10 p.m
11. Raspoutine Dubai:
The Raspoutine in the city will provide you with a Halloween party with a circus theme, as you can imagine. This Halloween event features a special meal in addition to the spooky ambiance and live DJ entertainment.
Where: Dubai's DIFC
When: 31st October 2023
Time: Between 9:30 PM and 3 AM
12. Bingo Game at Garden on 8:
Halloween celebrations are thrilling at Garden on 8 in the Media One Hotel! You can take part in a bingo game while taking in the spooky music-filled environment. Additionally, there will be professional face painters present to assist you in changing into a ghostly persona.
Where: Dubai Media City, Media One Hotel
When: 31st October 2023
Time: 8 p.m. to 10 p.m
13. Halloween Dhow Cruise:
Enjoy a special Halloween cruise on elegantly decorated dhows along the city's shoreline and the Dubai Creek. Put on your scariest outfit and enjoy the mesmerizing onboard entertainment as you see the passing city lights.
14. STK Ladies Night:
Ladies who love to party, gather together for a fantastically spooky evening out! Visit STK for the frightfully fun Ladies Night, which includes Halloween-themed cuisine, beverages, and live DJ performances.
Where: JBR (The Walk), Rixos Premium, and STK
When: 31st October 2023
Time: from 7:00 to 9:00 and from 9:00 to 11:00
15. En Fuego:
Visit En Fuego at Atlantis, The Palm for a fantastic Halloween-themed eating and entertainment experience. With a distinctive meal and beverage menu, they will be honoring the day of the dead.
Location: Atlantis The Palm
When: 28th October 2023
Time: from 1 to 4 PM
16. Ernst Biergarten:
Not only is the Halloween breakfast a highlight, but you may also participate in a pumpkin carving competition using the equipment that is given. The victors enjoy a free brunch, which is the exciting part.
Where: Dubai World Trade Centre, Hotel One Central
When: 28th October 2023
Time: 12:00 p.m. to 4:00 p.m
Conclusion:
It's time to take out those spooky costumes from the attic, dust them off, and add some cobwebs for an extra bit of creativity. It doesn't matter if you want to transform into a deranged doctor with a hatchet, or a witch with an extra helping of evil. Or the scariest ghost around—anything goes! Bring out your inner child, carve some spooky jack-o-lanterns, and frighten the living daylights out of Dubai!