Qanat Al Qasba - A Fascinating Place In Sharjah
Posted On: 09-09-2023
The Sharjah emirate benefits from an atmosphere like no other thanks to Qanat Al Qasba. Choose from a wide selection of mouthwatering restaurants that all provide al fresco eating as you take in the sights of Sharjah's promenade and shoreline.
Enjoy a stroll along the kilometer-long waterway or set out on a short boat ride. For a panoramic view of the Emirates, you can also climb the 60-meter-tall Eye of the Emirates Ferris wheel. There are many activities available in this area, such as water karts, a health center, a spa, and even a football pitch. Children who attend can enjoy a variety of fun activities, such as renting bicycles, inflatable play structures, and a variety of other amusements.
Enjoy the stunning view of the seaside neighborhood of Qanat Al Qasba. It is tucked away from the Al Majaz neighborhood and is one of the city's most well-known cultural landmarks. You'll come across a variety of art hotspots, outdoor wonders, and many other alluring locations. The cultural renaissance of Sharjah is best exemplified by Qanat Al Qasba, which aims to motivate artists through various projects, events, and more.
Also Read: Deira Twin Towers
Qasba Canal Sharjah - A Brief Overview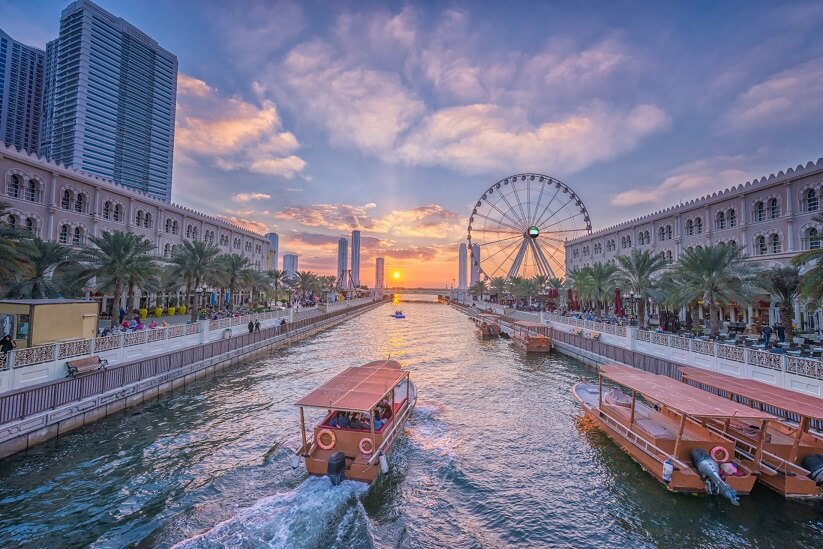 The Al Qasba Canal in Sharjah, a popular spot for locals and tourists and great for families, is one of the main attractions. This seaside refuge hosts spectacular events every year that bring hundreds of interested travelers.
Enjoy a short boat ride along the expansive canal at Qanat Al Qasba while admiring the magnificent sight of the "Eye of the Emirates" dominating the Dubai skyline.
Visitors can engage in a variety of additional activities, such as visits to the spa, football pitch, and wellness center. Children can also engage in a variety of enjoyable activities, including riding bicycles and jumping in inflatable castles, to name a few.
Timing:
During the summer, Qanat Al Qasba is open from 4:00 p.m. to 1:00 p.m., while it opens at 10:00 a.m. in the winter.
Places to visit near Qanat Al Qasba
The abundance of creative places in the neighborhood is a major factor in its enormous attractiveness. The locations to visit inside Qanat Al Qasba are listed below.
1. Al Qasba Plaza:
Al Qasba Plaza is a multifunctional business that offers rental or leaseable apartments and retail spaces. The area's picturesque attractiveness is also remarkable; it is a wonderfully decorated place well worth exploring, with gardens, shaded alcoves, picturesque canals, and open-air event spaces.
It also offers a variety of food and shopping options, and waterside entertainment adds to its attractiveness. Don't miss the Al Qasba Mosque, a remarkable city mosque that offers English-language Friday sermons, making it an additional worthwhile stop.
Also Read: Sharjah Grand Mosque
2. Maraya Art Centre:
If you enjoy art, especially, get ready to be amazed by the Maraya Art Centre. This fascinating three-level art facility is tucked away in the neighborhood and is crucial in fostering committed artists.
It is a non-profit organization that supports regional and global talent and offers a video archive, an art library, and other amenities. The Centre also coordinates a wide range of public programs.
Don't forget to stroll through the park, which is decorated with interesting sculptures and artistic endeavors.
3. Al Qasba Restaurants
The abundance of food options in Qanat Al Qasba is another captivating feature that sets it apart from nearby settlements. These restaurants appeal to a variety of preferences by offering a variety of gastronomic experiences, such as French cuisine, Italian specialties, and Middle Eastern pleasures. Additionally, there are adorable cafeterias and ice cream shops that make for lovely settings for spending time with family. Make sure not to pass up the chance to indulge in Turkish ice cream here.
4. Musical Fountain
Due to its synchronized dance with music, the Musical Fountain—also known as the Dancing Fountain—is a sensory thrill. The only days it is open, though, are Thursdays and Fridays. So be sure to see this magical show if you ever find yourself in Sharjah. The show starts at roughly 5 p.m. and goes till 12:30 a.m.
Final words
Everything you need to know about Qanat Al Qasba is contained in this guide. It is therefore highly advised to allot some time here if the area and its offerings spark your attention. You can also choose to take a stroll nearby to enjoy the tranquility and natural allure of the seaside.