Heritage Village Abu Dhabi - A Must-Visit Place for Tourists
Posted On: 24-05-2023
The Heritage Village is a friendly site in Abu Dhabi where visitors may feel the essence of the arid landscape's traditional way of life. Visitors to this location can delve into Abu Dhabi's historical tale while engaging in interesting activities. Observing artists create pottery, partaking in retail therapy, and uncovering relics. For example, have all become entirely viable pursuits.
Without a doubt, this location guarantees an authentically fascinating encounter that promotes the understanding of Bedouin life. The details presented below are critical for individuals planning a trip to Abu Dhabi's Heritage Village.
Abu Dhabi Heritage Village - Fascinating Highlights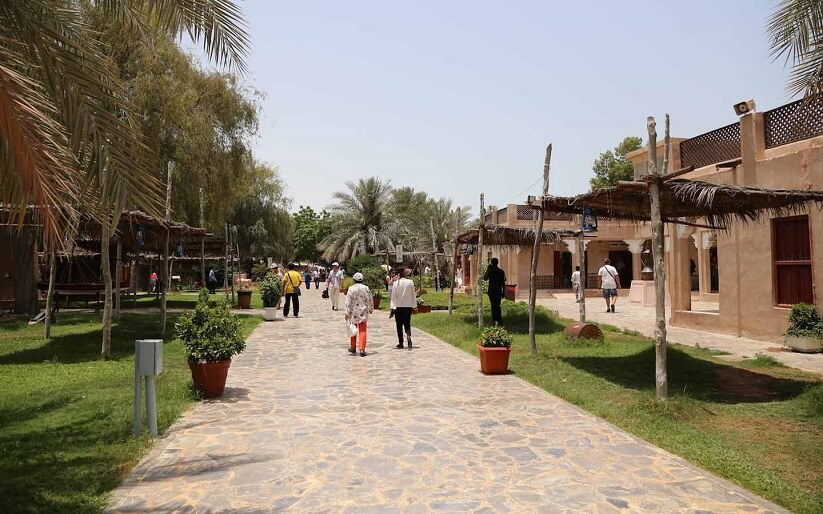 You will be introduced to the inventive aspects of true nomadic existence.
Enjoy a pleasurable shopping experience where you can buy ceramics, clothing, metalwork, and artisanal soaps.
Explore the terrain, discovering a plethora of valuable items such as stone houses and thatched abodes.
Following a visit to the beach adjacent to the Heritage Village, take in breathtaking views of Abu Dhabi's skyline.
Add a touch of elegance to your hands by adorning them with classic henna or mehendi designs.
Participate in immersion courses to study the age-old crafts of spinning, weaving, and ceramics.
Also Read: Al Bidyah Mosque
Closest Places to Visit the Heritage Village
The Emirates Palace, Abu Dhabi Corniche, and the prestigious Marina Hall are all within walking distance of this village.
Time to Explore
It is recommended that you set aside a few hours for exploring to fully immerse yourself in the Heritage Village experience, it is as fascinating as desert safari in Abu Dhabi. If you have the luxury of extra time, be sure to sample the exquisite gastronomic delights offered in this locale.
Facilities:
When visiting the Heritage Village, keep in mind the hot weather. Plan your visit to coincide with more favorable weather conditions, and take advantage of the available benches. Besides, the shaded spaces ensure a pleasant rest from the heat.
Activities to Explore at Heritage Village Abu Dhabi
You may be familiar with Abu Dhabi's intriguing landmarks. Nonetheless, you may not have had the opportunity to immerse yourself in the ancient practices of desert life. Without a doubt, the Heritage Village is an important tourist site in Abu Dhabi. They are providing genuine contact with the ancient emirate way of life.
Heritage Village Beach:
This unique attraction complements the Abu Dhabi Heritage Village. This well-known beach is a famous tourist destination in Abu Dhabi, offering stunning views of the Arabian Gulf. It is a thin stretch of white sand that provides an excellent vantage point for seeing the dramatic silhouette of Abu Dhabi's skyline. During your journey, you will see traditional dhows and historic vessels that vividly depict this region's rich cultural heritage. However, beach gear is not permitted while participating in the experience.
The Heritage Village Museum:
The Museum of Heritage Village offers a variety of interesting encounters that will keep you completely engaged. An original Arabic insignia depicts the emirates' extraordinary journey, culminating in the fast transformation of a small townlet into a bustling metropolis. Furthermore, this museum embodies the cultural character of the region. Along with its curated collection of ancient weaponry and fine traditional jewelry. Among its exhibitions is a meticulously penned reproduction of the Quran. You will also see a duplicate of the modern irrigation system used in the UAE to nurture palm trees.
Indulge in Shopping:
You will, without a doubt, have the opportunity to explore Abu Dhabi's illustrious history at its fascinating location. You will also be able to purchase traditional mementos that will transport you to the region's prosperous nomadic past. You will be able to purchase various traditional handicrafts and artifacts while browsing these items. A small spice store is known for selling herbs and homemade soaps.
Furthermore, a small market will allow you to haggle to your heart's content. Within, you'll find stalls selling traditional clothing, sterling silver jewelry, handbags, henna, and even woolen rugs. Additionally, you will come across local products such as T-shirts, UAE keychains, and so on.
Nearby Restaurant
If you get hungry while exploring the beach and shopping, head to Heritage Village Abu Dhabi. This gourmet refuge, known as the Catch at St. Regis, offers a smorgasbord of scrumptious Mediterranean gastronomic delights that are sure to please even the most discriminating palate.
In addition, within this area lies the renowned Al Asalah restaurant, which serves a variety of delectable culinary masterpieces. A few minutes away, the Corniche area or the marina mall has a variety of other food businesses to satisfy your appetite.
How To Reach?
By bus:
To get to the epic destination, take any bus with the numbers E306, X13, 29, 8, or 21.
Alternatively, one might go to the place by car rental agency or by securing a ride.
By metro:
Begin your tour by entering the metro at Al Ghubaiba Metro Station 2, which will take you directly to the aforementioned Heritage Village.
The cost of Admission
The Abu Dhabi Heritage Village is free to enter, allowing you to explore its offerings without paying any costs.
Entrance Timing
This site is open from 9 a.m. to 4 p.m. on weekdays from Saturday to Thursday, except Fridays, which are open from 3:30 p.m. to 9 p.m. Allow 90 minutes to completely tour the townlet.
Optimal Visitation Period:
It is recommended that you visit between 9 a.m. and 11 a.m. on Thursdays and Wednesdays for the best experience. Because local schools tend to visit the place in the afternoon, this hour is preferred. On the other hand, it is best to avoid Mondays, Tuesdays, and Sundays. As these days tend to draw a large number of tourists, resulting in increased congestion.