Ibn Battuta Mall in Dubai - A Shopper's Paradise
Posted On: 27-05-2023
The Ibn Battuta Mall in Dubai is recognized as one of the largest retail emporiums that visitors to the city should not miss. Its name honors the renowned savant and adventurer Ibn Battuta. You will be able to indulge in lavish retail therapy and enjoy unhurried moments. Also, savor gastronomic delights, and bask in mesmerizing amusement within its premises.
Also Read: Heritage Village Abu Dhabi
IBN Battuta Mall in Dubai - All Information about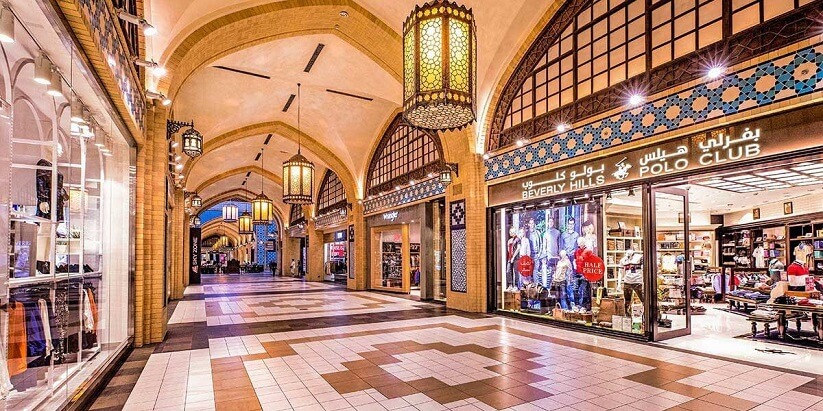 If you plan to visit Dubai during the shopping fiesta, this particular emporium will undoubtedly enchant you. This venue is divided into six distinct zones, each symbolizing the various aesthetics of six different nations. such as Andalusia, India, Egypt, Persia, China, and Tunisia.
If you want to indulge in endless retail therapy, this mall is an excellent choice. Ibn Battuta Mall features a variety of dining outlets supplying a variety of culinary pleasures. Its entertainment alternatives offer unrivaled theatrical experiences and outstanding shopping locations.
This emporium serves people of all ages and genders. The Ibn Battuta Mall has an excellent selection of shops and boutiques, offering a wide range of products. Such as cosmetics, cutting-edge electrical goods, prominent worldwide fashion labels, furniture, accessories, home decor, and much more. We've identified a few notable establishments within the mall that merit particular mention below.
CATH KIDSTON:
In this realm, you will find renowned designer Catherine Isabel Audrey's range of renowned accessories and outfits made exclusively for children.
CARTER'S:
If you want to buy baby clothes while in Dubai, this shop is a good option.
SWAROVSKI:
This particular establishment has received praise for displaying superb adornments and ornaments decorated with brilliant gemstones.
ALDO:
This place will be an enchanting retreat for those in search of fashionable footwear and accessories.
ECCO:
In the dynamic city of Dubai, ECCO offers a handpicked collection of the latest and trendiest footwear, with a concentration on superb leather shoes.
SEPHORA:
If you are looking for high-end cosmetic brands, this institution will completely satisfy your needs.
Activities to Explore in Ibn Battuta Mall Dubai
1. Shopping
As previously stated, this emporium contains various great establishments that sell a diverse range of stuff encompassing categories. Such as garments, cosmetic products, trendy articles, electronic equipment, shoes, travel accessories, toys, and a variety of lifestyle options.
2. Dining
Patrons will enjoy wonderful gastronomic pleasures thanks to an abundance of restaurants, food courts, and cafés within this retail oasis. Here, one will find a fusion of local and international cuisines. Including tantalizing Italian and Asian fare, among others. The establishment provides an array of outstanding food places. Including recognized names such as
Pizza Express
McDonald's
Subway
Yo Sushi
Cold Stone
TGI Friday's
Keventers
Starbucks
KFC
Baskin Robbins, and many more, all conveniently located within its premises
3. Kids' play zone
This emporium keeps children entertained as well, with the opportunity to bounce on trampolines, run around, and participate in a variety of programs. A trip to Chuck E Cheese is highly recommended because it offers a day full of joyful moments spent with loved ones while participating in fun activities and games.
4. Movie time
Novo Cinemas offers an exceptional opportunity to enjoy the most recent cinematic offerings while in Dubai. This versatile theatre complex has a broad roster of films in several languages. As well as fascinating screenings of IMAX, 3D, and 3DIMAX productions, much to the joy of its patrons. Furthermore, the location has a lively bar and restaurant, attracting large people looking for unhurried enjoyment.
5. Spa
Fortunately, the city is brimming with superb wellness retreats where you can indulge in revitalizing spa experiences and calming massages to unwind your senses. Especially after a day spent wandering the huge expanse of this beautiful retail complex.
Other services
In addition to the diversity of pleasurable items offered by this emporium, the management offers attentive care and attention to its appreciated visitors. Currently, we have described a variety of amazing services provided at Ibn Battuta Mall.
ATM facility
Wheelchairs
Lost and found facility
Baby changing rooms
Valet parking
Personal emergency assistance
Paid shuttle service
Car wash services
Prayer rooms
Currency exchange
Top 3 facts regarding Ibn Battuta Mall in Dubai
This fascinating shopping center is known as the world's largest themed shopping emporium, with six intriguing courts that are sure to captivate you.
The shopping center's design is inspired by the numerous regions explored by Ibn Battuta. Including Egypt, Andalusia, China, Persia, India, and Tunisia.
Ibn Battuta Mall was opened in 2005 and includes over 300 magnificent businesses as well as parking for over 5,000 vehicles.
How to reach?
The simplest way to get to the exclusive Ibn Battuta Mall is to drive yourself. It would be smart to take Interchange 5 and take a direct road on Sheikh Zayed Road towards Jebel Ali. After that, turn right at the intersection to enter the shopping center. The mall is also accessible via bus, Dubai Metro, and RTA taxis.
Timings
Operating from 10 AM to 10 PM daily, with extended hours till midnight from Thursday to Saturday, this emporium offers ample time for exploration.
Optimal visiting hours
For an optimal experience, allocate an entire day to immerse yourself in the offerings of Ibn Battuta Mall. The comprehensive design of the mall ensures a day-long entertainment extravaganza. They are allowing you to arrive at your convenience and relish every moment to the fullest.
Entry Fees details
The noteworthy aspect is that entry to the mall is entirely free, with no associated fees or charges.