Al Marmoom Heritage Village Dubai Guide for Visitors
Posted On: 07-06-2023
The Al Marmoom Heritage Village is a popular choice among cultural enthusiasts in Dubai. It is a yearly gathering held during the spring season to showcase the extraordinary Khaleeji heritage, which includes the iconic Dubai camel race as well as several other appealing allures. The celebration is an excellent opportunity to immerse oneself in the splendour of indigenous culture.
There are a plethora of surprises awaiting your discovery, and you might even go souvenir hunting. You have the option of choosing from a wide range of wonderful artisanal artefacts. There are also tempting opportunities to enjoy the local cuisine while listening to live musical performances. Naturally, you cannot miss the fascinating Al Marmoom camel racing, a spectacle that brings to life glimpses of a timeless pleasure firmly steeped in the history of generations.
Also Read: Al Montazah Aquatic Park Sharjah
Things to do at Al Marmoom Heritage Village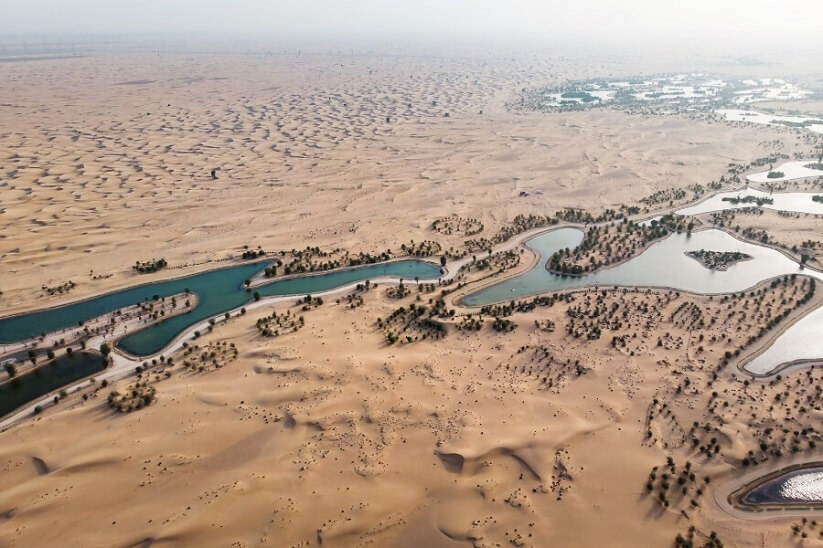 Camel Race:
Begin with a bang by heading straight for the Al Marmoom Camel Race. As you see a herd of 60 camels run along the racecourse at a modest speed of 40km/h. You will undoubtedly have an unforgettable experience. While the camels are steered by jockey automatons, the proprietors follow closely behind in four-wheel vehicles, encouraging their prized camels.
Within Al Marmoom Heritage Village, you can experience the essence of indigenous life. The spectacular Marmoom Camel Race Festival, which attracts large crowds. Also, it is one of the most known athletic spectacles on the annual calendar.
Besides, it is the highlight of the Al Marmoom Heritage Village. Witnessing this age-old custom, deeply woven in the fabric of this place for countless generations. The one cannot help but notice the significant expansion and refinement it has undergone in recent times, as shown by the joyful festival itself.
indigenous Boutiques:
Indulge in a quick shopping spree at the indigenous boutiques, where you can purchase mementos. It will conjure lovely memories of your visit to this extraordinary realm of desert landscapes. It is blending with the contrasting contemporary metropolitan existence. Without a sure, it is an exceptional adventure worth remembering!
Delights:
Enjoy wonderful regional specialties at the places located here. The meal served is authentically indigenous, meticulously prepared with the utmost care for hygiene. It has a spiciness that adds an exhilarating flavour, and the tantalising aroma captivates the senses.
Live Shows:
Immerse yourself in the harmonising masterpieces created by indigenous virtuosos. They will regale you with enthralling live recitals. The music resonates deeply, creating a mesmerising effect that lasts long into the night, engulfing your senses in an enchanting enchantment.
Stargazing:
During the velvety nights of the desert, enjoy the amazing spectacle of seeing the countless constellations dotting the heavenly horizon. Stargazing becomes an absolute must during your stay at Al Marmoom Heritage Village. It is due to its profound cultural and historical significance in the UAE. An experienced guide will teach you the technique of reading time and traversing the desert using celestial combinations. Create an overnight encampment for your cosmic expedition to add to the romance of your stargazing adventure.
Take advantage of the engaging Astrotourism expeditions provided by the Dubai Astronomy Group. It will allow you to maximise the splendour of your celestial observing venture. The club organises frequent tours. It is worth providing an amazing opportunity to combine your love of astronomy with the thrill of travelling the desert region.
To conclude our list of activities to do at Al Marmoom, we urge you to read our thorough review of overnight desert safaris in Dubai for more desert-bound adventures. If you want to make the most of your camping trips, we recommend checking our thorough guide to desert camping in the UAE. Furthermore, while living in the UAE is not synonymous with austerity, there are regions where entertainment is free. Explore our directory of free activities in Dubai to satisfy your curiosity.
While it is free to come into, individual attraction visit at the village may cost few for the visitors.
The Bedouin Lifestyle:
Looking for the authentic Al Marmoom Bedouin experience? A true experience requires travelling on camel caravans through the dry expanse. It is the must-do activities in Dubai, escorted by knowledgeable guides who reveal the secrets of survival for nomadic Bedouin tribes in the desert.
Visit a traditional majlis, learn the ancient art of falconry, and visit a Bedouin town set. Alongside a beautiful oasis within the Al Marmoom Desert Conservation Reserve. This mash-up of encounters culminates in the pinnacle of an incredible Bedouin adventure at Al Marmoom.
Various service providers provide a variety of packages suited to your requirements in terms of the quantity. Also this type of desert activities you choose to participate in. Consider Platinum Heritage, which offers an attractive "Al Marmoon Desert Experience" package. It includes authentic Bedouin gourmet delights as well as the aforementioned activities for AED 495 per adult.
Most Asked Questions About Al Marmoon Heritage Village
Is there a dress code in the village?
No, there are no established clothing codes. However, modest attire is encouraged out of respect. It is for the local population and to avoid unwittingly upsetting their sensibilities.
Is there any danger in the camel race?
Rest assured that the camel racing is carried out with the utmost caution. Robot jockeys have replaced human counterparts in modern times. Also, every preventive action is methodically done to protect all participants.
Is it permissible to take photographs alongside locals dressed in traditional garb?
You may participate in a photo opportunity; but, you must first obtain their permission.
Is there an admission cost to Al Marmoom Heritage Village?
The settlement itself is free of charge to enter. Please keep in mind that there may be additional fees related with various attractions on the property.
How to arrive at the Al Marmoom Heritage Village?
Bus:
From Dubai International Airport, take the 13B bus to Al Marmoom Dubai Camel Racing Club. Besides, get out at the designated stop. Please be aware that the journey will take around 1 hour and 45 minutes, with a ticket price of AED 23.5.
Car:
To get to your location from Dubai International Airport, take the E66 route through Al Ain's picturesque route. The total distance you will travel is 43.1 kilometres, and the journey will be completed in about 29 minutes.
Can guests get up close and personal with the camels?
Absolutely! Interacting with the camels in close proximity is enthusiastically welcomed. These friendly critters have a pleasant demeanour and are unconcerned about being photographed. You may even give them a soft caress if you so desire.