Sharjah Central Souk - A Complete Guide for Visitors
Posted On: 14-06-2023
When planning activities in Sharjah, the Central ouk or blue souk should be one of your first stops. The Central Bazaar in Sharjah, with its iconic azure tile-bordered exterior. It is a striking monument to Sharjah's geography and one of the city's most captured structures. Furthermore, this marketplace has historical significance in the UAE, as it appears prominently on the five-dirham currency.
A magnificent line of stores invites along the lagoon-facing facade. Along with its assortment of real Bedouin adornments, rare gemstones, glossy gold, and exquisite diamonds. Surprisingly, certain artisans within these premises can duplicate a design based merely on a simple sketch.
The Blue Souk is located in a handy central location, just meters away from the Sharjah corniche. Besides, the city's renowned museums are also nearby. Enhance your trip to the Central Bazaar by incorporating a stop at the Sharjah Art Foundation or the Sharjah Museum of Islamic Civilization.
Sharjah Central Souk - A Brief Overview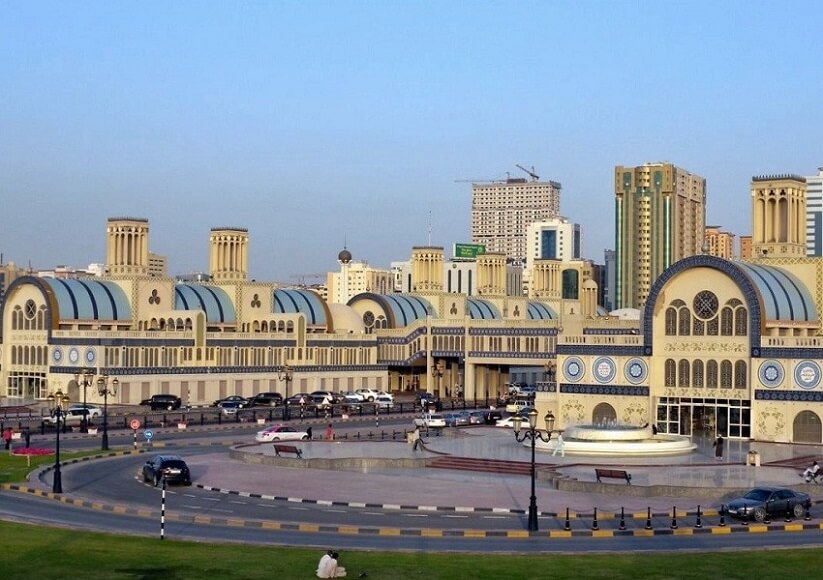 Without visiting the renowned Sharjah Central Souk, an iconic landmark within the city, your exploration of Sharjah will be incomplete. This particular marketplace has great historical significance. As indicated by its representation f UAE money. Does the desire to learn more about this location pique your interest? Without further ado, let us begin our voyage right away.
Architecture:
A stretch of over 600 enterprises spreads across two levels of this bustling blue Souk, each selling a broad selection of items. Ascending to the second floor reveals a slew of stores specializing in many things. Such as kilims, carpets, textiles, handicrafts, and a variety of artistic works.
With over 600 establishments spread across two levels, you will find a broad range ranging from trendy timepieces. It is an alluring clothing for indigenous trinkets and keepsakes. This bazaar is a must-see among Sharjah's major attractions, especially for those interested in interior design. Ascending to the second floor offers a wealth of establishments presenting fine arts and handcrafted artifacts. The local delicacies, such as intricately woven fabrics and elaborate rugs and tapestries.
Also Read: Al Montazah Aquatic Park
A fascinating assortment of shops awaits across the breadth of the Blue Souk, showing brilliant diamonds, valuable jewels, shining gold, and mesmerisjewelrylery. A range of deled-afterfstoric pieces is also available. Explore the treasure trove of intriguing ornamental things for your home, all at reasonable costs. Also, don't forget to read the extensive collection of information about Dubai.
Atmosphere:
This location exudes a unique charm that ensures a pleasurable visit for both adults and their accompanying children. Allow your children to experience the joy of receiving meticulously designed, entirely handmade toys. Notably, this establishment is open until 10 p.m., giving visitors plenty of time to enjoy its charms in the evening.
The is especially wonderful, with brightly illuminated stores and a bustling atmosphere bursting with energy. Further adventure awaits you after you leave the Blue Souk.
The vivid array of stores creates a mesmerizing kaleidoscope of colors that captivates both children and adults. The Central Bazaar offers an unrivaled Middle Eastern retail extravaganza that caters to the preferences of all individuals. Besides, it is highly recommended for families visiting Sharjah. If you're looking for fun activities for your kids, consider purchasing a carefully created toy from this store. This blue bazaar, which is open until 10 p.m. every day, is also a premier nocturnal destination in Sharjah, ensuring its inclusion on your nighttime itinerary.
Location:
This Blue Souk is discovered nearby Al Ittihad Square near Faisal Road.
The Best Moment To Visit The Blue Souk
To avoid crowds, schedule your visit during the quiet hours of the morning, preferably about 10:30 a.m. Alternatively, the late evening hours provide an ideal opportunity to have a more tranquil experience away from the masses. If you're looking for another shopping destination, the Lamcy Plaza in Dubai is a good option.
Entry Fee?
The good news is that there is no admission fee necessary for your visit to The Sharjah Central or Blue Souk.
How can you Reach This Sharjah Central or Blue Souk?
Because it is around 16 kilometers away from Sharjah, you have the choice of taking a bus or a cab to get there. In the event of any navigational difficulties, rest assured. The popularity of this location makes it a recognizable ball landmark. Besides, the residents will gladly provide directions to help you find your way.
After you've gathered all of the necessary information about the Blue Souk. It's time to pick a date and begin your tour without hesitation. Take advantage of the opportunity to demonstrate your negotiating skills as you interact with the friendly shops within. Engaging them in the discussion gives a variety of fascinating. It's insights into the UAE's historical trajectory and amazing transformation into a modern nation. Make sure not to ignore this magnificent destination, which offers a memorable experience.