SeaWorld Abu Dhabi - Everything You Need to Know
Posted On: 21-06-2023
You are cordially invited to explore Abu Dhabi's marvels of human ingenuity, first-rate amenities, and cultural legacy. Prepare to be mesmerised by its picturesque arid landscapes, beautiful coastlines. Besides, the mouthwatering cuisine served by renowned fine dining venues. In addition, it is home to four magnificent theme parks, including the just-opened SeaWorld. It is the place, where you can set off on an amazing journey from the Arctic to the Equator. While coming into contact with a wide variety of more than 100,000 aquatic creatures.
SeaWorld Abu Dhabi - A Brief Overview
Also Read: Sharjah Central Souk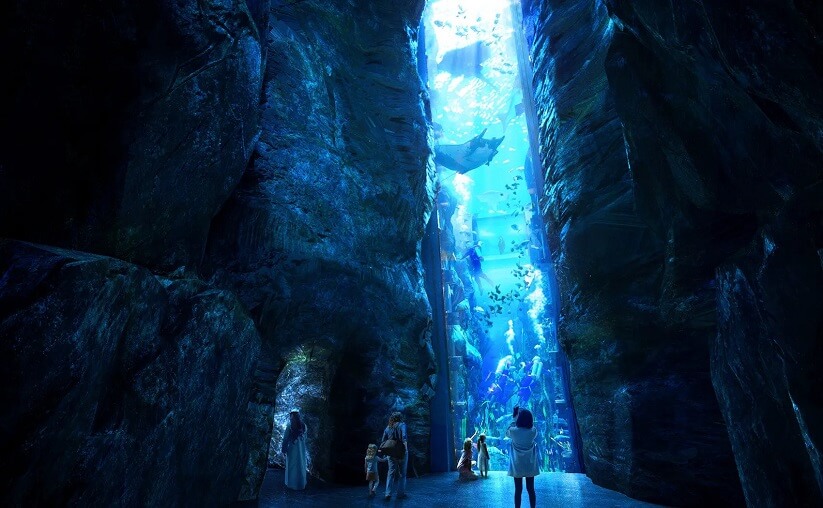 The first aquatic animal theme park in Abu Dhabi opened on May 23 thanks to SeaWorld. This attraction, which was developed in partnership by SeaWorld Parks and Entertainment and Miral Real Estate Developers. It provides a magnificent immersion into the world of marine existence while informing visitors about these amazing wonders of the natural world.
As the city currently boasts four theme parks, including Warner Bros. World Abu Dhabi, Ferrari World Abu Dhabi, Yas Waterworld, and CLYMB Abu Dhabi, desert safari Abu Dhabi, signifies a crucial turning point in Abu Dhabi's tourism history. In the MENA region, the Yas SeaWorld Research & Rescue facility is the only institution. It combines a comprehensive research, rescue, rehabilitation, return, and instructional mission.
This multi-level entertainment park, which spans an expansive 183,000 square metres. It offers visitors a wonderful opportunity to dwell with and enjoy the company of aquatic creatures. Visitors are greeted by amazing architectural marvels and the use of cutting-edge innovations as soon as they enter, submerging them in the world of aquatic existence.
When you enter SeaWorld, you can immediately feel your environment changing. SeaWorld cordially invites you to set off on a unique voyage that will be permanently imprinted in your mind through enthralling displays of marine flora and wildlife and melodious music.
Eight different domains may be found within this amazing theme park. Including the
Boundless Abyss
Exotic Tropics
Formidable Citadel
Abu Dhabi's Aquatic Domain
Frigid Arctic
Enigmatic Antarctica
Lilliputian Deep
All of them are connected by the Unity Ocean, a hub where visitors can enjoy a rich multimedia experience. It observes the attentive operations of the animal sanctuary where skilled veterinarians practise their trade. Throughout the entirety of SeaWorld, there are a wealth of intriguing facts scattered everywhere, ready to be discovered.
Endless Ocean:
This domain offers a singular and enthralling encounter with its 68,000 aquatic residents, which include powerful sharks, graceful stingrays, mysterious octopuses, and vivid shoals of fish. The crowning gems of this world are the thrilling adventures of scuba diving and underwater strolls. They operate as the top attractions that are certain to make an impression.
Tropical Ocean:
This vast realm, which drew its inspiration from the magnificent Amazon jungle, stands out among its rivals as the most opulent. A colourful tapestry of avian and terrestrial species seeks refuge inside its boundaries, luring tourists with a variety of intriguing encounters.
Here, sightings of regal flamingos, vivid macaws, playful dolphins, and a variety of other intriguing creatures are sure to arouse a deep sense of affection.
Rocky Point:
Sea lions, seals, and a variety of other marine creatures are given a home within this area. With a focus on the engaging performances of sea lions, seals, and otters. Visitors are treated to captivating showcases that emphasise the incredible capability and appeal of these endearing animals. Pelicans and cormorants can also be seen in the tranquil enclave, further enhancing the variety of life found in this exceptional ecosystem.
Abu Dhabi Ocean:
This particular piece serves as a vivid testament, capturing the essence of Abu Dhabi's maritime world and the splendours of the Arabian Gulf. It provides a fascinating view into the vivid fabric of Bedouin genealogy. Besides, the illustrious legacy of pearl merchants and is decorated with stunning Arabesque architecture.
The Naham Theatre, which draws crowds with its attraction, presents two mesmerising live performances. They tell the riveting tale of pearl diving, the mystifying allure of mermaids, and the delicate elegance of dugongs, all expertly weaved into a captivating narrative.
Arctic:
This intriguing part, which draws its inspiration from the ethereal Polar Ocean and harmonises with Antarctica's icy splendour, weaves a spell with Abu Dhabi city's breathtaking vistas.
Adventurers, posing as visitors, get the chance to experience the region's constantly changing seasonal conditions. It witnesses the majestic beauty of walruses, otters, and a variety of other deep-sea inhabitants. The Hypersphere, a stunning 360-degree excursion housed within a multimedia sphere. It is this domain's crown jewel, providing a completely immersive oceanic odyssey that goes beyond what is often experienced.
Antarctica:
This secondary world, which embraces the essence of the Polar Ocean, reveals a variety of fascinating penguin species. These adorable critters can be found in plenty inside its boundaries, each displaying distinctive traits and alluring personalities. The Penguin Play, a high structure embellished with intricate climbing nets and adrenaline slides. It complements the penguin's alluring presence by offering guests a delightful playground where they can find unlimited amusement.
Micro Ocean:
There is a thrilling region hidden within the enormous Micro Ocean that is exclusively for young explorers looking for a wealth of marine-themed adventures. Children can experience the thrill of travelling on captivating excursions with a marine life theme in this fanciful adventure zone, inspiring their imaginations to soar.
If one's energy wanes, revitalization is nearby in the form of adorable boutiques, and tantalising gourmet delights beckon, tempting guests to go on a culinary journey of delightful discoveries. A variety of rides, such as the electrifying Octozoom, the charming Turtle Twist, and the heart-pounding Eel Racer, are ready to unleash unlimited thrills. Within this magical realm as you go on a journey of excitement.
Ocean Adventure:
Dive headfirst into the mysterious Dugong's world, a prestigious resident of Abu Dhabi's emerald embrace! Participate in the amazing chance to feed these majestic beings while being surrounded by graceful Hawksbill Sea turtles.
Get ready for a frenzy of excitement as you interact with mesmerising Walruses, play with energetic Atlantic bottlenose dolphins. Also, they become mesmerised by the charming quirkiness of engaging Penguins.
Prepare for a magical encounter as the joyful sea otters fascinate you with their vivacious liveliness. Enjoy time spent playing, feeding, and interacting with these fascinating creatures. And make sure to strike a pose with the friendly sea lions to create an enduring memory that will endure the test of time.
Like the ancestors of Coconut Bay, set out on an exhilarating kayaking excursion across the lush length of the tropical lagoon! Drift effortlessly over the unpolluted, pure seas with dolphins playing joyfully as your constant companions. Give yourself to the peaceful embrace of nature, and create lasting experiences that will reverberate in your soul forever.
Express Your Adventure at Interactive things to Explore
Manta Coaster:
Enjoy the exhilarating rush of ascending through 17 weightless transcendental moments. As you immerse yourself in a journey unlike any other that defies the laws of gravity. As the first person to successfully manoeuvre an amazing flip that defies the laws of physics, get ready to be amazed.
Prepare yourself for an adrenaline-fueled voyage as you race through heart-pounding loops. Besides, the pass through a charming bioluminescent tunnel that leads to a mesmerising view of the Ray Reef's magnificent underwater world.
Shipwreck Cove:
Discover the remnants of ancient ships from the Arabian beaches that once travelled. It is engaged in trade, and set out on epic adventures over the course of six centuries as you set out on a daring quest.
As you creep, soar, rotate, and glide, learn more about the vibrant ecosystem and aquatic life of the remarkable NanoSea.
Explore coral-adorned sunken ships as you descend into the ocean's depths with Gallery Games. The Midway Challenges are here, offering guests of all ages a variety of fun and rewarding challenges.
Prepare to set sail on thrilling maritime expeditions through interesting encounters or ascend into a fun leisure framework in the Launch Hub. Join a group that is dedicated to advancing exploration technologies.
Captivating Live Performances:
Immerse yourself in a dramatic live performance that revives the wealthy past. Besides, the traditionss of pearl diving while being mesmerised by the appeal of the Arabian Gulf shoreline. This is "Plunge into the Life of a Pearl Adventurer."
Explore the Armillary:
As you enter the Celestial Sphere, a panoramic 360-degree dome will take you to the Arctic and Antarctica. It is taking your breath away with its breathtaking views. Set out on a series of fascinating anecdotes that will take you on thrilling expeditions to the arctic regions.
Canopy Climbers' Extravaganza:
Prepare to be mesmerised by an energetic and joyful sight that celebrates the fanciful acrobatics of rainforest animals. As they gracefully ascend and leap across the lush expanse of vegetation.
Join Verne on an Extravortex 360° Quest:
With Verne as your guide, set off on an enthralling and compelling underwater journey with the help of the alluring Extravortex 360° experience.
A Singular Oceanic Saga:
Watch this beautiful 360-degree documentary, which tells the story of a young woman's remarkable journey around the world. Beside her up-close encounters with some of Earth's most amazing environments.
Hike with Stilt Walkers:
Engage with enormous characters such as a canopy amphibian, flying bug, and contemplative garden dweller. As they roam the Exotic Aquatic realm, stunning guests with energetic acrobatics, opportunities for photographs, and extra delights.
Face the Camel & Heron Puppets:
You might come across the extremely lifelike and captivating marionettes of a dromedary. Besides, it is during your exploration of the Abu Dhabi Aquatic world, providing you with a genuinely unique encounter.
The Energetic S.E.A. Keeping Crew:
Enter the device room to enjoy a lively symphonic spectacle provided by the maintenance group. During the breaks between the performances, feel free to join in and create your own harmonies.
Investigate The Wonder of Animals
Tropical Paradise:
Immerse yourself in a stunning equatorial setting filled with vivid hues that arouse your senses. As dolphins show off their natural behaviour in a dynamic environment teeming with aquatic life and spineless creatures.
Dolphin Delight:
Witness a mesmerising exhibition honouring the seamless connection between people, exotic birds, and cetaceans. Get ready for a presentation that will enthral you with its cadence, melody, and stupefying spectacle.
Bird Feeding Adventure:
Set out on an extraordinary encounter in The Rainforest, where you can actively interact with a fascinating variety of uncommon avian creatures by providing them with food.
Rays Unleashed:
Take advantage of the rare opportunity to feed stingrays in their natural habitat and create unforgettable memories that will live on in the depths of your spirit forever.
Sea Lion Connection:
Enjoy a thrilling interaction with our fascinating marine pinnipeds while relishing the idea of feeding them and forging a lifelong bond.
Macaw Wonderland:
Imagine the Tropic Sea as a paradisiacal expanse without of its vibrant hues. Neotropical psittacines, which are known for their extended appendages and exquisite, ever-changing plumage, can be found in our sanctuary.
The Enchanting Cavern:
Watch as fascinating nocturnal marine life, such as Moray serpents and crustaceans that cling to rocks. Itlives in the maze-like caverns of The Grotto, a magical place hidden within the unfathomable depths of the ocean.
Find out Mangrove Treasures:
Immerse yourself in exciting tactile basins tucked away in the Mangrove forest for a close encounter. With the fascinating aquatic inhabitants of the Gulf, including elasmobranchs, skates, and fascinating crustaceans.
The Spectacle of Sardines:
Observe the mesmerising spectacle of many sardines entwining in a captivating frenzy known. As a mesmerising bait ball as graceful sharks and other regal marine predators glide through the centre of this thrilling show with effortless grace.
The Swirl Show:
Prepare for a captivating experience with a blatantly unrivalled display of motion, vibrancy, and brightness. Observe the mind-boggling arrangement of countless sardines as they travel through the abyssal realms. It is inspiring artistic strokes in a marine masterpiece of unsurpassed majesty.
Ticket Options & Pricing
You have access to many ticket tiers, each of which grants unique perks catered to your preferences. For a single-day admittance, costs start at AED 375 (INR 8,450) for adults and AED 290 (INR 6,500) for kids.
Additionally, there are tempting package deals available, like the AED 675 (INR 15,200) pass, which provides unfettered access to all four parks for a large 14-day period.
This all-inclusive package includes admission to all four theme parks in addition to extra benefits. Additionally, two-park and three-park tickets are available for purchase; they cost AED 475 (INR 10,700). As well as, AED 575 (INR 13,000), respectively, and come with their own unique set of benefits.
Annual Pass Options:
An Annual Pass alternative is available for people looking for greater benefits and lower prices. The Annual Pass offers substantial supplemental benefits while having a somewhat higher price.
AED 1,295 (INR 39,200) is the starting price for an annual pass, while AED 3,195 (INR 72,000) is the price for a diamond YAS annual pass. The Gold YAS annual pass, which costs AED 1,495 (INR 33,700), is an alternative option. Please be aware that the currency conversion may change depending on the current state of the economy.
What is SeaWorld Abu Dhabi?
SeaWorld Yas Island, which is located in Abu Dhabi, is prepared to revolutionise the fundamental definition of marine life theme parks. It deftly creates a beguiling history of "One Ocean," unravelling the rich tapestry that connects our world with the abundant depths of our beloved oceans.
This fascinating project aims to spark a strong commitment to preserving our wonderful world.
Within its own thematic zones, SeaWorld Abu Dhabi offers a variety of enthralling, engaging, and captivating adventures. Within a single location, visitors may take part in thrilling adventures, have close encounters with captivating aquatic creatures, watch captivating spectacles, and enjoy unmatched dining and retail experiences.
SeaWorld Abu Dhabi is a monument to grandeur, spanning an impressive area of almost 183,000 square metres across five outstanding indoor tiers. Over 150 different marine species coexist peacefully within its confines, thriving in an amazing 58 million litres of aquatic splendour. The park also boasts the biggest, most massive aquarium featuring a variety of aquatic animals in the area, representing the pinnacle of marine diversity.
Additionally, Yas SeaWorld Research & Rescue, a cutting-edge facility tucked away on Yas Island, was recently unveiled by SeaWorld Abu Dhabi with great pleasure. The first of its type in the area, this ground-breaking institution serves as a resolute centre for marine investigation, intervention, recovery, and the safe reintegration of marine organisms into their natural environments.
Interestingly, SeaWorld Abu Dhabi heralds a historic accomplishment, marking the opening of the first SeaWorld Park outside the borders of the United States and standing out for being the first park to eliminate orcas from its enthralling lineup.