Al Montazah Aquatic Park Sharjah - Dive in to Enchantment
Posted On: 03-06-2023
The Al Montazah Aquatic Park, also known as the Gems Realm Aquatic Park, is a major attraction in Sharjah. It is having a plethora of distinguishing features for its guests. This lavish resort was built along the shores of Flag Island at a stunning cost of AED 100 million.
This recreational haven's architectural layout is exceptional, with its concept centred on fascinating tapestries, daring buccaneers, sunken fortunes, clandestine cosmos, and a variety of other captivating themes. Without a doubt, this site is a must-see for tourists, where you can undoubtedly join in the fun with your loved ones and relatives.
Also Read: lamcy Plaza Dubai
Al Montazah Aquatic Park - A Brief Overview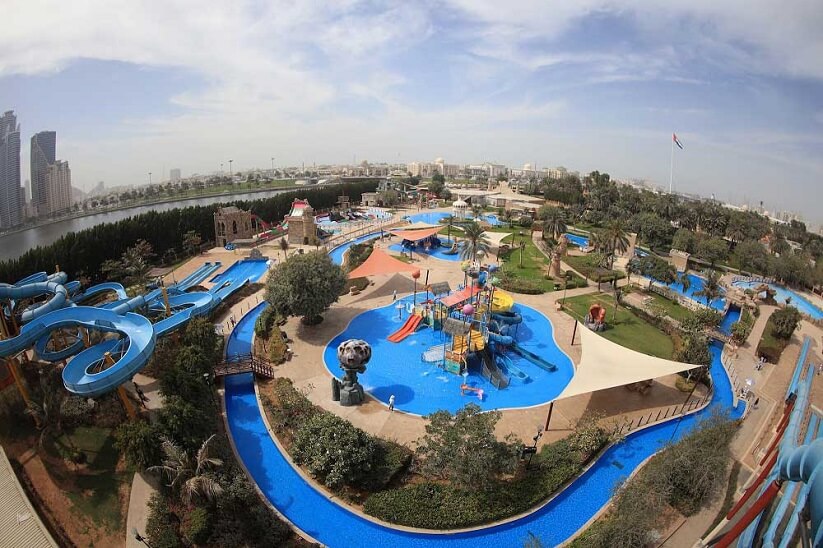 How to Reach Al Montazah:
You may reach this place by car directly from Dubai, and the entire journey is assured to take only thirty minutes. If you start your trip in Abu Dhabi, the journey to your destination will take no more than two hours. The duration, however, is determined by the current traffic circumstances in the area. You can also take public transportation to Al Montazah Water Park. To accomplish so, take a bus to Sharjah's Al Jubail Bus Station. From there, you may take a cab for a three-minute ride or take a leisurely five-minute walk to the waterpark.
History:
The recreational aqua park is an exuberant haven for families, bursting with thrills and delights. It offers a variety of thrilling and top-tier aquatic attractions, as well as a plethora of leisurely pursuits and a wide range of conveniences.
It is located near the Government Departments Complex and is also close to the Central Market and Khalid Lagoon. The thrilling attraction in sharjah is conveniently accessible from all other emirates, providing for seamless pleasure. Notably, this water park has quickly become one of the most popular tourist spots in the entire UAE.
Al Montazah Water Park shines in its provision of nearly 500 parking zones, with dedicated bays for those with disabilities thoughtfully added. On Flag Island, adjacent to the thrilling attraction in sharjah, additional amenities await. One notable feature is its proximity to Al Montazah Water Park. It got the renowned Sharjah Tourism Excellence Award in 2014.
They are confirming its position as one of the best and most innovative tourism products in the region. This location has developed as a vital focal point, attracting travellers from all over the world. Thanks to its unsurpassed amenities and array of first-rate services.
Al Montazah Water Park Activities to Experience
Behold the epitome of exhilaration, a captivating aquatic realm that features a formidable band of boisterous buccaneers. An assortment of mesmerizing relics, the mesmerizing spectacle of enchanting flying carpets. Besodes, the colossal palatial structures, numerous enigmatic galaxies, and much more.
Within this realm lies the illustrious Pearls Kingdom, providing an opportunity for cherished moments with your loved ones. Prepare yourself for a day brimming with ceaseless thrills and eagerly anticipated entertainment. It is certain to leave an indelible mark on your memory.
The Forgotten Valley:
Water Land is a magical region full with wonders and high-quality entertainment. Countless adventurers have embarked on perilous adventures through this land in search of astonishing treasures. Also, the other captivating allures. As you travel across this enormous terrain in search of the famous lost riches. You may come across a plethora of marvels hidden beneath the forgotten valley.
Pirate's Coast:
Pirate's Coast is an appealing paradise for children seeking adventurous adventures, immersed within an ocean of unlimited delights. This destination's unrivalled popularity can be due to its astonishing array of distinguishing traits.
Prepare to embark on a journey across turbulent rivers and climb enormous mountains that will leave you speechless. This realm is characterised by its addictive blend of adventure and enchantment. There are instilling in you an insatiable urge to dive into the azure depths and restore stolen pearls and jewels from the heart of the covert pirate's lair.
The Flying Carpet:
The magic of Water Land continues as it reveals an innovative masterpiece beyond comparison—the wondrous and peerless soaring tapestry. Prepare to go on an astonishing trip in which this remarkable creation takes you to unprecedented heights. As you climb, a sense of pure delight pervades your being, as though weightlessly suspended in the atmosphere. Also, providing an uplifting and calming experience that surpasses earthly limitations..
The Fort:
An towering and majestic stronghold awaits within the limits of the Water Park—the dazzling Fort. You are instantly transported to a realm of imagination, where the sheer majesty and charm of the surroundings absorb you. The pinnacle of perfection and heightened grandeur meet here. Accept the opportunity to discover the mysteries buried within these colonial walls as you begin on an enthralling trip that will fascinate your senses.
The King's Palace:
Behold the magnificent abode known as the King's Palace within the boundaries of Water Land, where everything emits an aura of daring and bravery. The thrill and excitement take hold of your very being the moment you step foot inside this spectacular structure.
The palace, a majestic architecture, stands proudly on the water, casting an imposing presence. As you walk through its sacred corridors, you are raised to a position of grandeur, fully immersed in its dazzling ambiance.
Entry Fees:
Admission to Al Montazah Water Park Entrance at Al Montazah Park is AED 120 for adults and AED 75 for children under 110 cm tall. Children under the height of 110 cm are admitted free of charge, allowing them to enjoy the thrilling attraction in sharjah.
Best Time to Visit Al Montazah:
The months of June through September are the best months to visit Al Montazah Water Park. The climatic conditions are ideal for enjoying the park's numerous attractions during the sweltering summer months.
If you want to avoid the stifling heat, head to a water park. Consider organising and securing your vacation far. It happens in advance to ensure arrival at the height of the year's best moment.
Conclusion:
The months of June through September are ideal for visiting Al Montazah Water Park. During the hot summer months, the climatic conditions are ideal for enjoying the thrilling attraction in sharjah.
If you want to avoid the sweltering heat, go to a water attraction, where you can easily avoid the oppressive temperatures and enjoy the soothing embrace of cool sensations. Consider organising and securing your vacation far in advance to ensure arrival at the height of the year's finest moment.