Dubai Creek Tower - World's Tallest Structure in Future
Posted On: 29-03-2023
The Dubai Creek Tower is a remarkable structure that stands out among the rest. It holds a unique position, as it will surpass both Dubai's current tallest buildings. The Burj Khalifa, and become the world's tallest structure. The tower's exceptional architecture and design are sure to transform the city's skyline once it opens.
This guide provides comprehensive information on the tower's construction, design, location, timing, and other essential details. Discover what lies ahead for this iconic landmark.
Also Read: Lost Chamber Aquarium
Main Highlights of the Dubai Creek Tower: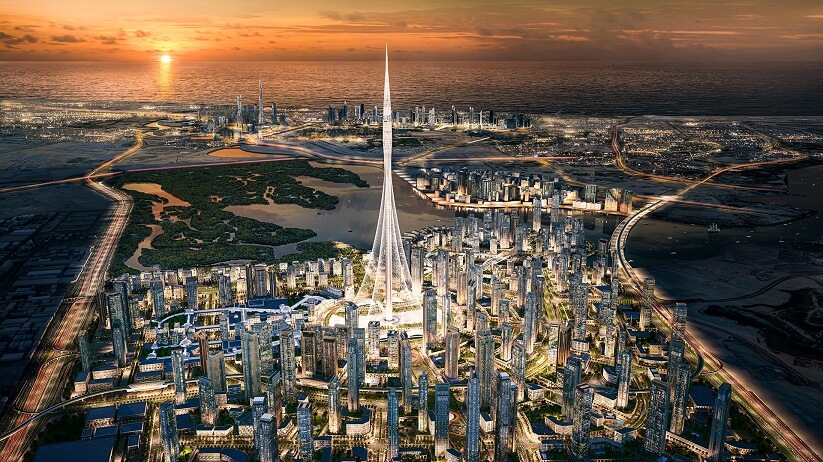 Eye-catching Architecture:
Residing in a metropolis where pioneering advancements and astonishing engineering marvels are commonplace. the primary attraction of Dubai Creek Tower is its unparalleled architecture. Additionally, it boasts a breathtaking position in the fresh, modern Dubai Creek Harbour district. It has been crafted to complement the stunning natural environment of the attraction. The lookout is situated along the banks of Ras Al Khor Wildlife Park. Also, it is home to nearly 500 unique species of indigenous flora and fauna, including the remarkable pink flamingos.
The designer of Dubai Creek Harbour Tower is Santiago Calatrava, a celebrated Spanish architect globally recognized for his cutting-edge architectural creations. Some of his other acclaimed projects include the Margaret Hunt Hill Bridge (located in Dallas, Texas). The Milwaukee Art Museum, the Museum of Tomorrow (found in Rio de Janeiro), and the Turning Torso edifice (erected in Malmö, Sweden). Besides, the City of Arts and Sciences (constructed in Valencia).
Design:
The Dubai Creek Tower boasts a modern and streamlined appearance, fashioned from a combination of the desert lily flower and conventional Islamic minarets.
Its slender stem is reminiscent of a flower, and the subtle steel cable rays resemble the ribbing of lily leaves. These elements not only enhance the structure's aesthetic appeal but also ensure its stability. The tower's crowning feature is a bud-shaped section that houses numerous floors. As well as observation decks adorned with striking green spaces.
The Idea Behind this Fascinating Construction:
Initially, its primary objective was to enhance the appearance and prestige of Dubai Creek Harbour. Nevertheless, it has since grown up into extensively additional than that. Construction began in October 2016 and is rapidly progressing toward its anticipated completion date in 2020-2021.
Future World's Tallest Building:
Dubai Creek Tower is poised to claim the title of the world's tallest building. A feat that comes at a time when several ambitious projects across the Arabian Peninsula are vying for the same recognition. Such as Jeddah Tower (found in Saudi Arabia) and Madinat Al-Hareer (located in Kuwait). However, with the tower's inauguration, Dubai city is projected to maintain its status as the home of the world's tallest man-made structure.
The original plan was to erect an observatory that would surpass the 828-meter-tall Burj Khalifa by 100 meters. However, reports are suggesting that Dubai Creek Tower's height could exceed one kilometer reaching up to 1300 meters. The competition is fierce, and we can hardly wait to witness the victory!
Set unprecedented benchmarks upon commencing construction. Its initial groundwork resulted in numerous achievements, notably its foundation pile cap. Which reached a depth of more than 70 meters and a thickness of 20 meters. Remarkably, the production of this cap required a staggering 50,000 cubic meters of concrete, weighing approximately 120,000 tons, in addition to 16,000 tons of steel reinforcement.
Furthermore, it surpassed previous standards by utilizing 145 barrette piles, which sustained a tremendous load of over 36,000 tons. A groundbreaking feat in the realm of foundation piles.
Every Single Detail about Dubai Creek Tower
Opening Date:
It's predicted to unlock before the Dubai Expo 2020.
Timings:
This section will be revamped once the tower is unlocked.
Location:
The Dubai Creek Tower belongs to the massive Dubai Creek Harbour, an impressive shoreline expansion. That encompasses approximately 679 million square meters of housing (which contains a couple of skyscraper-like residential structures that hold the title of the tallest of their type)
As well as more than 850,000 square meters of the business area. Furthermore, there will be more than 20 hotels with 4000 or more rooms. While its shopping section alone is predicted to utilize more than 11 million square meters.
Top Activities to Explore at Dubai Creek Tower
Whilst the tickets for Burj Khalifa offer a panoramic view of the city from its observation decks. Dubai Creek Tower is poised to shatter records with its myriad of attractions and unique experiences.
Survey the skyline vistas from the city's loftiest standpoint:
Boasting 10 observation decks in total, unparalleled views of Dubai from an unmatched altitude are s in store for you at this destination
Experience panoramic perspectives from the Rotating Platforms:
It consists of revolving balconies made of glass. As it rotates, the open-air space provides a full view of the entire city.
Savor the Pinnacle Room and the Hanging Gardens of Babylon:
It offers an unparalleled sightseeing experience. The Pinnacle Room is the pinnacle of all observation decks. While VIP observation decks with mind-boggling interiors modeled after the ancient wonder of Babylon's Hanging Gardens will leave you in awe.
Stride into Central Plaza to Encounter top-class retail and edutainment occasions:
On the ground level of the lookout is the Central Plaza which will behave as a hub of encounters. Along with innumerable shopping and dining opportunities plus an auditorium and a museum.
Beacon of Lights:
As the sun sets down, the observatory's highland will exhibit a beacon of light. Correspondingly, this would splendidly enlighten its central design characteristics comprising the steel cables. Activity lighting sums up the tower's aesthetic magnificence.
Conclusion:
With an abundance of sights and sensations to behold at the Dubai Creek Tower, it behooves you to monitor its progress towards completion. Positioned perfectly for a panoramic view of the city skyline, a trip to this remarkable structure is sure to imbue your Arabian vacation with indelible memories. Yet, do not procrastinate; organize all facets of your UAE's golden city getaway. Including securing the necessary city of gold Visit Visa procedures, well in advance.