The Lost Chamber Aquarium - An Ideal Marine Museum in Dubai
Posted On: 25-03-2023
An exemplary locale within the city is the Lost Chambers Aquarium, which has garnered immense popularity among both juveniles and adults.
Situated in the esteemed Atlantis The Palm edifice, this aquarium stands as the most extensive. As well as an unparalleled zone for education and amusement in the region. The metropolis of Dubai is gradually emerging as a prominent destination for tourists worldwide. It boasts numerous shopping centers, lodgings, and other diversions to invigorate oneself before departing.
The location derives its designation from the legendary vanished metropolis of Atlantis. It narrates the tale of this Dubai city and acquaints you with more than 65,000 aquatic creatures residing in the depths.
The entire site is constructed using subaquatic passageways and labyrinths, comprising nearly 20 displays. That allows you to engage with an array of marine fauna encompassing
perilous sharks
piranhas
eels
lobsters
turtles
seahorses
Lost Chambers Aquarium Brief Overview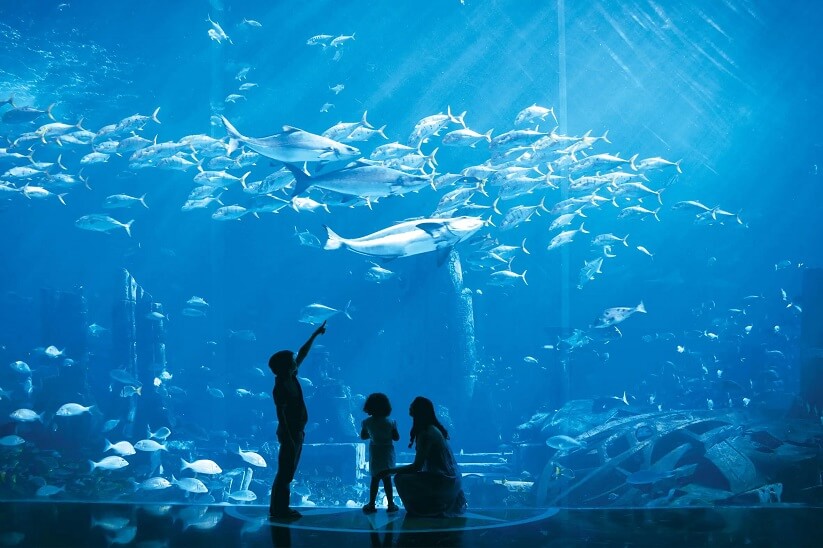 Address:
It is located at Atlantis The Palm in Dubai, UAE
Opening Hours:
You can visit between 10 AM to 10 PM.
Tip:
The operational timings of the Lost Chambers Aquarium may fluctuate. As distinct events are scheduled at varying time intervals throughout the day.
Also Read: Dubai Hills Mall
Lost Chambers Aquarium Ticket Price:
The marine museum offers various displays and activities that can be amalgamated. Although a fundamental admission pass is required. The Lost Chambers Aquarium admission passes commence at a base rate of 111 AED per individual. It includes an entrance and an aqua theatre exhibit in Dubai. Alternatively, you can opt for the Ultimate Snorkel experience at roughly 254 AED per person.
Furthermore, you have the option of combining the illustrious Aquaventure waterpark. Along with the Lost Chambers aquarium pass for a price of approximately 468 AED per individual. This alternative presents a more cost-effective approach that enables you to relish all attractions. That is placed at the park and the marine museum concurrently within a single day.
Activities to Explore at the Lost Chambers Aquarium
Here's what you can accomplish inside this fascinating avenue:
1. Supreme Snorkel Encounter:
The Lost Chambers Aquarium located in Dubai is celebrated for its captivating snorkeling encounter in the exquisite Ambassador Lagoon in Dubai. It is not necessary to have any swimming proficiency, and children (at least six years old) are welcome to participate with you.
Snorkeling amidst an array of sea creatures presents an unparalleled opportunity for family bonding in Dubai. Following a briefing session, you will be furnished with a snorkel, mask, and vest. As you begin to float, the vivid marine life comes to life, offering a mesmerizing spectacle to behold.
Additionally, you can combine the experience with an Aquatrek, which involves walking and breathing underwater. This thing happen in the same Ambassador Lagoon using a specially designed helmet. The thrill of this adventure is truly incomparable, which explains its aptly befitting moniker!
2. Fish Tale Tour:
Tailored for those with a sense of inquisitiveness, this guided expedition is conducted in the English language. On this enlightening and instructional tour, you will have the opportunity. So you observe firsthand how more than 65,000 aquatic creatures are meticulously cared for in this subterranean marine museum.
Moreover, you will be escorted to the in-house fish hospital and nursery, where newly hatched creatures are nurtured, and senior residents receive special attention.
The entire tour is conducted on the top level of the Ambassador Lagoon, affording you the chance to view the aquarium's largest exhibit at the surface.
Additionally, a "Behind-the-Scenes" tour of the Lost Chambers provides a sneak peek into the life of a marine life expert who works at the aquarium.
3. Aquarium Dives:
For the intrepid adventurers, the aquarium offers an array of diving experiences that can be relished in these stunning waters. The Atlantis Dive Discovery is a perfect option for novice divers who lack certification.
This introductory program covers fundamental skills and techniques while providing opportunities. To interact with sharks, butterflies, and myriad other creatures inhabiting the lost, underwater city of Atlantis.
Certified divers can opt for a single tank dive to savor the experience of breathing in unison with beautiful and rare marine life while admiring the ruins.
The last and most thrilling dive is the Predator Dive, tailored for the courageous souls who wish to hand-feed fourteen different species of sharks that inhabit the Ambassador Lagoon.
4. The Haunted Chamber Parties:
Atlantis, The Palm arranges and observes various events and festivities all year round. One such event is Halloween, which is just around the corner. The popular Halloween Party at Atlantis presents the opportunity to take part in the Haunted Chambers. Including donning eerie costumes, relishing nocturnal shows at the aquarium, and trick-or-treat. Let yourself be spooked by eerie sea creatures, for a fabulous night out!
5. Aqua Theatre Shows:
Ideal for families with young and curious children, these aquatic theatre performances enable you to engage. Along with humorous divers who will impart knowledge on various aspects of diving and marine life to you. Besides, your kids in an entertaining way during your Dubai vacation. The show concludes with a feeding presentation, which is immensely popular with children of all ages.