Elizabeth 2 Dubai - The First Floating Hotel in the Middle East
Posted On: 08-04-2023
Dubai has introduced an exceptionally unusual place for dining and entertainment, namely Queen Elizabeth 2 Dubai (QE2). Although not freshly constructed, it boasts a royal inheritance that is undeniable. This cruise ship has had a distinguished past and now has found a permanent abode in Dubai. The concept sounds intriguing, does it not?
That is why, for this week, we have a distinctive article about this newly revamped transatlantic vessel. It covers its remarkable history, noteworthy voyage, incredible trivia, and current status as an elite floating hotel in Dubai.
Also Read: The Rotunda Show Dubai
Queen Elizabeth 2 Historical Details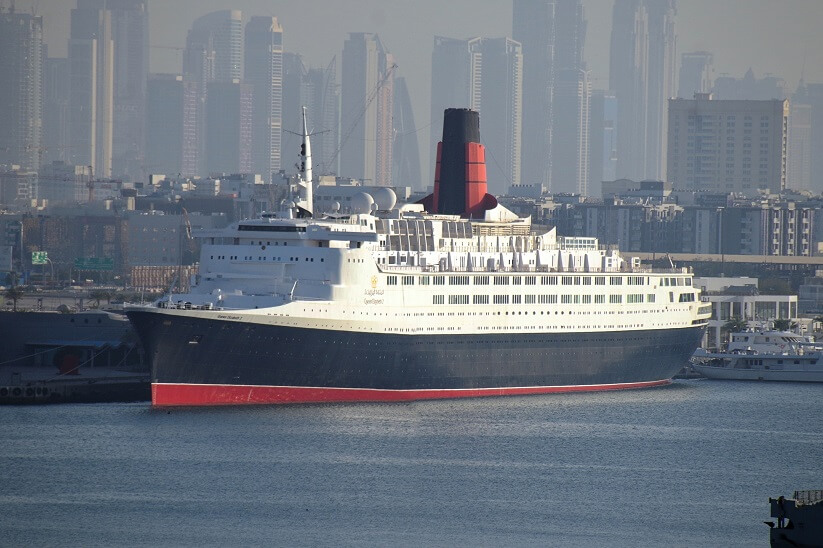 Queen Elizabeth 2 prides herself on a splendid past spanning over half a century. It was originally constructed for the esteemed British-American cruise line operated by Carnival UK, the Cunard Line. Developed as the third Cunard Queen. They succeeded the ships Queen Mary (1934) and Queen Elizabeth (1938). Its unveiling was graced by Queen Elizabeth II on September 20th, 1967, with the presence of another British royal elite, Prince Philip. The ship was named by the queen herself.
Remarkably, Queen Elizabeth 2 was launched during a time when air travel had begun to overshadow the voyage industry. It was slimmer and more compact compared to its predecessors. Making it an ideal option for those seeking luxurious cruising. When it launched on its maiden voyage in the year 1969, it evolved into Cunard's flagship ocean liner & a groundbreaking vessel. That redefined elegance and cruise comfort, with a glossy body inspired by British designs. It eventually became a symbol of a bygone era, completing about 40 years. As a transatlantic liner that worked in the mid of Southampton (UK) & New York.
After its final voyage in 2008, Queen Elizabeth 2 found its permanent home at Dubai's Mina Rashid Port. If you had the experience of dhow cruise Dubai, you will love this encounter too. When an investment firm owned by Dubai World acquired it for $100 million. A decade later, PCFC Hotels, operated under Dubai Ports, Customs, and Free Zones Corporation. They have extensively refurbished it and transformed it into a luxury floating hotel.
Facts:
Queen Elizabeth 2 was equipped with nine diesel-electric engines, which made it the swiftest and most powerful vessel of its time.
The slender hull of Queen Elizabeth 2 allowed for easy navigation through the Panama and SCanalsanal.
The average speed of the QE2's voyages was approximately 29 knots.
Transatlantic journeys on the QE2 lasted no longer than five days.
Queen Elizabeth 2 completed 812 crossings of the Atlantic Ocean.
Throughout its lifespan as an ocean liner, the QE2 completed 1400 voyages, covering approximately six million nautical miles.
Over 2.5 million passengers were entertained by the QE2 during its 25 tours around the world.
The QE2 served as a troopship during the Falkland War in 1982.
Nelson Mandela, Elizabeth Taylor, and David Bowie were among some of the world-renowned patrons of the QE2.
The Majesty of Queen Elizabeth Dubai was restored and transformed into its present state through 2.7 million man-hours.
This 13-deck hotel, the first floating hotel in the Middle East, features 1300 rooms, 13 restaurants, and a museum.
All Basic Information about Queen Elizabeth 2
Location:
The vessel is anchored at the Port Rashid Marina, situated near Al Khaleej Road. The distance to Dubai International Airport is approximately 12 kilometers.
How to Reach?
The optimal means of transportation to reach this destination is by car or metro. The nearest metro station is Al Ghubaiba, accessible via the green line. Upon arriving at the station, taking a taxi is recommended to arrive at the specific location.
Queen Elizabeth 2 Heritage Tour:
If you are not planning to lodge at the hotel, one of the finest approaches to relish the majestic magnificence of this iconic cruise ship is to embark on a tour. This not only provides insight into the varied stories and stages of its illustrious history. But also offers a spectacular glimpse into its lavish lodgings and culinary experiences. Besides, most notably, notable features such as the Queen's Room, the Bridge, and the Cabin. To commence the tour, make your way to Queen Elizabeth 2 Heritage Exhibition segment in the Dubai city. The cost of admission is AED 170 and includes a voucher valued at AED 100, which can be utilized at any of the hotel's dining establishments.
Grand Stay:
Prospective guests of the Elizabeth Dubai cruise have various options for accommodations, including guest quarters and opulent suites. The guest quarters consist of Standard, Superior, Deluxe, and Captain's Club Rooms, which may or may not have a balcony. Besides, each provides breathtaking views along with amenities. Such as complimentary Wi-Fi, coffee/tea makers, coolers, and king/twin/single beds.
In addition, the rooms are equipped with porthole windows that overlook the sea, providing an immersive experience. As for the suites, they are exceptionally lavish and cater to those who appreciate opulence and sophisticated design.
Luxury Dining:
The Elizabeth Dubai cruise boasts an impressive 13 dining options, comprising restaurants, cafés, and bars, each with its unique style and offerings including:
The Pavilion:
Located on the lower deck of Queen Elizabeth 2 ship, this open-air dining venue specializes in Aegean cuisine and boasts an extensive drinks menu, including cocktails and mocktails.
Operating hours: From noon until 11 PM
The Golden Lion:
Dubbed the oldest establishment of its kind in Dubai, this traditional British-style pub is an excellent spot to catch live sports, play darts, and sample from a wide variety of draft beers.
Operating hours: From noon until midnight
Also Read: Lotus Mega Yacht Dubai
Q Café:
Situated conveniently close to the hotel lobby, this casual spot is perfect for a quick bite or a get-together with friends. Its menu features salads, sandwiches, homemade cakes, pastries, pizzas, teas, and coffee.
Operating hours: From 7 AM until 11 PM
Lido:
Located on the ship's Quarter, it offers a diverse international buffet for breakfast, lunch, and dinner. In addition, it is renowned for its brunch, particularly the exclusive Queen Elizabeth 2 Friday Brunch.
Breakfast: 6:30 am to 10:30 am
Lunch: 12:30 pm to 3:00 pm
Dinner: 7:00 pm to 11:00 pm
Friday Brunch: 1:00 pm to 4:00 pm
The Chart Room:
It is an excellent location to indulge in fine wine and beers, as well as traditional delicacies such as fish and chips, salads, and burgers. It is also popular for its Afternoon Tea, which is only available from Thursday to Friday (3:00 pm to 5:00 pm).
Sunday to Thursday: 3:00 pm to 12:00 am
Fridays & Saturdays: 12:00 pm to 12:00 am (the timings will be exact to visit)
Yacht Club:
This is the ship's authentic Yacht Club, restored to its original state, complete with a bar. One of its impressive features is a balcony that provides breathtaking views of the cityscape.
Sunday to Wednesday: 4:00 pm to 1:00 am (next day)
Thursdays: 4:00 pm to 3:00 am (next day)
Fridays & Saturdays: 12:00 pm to 3:00 am (next day)
The Grand Lounge:
Located in the center of the ship's upper deck is the Grand Lounge. It offers a unique dining experience, thanks to its cabaret-style decor, complete with a stage and dance floor.
Leisure Attractions:
The exceptionalities of this buoyant lodging exceed luxurious housing and gastronomy opportunities. You can take advantage of the establishment's amenities comprising:
Theatre by QE2:
Dubai's singular accredited theater with an adjoining bar (Crystal Bar). From where you can relish a beverage while appreciating a movie within its exquisitely furnished comforts. It has a maximum capacity of 515 spectators and is also suitable for hosting personal events.
Dubai Duty-Free Shopping Arcade:
This is the vessel's dedicated commercial area on the ship deck. It offers you the chance to purchase a diverse range of items, from Queen Elizabeth 2-inspired mementos to electronics, jewelry, cosmetics, sweets, and more.
QE2 Aquatic Center and Fitness Studio:
This presents an advanced sports zone outfitted with top-of-the-line TechnoGym® equipment. Its notable features also embrace the ship's original indoor swimming pool which has been flawlessly restored.
Queen Elizabeth 2 Wellness Center:
There is no superior way to treat yourself than with a lavish spa or facial therapy at this well-being center.
Compass Rose:
This Italian boutique can be located in the primary terminal building of Queen Elizabeth 2. It prides itself on a vast collection of men's and women's apparel, footwear, handbags, and accessories.
Tips Before You Visit:
You have the option to reserve lodging or other activities at the hotel through Queen Elizabeth 2 official website.
The rates fluctuate according to the specific room or suite bundle you select.
It is imperative to inspect the website's dedicated 'Offers' section to acquire the best discounts.
Queen Elizabeth 2 also arranges a multitude of themed culinary events on various occasions. The QE2 Halloween Brunch and Winter Wonderland Weekend are among the upcoming festivities.
Conclusion:
Whether you desire a respite from the customary Dubai landmarks or crave a distinctive sojourn during your Dubai excursion. Queen Elizabeth 2 will not disillusion you, offering a remarkable blend of unparalleled lodgings. As well as incomparable surroundings, cozy culinary locales, and exceptional recreational diversions.