The Rotunda Show Dubai - An Ultimate Guide
Posted On: 05-04-2023
The prospective experiences during your visit to Rotunda Dubai are outstanding. Therefore, this article pertains to the incredible features and primary attractions.
Dubai's latest coastal hub, Bluewaters Island, is an artificial marvel. It offers a range of exciting activities to ensure a memorable day out in the city. These include the incomparable Ain Dubai Ferris Wheel, the Wharf, and Madame Tussauds in the city of Gold. Additionally, Bluewaters Island hosts the solitary Caesar's Palace property in the world apart from Las Vegas.
Although Caesars Palace Bluewaters Dubai elevates the standards of comfort and extravagance found in Dubai's hotel offerings. It is also a leading entertainment destination in the area, with the addition of The Rotunda Dubai. This striking dome-shaped structure opened less than a year ago. It has already hosted several high-quality events, including the acclaimed WOW show.
Rotunda Dubai - A Brief Overview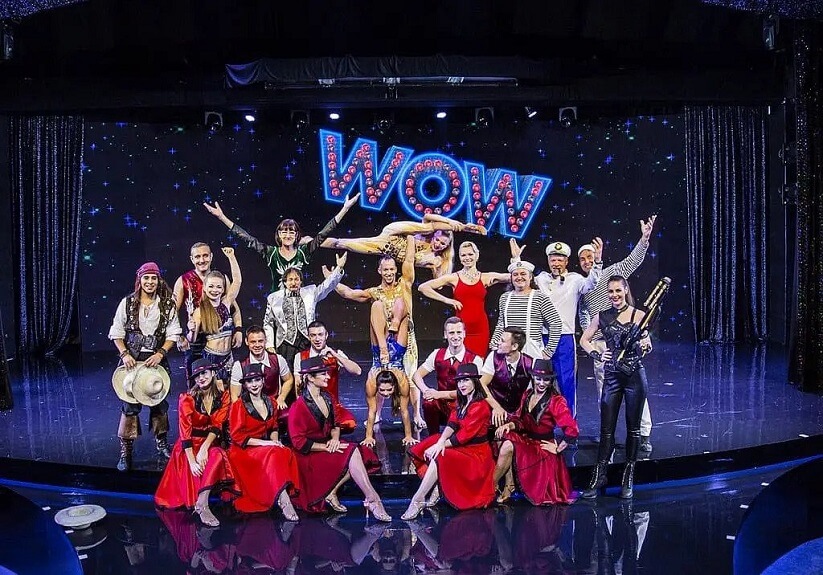 Timing:
Depending on the show schedule, access to The Rotunda in Dubai city commences 30 minutes. Before the start of the presentation. Nevertheless, the box office opens for two hours. The show begins and concludes lude 30 minutes after the show's start time.
Duration:
The duration of your Rotunda Dubai show experience may vary depending on the particular presentation. However, it is reasonable to anticipate spending two to three hours enjoying the performance.
Location:
Located on Bluewaters Island, The Rotunda show is situated next to Caesars Palace Bluewaters Dubai. This island spans an area of 300 meters and is positioned off the shore of JBR's (Jumeirah Beach Residence) Beach.
The Rotunda Dubai Key Highlights
The attraction is a premier destination for entertainment in the UAE's golden city.
Positioned as the centerpiece of Caesars Palace Bluewaters Island.
The attraction is complemented by Luxurious accommodation options such as Caesars Palace Bluewaters, Caesars Resort Bluewaters Dubai, and The Residences at Caesars Palace.
An assortment of over 12 outstanding dining venues.
A top-tier spa facility, Qua Spa.
The dome-shaped structure of the attraction is an iconic feature. The term 'Rotunda' refers to a circular building found in classical and neoclassical architecture. Unsurprisingly, it draws inspiration from the iconic Pantheon structure of ancient Rome.
With a seating capacity of up to 500 guests, it is an ideal venue for large events.
Throughout the year, The Rotunda showi hosts a variety of impressive live shows and inspiring events.
Ample complimentary parking is available in the Orange Zone area.
Due to its high-end indoor and outdoor settings, exceptional dining options, and luxurious amenities, The Rotunda is an excellent location for corporate events, private gatherings, product launches, and video shoots.
Also Read: Fortana Water Circus
How to Reach?
Transportation options to reach Bluewaters Island are diverse and accessible. Whether you choose to arrive via private transportation or taxi. The journey from the city center is expected to take no more than 20 minutes. The closest metro station is DMCC for those traveling by metro. In addition, bus routes 84 and F55A pass near the island for those who choose to use RTA buses.
Ticket Price:
To stay informed about upcoming shows and ticket details, it is recommended to check the exclusive attraction tour page or visit the official Rotunda Dubai website. The shows are subject to change, so it's essential to stay updated on the latest information. Regardless of the show, guests will have various ticket options available, including seat-only and seat with dining tickets.
Activities to Explore at Rotunda Dubai
A Rotunda show promises to deliver mind-blowing entertainment with its captivating acts. If you need further convincing, this section will provide additional details to help you understand why.
Also Read: Eye-catching evening desert safari
Premium Shows Venue:
Rotunda Dubai's history of shows began in December 2018 with the explosive performances of Tenors of Rock. Following this, the world-renowned singer-songwriter Tom Odell gave an award-winning performance in March. From February to May, the international production WOW - Direct from Las Vegas graced the stage. The earning high praise for its cutting-edge visuals, awe-inspiring music, remarkable choreography, and breathtaking. It acts performed by over 30 highly talented artists. The WOW Show Dubai Rotunda was a must-see spectacle.
Rotunda Rumble:
It has not only captured the hearts of fans of sensational musical extravaganzas. Besides, the incredible live shows also the attention of boxing enthusiasts and sports fans. Middle East Professional Boxing, in partnership with MTK Global and Round 10 Boxing Club. It organized the unique Rotunda Rumble event, which featured some of the most skilled fighters from the UAE and around the world. Including
Muhammad Waseem
Julio Cesar Martinez
Andrew Selby
After its massive success in September 2019, Rotunda Rumble 2 was held two months later in November 2019.
Relish 360 View Show:
Indeed, brace yourself for an unparalleled viewing experience inside the Rotunda Dubai's unique dome-shaped structure, with a seating capacity of 500 people.
Regardless of your chosen seat, this circular venue ensures an unobstructed 360-degree view of the spectacular Rotunda Dubai show.
The Upcoming Events:
According to the information available on Rotunda Dubai's website, the venue is scheduled to host a captivating show by Prateek Kuhad. For the uninitiated,
Prateek is a well-known singer-songwriter from India who has showcased his musical talents in various countries like
Canada
France
Germany
the Netherlands
the UK
the US
What makes this event even more special is that it's his debut performance in the UAE, taking place on January 24, 2020.
Facts to Know Before You Encounter:
To prevent any misunderstandings or inconvenience, it is recommended that you buy your tickets online in advance.
It is advisable to arrive at the venue at least 30 minutes before the show starts on the day of the performance. If you arrive late, even if you have already reserved your tickets. You may not be able to sit in your preferred seats.
Although there is no mandatory dress code, it is advisable to dress smartly and casually. Especially if you intend to dine at the Caesars Palace or Caesars Resort restaurants.
Please note that entry is not allowed for children below the age of two. However, if you are accompanied by children above two years of age. They are required to have a valid ticket as well.
Although taking photos or videos during the show is allowed, the use of flash is strictly prohibited.
Additionally, the use of professional photography equipment like high-quality cameras and video gear is strictly prohibited inside the venue.
The auditorium does not permit strollers inside.
Bringing outside food is not allowed. However, you can purchase snacks, coffee, tea, popcorn, and wine from the venue. Moreover, certain ticket options include dining at premium restaurants located within Caesars Palace Bluewaters Island.
There are two choices for parking. You can park your car yourself in the underground Orange zone for free. Or you can choose valet parking for AED 75.
The Finish Line:
Are you planning a vacation to Dubai? Make sure to include Rotunda Dubai and Caesars Palace Bluewaters on your itinerary. As they provide everything you need for an unforgettable day out in Dubai.