Saqr Park Ras Al Khaimah - A premium Family Friendly Place
Posted On: 16-09-2023
El Sheikh Saqr bin Mohammed Al Qasimi oversaw the development of Saqr Park, which began as a project in 1989 and eventually became Ras Al Khaimah's largest public green area by 1991. It's a great location to unwind for both adults and kids and because of its vast open spaces, it draws tourists from near and far.
His Majesty The Supreme Council Member and Ruler of Ras Al Khaimah, Sheikh Saud bin Saqr Al Qasimi, offered direction that led to considerable changes in the garden. The park has evolved into a gorgeous and appealing green space thanks to more facilities and numerous improvements.
Three indoor gaming facilities offering a variety of entertaining activities for kids are located within the park. A man-made lake with boating options and waterfalls is also there. This park's "Land of the Garden," which is dotted with numerous palm trees, is a standout feature.
Also Read: Speedboat Tours in Dubai Marina
Fascinating Highlights at the Saqr Park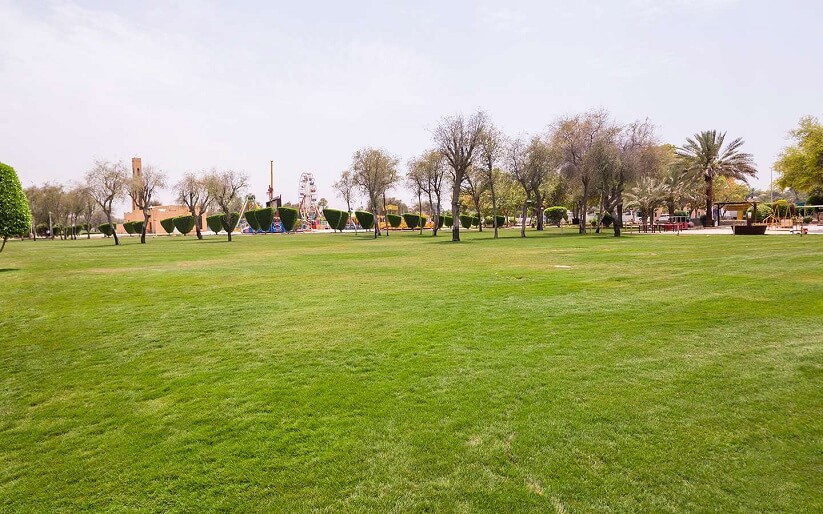 Ras Al Khaimah is well known for both its thrilling activities and stunning coastlines. This tiny emirate is becoming more and more well-liked among both domestic and foreign tourists. One of Ras Al Khaimah's greatest public parks, Saqr Park, is among its picturesque characteristics. Explore it more thoroughly now.
His Highness Sheikh Saqr bin Mohammed Al Qasimi provided direction and vision for the building of Saqr Park, the largest and most popular public park in Ras Al Khaimah, beginning in 1989. In 1991, it gladly welcomed the public inside.
The park has developed into a well-liked family-friendly location and is constantly getting better. Tourists and locals alike visit this location to take advantage of its huge green spaces.
1. Family Picnic with Children:
Thinking of a family outing? This park is an ideal choice as it provides a beautiful backdrop to spend a wonderful day with your loved ones. Families with children will find it the perfect place to spend hours because of the peaceful atmosphere and relaxed atmosphere.
There are plenty of entertainment options to make your picnic more enjoyable, such as board games and card games. Kids can also bring their bikes or riding toys to explore all the trails and highways in the park.
Planning a family picnic? This park is a great place to take your loved ones on an adventurous day trip. It provides a peaceful and relaxed atmosphere that families with children can fully enjoy. Play card games, board games, or other fun activities to make your picnic experience more enjoyable. Kids can also bring their bikes or riding toys to explore the park's wide trails and paths.
2. Cruising in the Artificial Lake:
Located in Ras Al Khaimah, Saqar Park has a spectacular man-made lake with beautiful waterfalls and other notable features. In addition, visitors to this Ras Al Khaimah Public Park can participate in boating sports. Park administrators can provide information on rental fees and paddle boat prices.
3. Arcades & Children's play area:
You can find family-friendly activities at Sucker Park. There are three different performance areas within the park, each with a selection of entertainment options. Additionally, the park has kid-specific play areas with fun rides like bumper cars, carousels, fun go-rounds, and even a Ferris wheel.
4. Discover the land of the garden:
Sakar Park in Ras Al Khaimah has a variety of interesting features, with the "garden land" standing out. The garden's outstanding palm garden where guests can hang a hammock and enjoy the peace while reading their favorite book is the main attraction
5. Find out about the recently opened skatepark:
The eagerly anticipated Skate Park in Saqr Park was recently unveiled by the Ras Al Khaimah Tourism Development Authority. This skatepark, which is located inside the Ghaff tree reserve and measures an impressive 620 square meters, offers skateboarders a range of challenges, including ledges, pyramids, bowls, and round rails to improve their experience.
6. Jump the train:
Saqar Park in Ras Al Khaimah is renowned as one of the most popular parks in the UAE. The train ride through the terrain of this attraction is the main attraction. Children especially enjoy this activity as it allows them to enjoy the beauty of the park while relaxing on the train.
7. Enjoy a barbeque party:
Without a great BBQ gathering, a trip to Ras Al Khaimah's beloved park wouldn't be wholly satisfying. This fascinating attraction, thankfully, provides specialized areas for barbecues, enabling people to prepare delectable cuisine and enjoy time with their loved ones. Take advantage of the opportunity to cook and enjoy some delectable dishes at this park since it is one of the few in Ras Al Khaimah that allows grills.
Saqr Park in Ras Al Khaimah has several amenities, such as:
a mosque with a separate area for women to pray
Restrooms
Zones for grilling
expansive parking spaces
a kids' play area with both free and paid attractions
Cabanas and benches for unwinding
kiosks and small snack stands for refreshments
Basic Things to Know:
Certainly, the following details are provided concisely:
Saqr Park is located on Airport Road, close to the E18 interchange, in Ras Al Khaimah.
This fascinating attraction is open from 10:00 a.m. to 2:00 a.m.
Entry cost: Saqr Park's entrance cost is AED 10.
Entry Cost for Kids: Rides per individual are as reasonable as costs of AED 5.