Ramadan 2023 Markets & Bazaar in Dubai - A Complete Guide
Posted On: 18-03-2023
During the sacred period, the markets of Ramadan in Dubai. They have become an essential feature and attract both citizens and visitors every year. These bazaars provide an unparalleled cultural encounter and are distinguished for their lively ambiance. As well as it has been exceptional bargains and a variety of items ranging from conventional garments to delectable cuisine.
As we near the upcoming holy month in 2023. It's time to prepare for a new wave of lively shops that awaken at dusk. Let's discover the offerings of the Ramadan 2023 Bazaars and Markets in Dubai.
Also Read: Hub Zero Dubai
Ramadan Markets and Bazaar in Dubai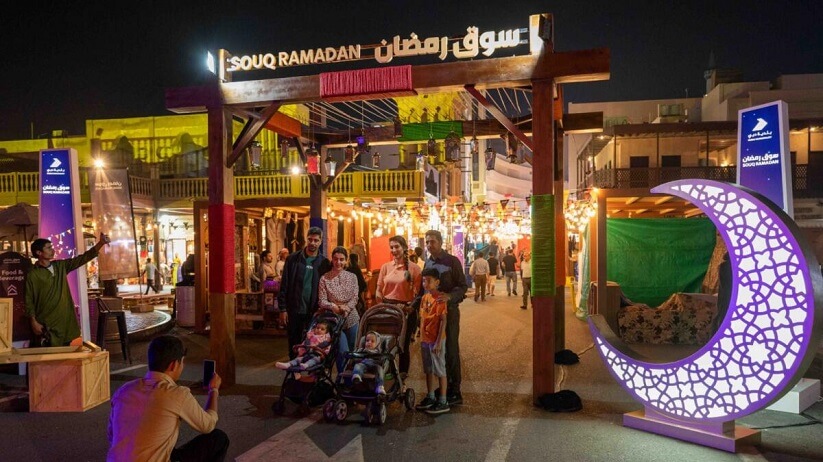 The Dubai Ramadan souks and emporiums are highly sought-after destinations. That commences during the sacred period of Ramadan. These marketplaces operate primarily after sunset, owing to the populace's daytime fasting ritual. It showcases a diverse selection of merchandise, including
culinary kiosks
garment boutiques
gemstone peddlers
The shops constitute a vital facet of the nation's cultural identity, providing denizens and visitors with an immersive and vibrant spectacle.
Vendors and Craftsmen:
Local vendors and craftsmen exhibit their exceptional craftsmanship. It is showcasing a plethora of customary attire and delectable confections. Besides, other alluring delicacies can be procured. These bazaars in Dubai city offer a comprehensive venue for family entertainment and exquisite cuisine. Besides, the exclusive price reductions during the month of Ramadan.
To summarize, the Dubai Ramadan shops are an absolute must-see attraction, brimming with exhilaration, cuisine, and deals that are simply irresistible!
Dubai World Trade Center Ramadan Market:
An animated and enriching cultural event awaits visitors at the upcoming Ramadan Night Market in Dubai. It is scheduled to take place at the Dubai World Trade Center from April 9th to April 18th, 2023.
This ten-day occasion will run from 5 PM to 2 AM and presents an exceptional opportunity. For those seeking an unparalleled shopping experience during the sacred month.
The shops will be housed in Hall 7 and will showcase diverse vendors from around the globe. It is worth displaying an extensive array of products and services for patrons. From garments and handicrafts to gems and household items. The Ramadan night market provides insight into the distinctive heritage and customs of the United Arab Emirates.
Also Read: Play DXB Dubai
Previously, past versions have commemorated the most recent advancements in Arab culture, and this year's shop. The whole thing is managed by Maxpo Exhibitions and is anticipated to attract over 25,000 individuals.
Expo City Dubai:
At Expo City Dubai, the Ramadan market presents the Hai Ramadan affair from March 3 to April 25. Which reveals the practices and traditions of the most-awaited holy month. This event has a theme that highlights the festivities of the holy month in a charming atmosphere. It consists of delightful cuisine, and exciting events, ensuring a cultural escapade for all guests.
Commencing with the traditional observance of Haq Al Laila, the event will offer free Al Wasl amusement and athletic activities. Along with a nocturnal marketplace that sells scents, souvenirs, and tailor-made apparel.
Attendees can relish an array of edibles and potables, including local dishes, international delicacies, and captivating street fare. It is symbolizing the bliss of breaking the fast and indulging in a meal with cherished ones during the holy month.
Furthermore, a distinct mosque situated on the premises will provide Isha, Taraweeh, and Tahajjud prayers. Additionally, customary Arab storytelling and the age-old practice of Misaharati. That will contribute to the festivities throughout the day.
Ramadan Souq Event:
The Dubai Municipality has announced the start of the Ramadan Souq event. Which commemorates the impending holy month, on March 5 at Old Municipality Street in Deira. Running daily from 10 AM to 8 PM until March 15. The event aims to conserve the unique traditions, heritage, and customs of Holy month's preparations. While showcasesasing the local marketplaces and wares, enticing shoppers to patronize them.
In addition to a conventional souq, a small souq will also be present at the event. Along with 20 kiosks in total, out of which 15 are reserved for Old Municipality Street businesses and five for supporting local Emirati initiatives.
All the essentials for Holy month and Haq Al Laila will be available, alongside a variety of public and entertainment services. The food trucks offer regional and traditional cuisines and live children's activities from 4 to 8 PM.
Ramadan Market at Old Deira Souk:
The ancient marketplace of Deira is preparing for the holy month by setting up a lively market. It is filled with lights and endless booths selling delicacies and providing entertainment. This market is located at the Old Deira Souk and is an extension of the existing souk. It will showcase traditional goods and marketplaces. The experience will also include various events showcasing local art and dance performances.
The Finish Line:
Furthermore, there will be diverse food booths that will tantalize your taste buds. Upon entering the market. You will be welcomed by the alluring scents of freshly prepared Omani Halwa.
You can expect a wide range of Holy month to be sold at very affordable prices at the Souk Ramadan to ensure that your night is unforgettable.