Al Majaz Waterfront - A Family-friendly Attraction in Sharjah
Posted On: 02-08-2023
Learn about Sharjah's Al Majaz Waterfront, a mesmerizing location that will wow you with its beauty and thrilling activities. This magnificent beachfront is located in the heart of Sharjah, United Arab Emirates. Also, it amply demonstrates the city's commitment to giving guests an outstanding experience.
Admire the breathtaking views of the Sharjah cityscape while relaxing in the calm waters of Khalid Lagoon at Al Majaz Waterfront. A unique mix of the natural world's splendor and modern elegance. This location, which covers 231,000 square meters, offers an incredible array of amenities. It includes top-notch dining establishments, upscale boutiques, a wonderful kids' play area, and even a cute mini-golf course.
This fascinating attraction in Sharjah's commitment to providing top-notch entertainment, however, is what truly sets it apart. With regular cultural and musical performances, this location has developed into a hub for local and international talent, drawing tourists from all over the world to experience Sharjah's allure.
Also Read: Barasti Beach
Al Majaz Waterfront in Sharjah - A Brief Overview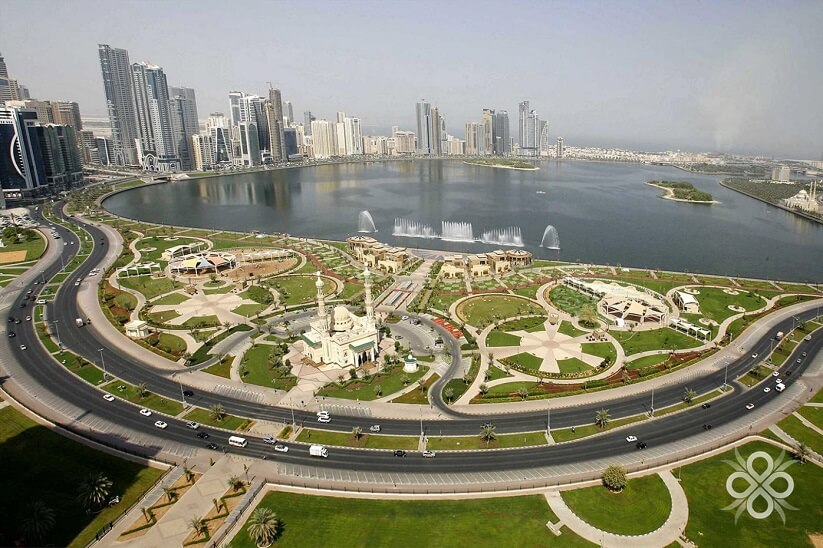 Families in the UAE are constantly looking for locations that welcome kids of all ages. So that everyone may spend time together and build family ties.
Al Majaz Waterfront wonderfully fills that desire. It provides cutting-edge recreational facilities with a variety of possibilities for solitary fun as a well-liked family vacation spot.
Al Majaz is a city-sized outdoor oasis that offers a respite from the hustle and bustle of everyday life. Here, guests can spend quality time with their loved ones on this exciting trip to Sharjah. Besides, they participate in a variety of exhilarating outdoor activities and interactive events.
Sporty Environment:
Spending time in serene natural settings like parks, say, scientists, might enhance mental health. According to a University of Michigan study, even a little outdoor stroll of 20 minutes can reduce stress.
A beautiful 750-meter track lined with palm trees at Al Majaz Waterfront promotes a healthy lifestyle. It offers a great place for outdoor activities like jogging, yoga, kids' games, and socializing with friends, especially in the winter.
Entertainment and Events:
The amphitheater frequently hosts musical and cultural performances.
On festivals and important events, fireworks fill the sky.
Enjoy captivating laser light displays.
Family-friendly Dining Atmosphere:
You may find wonderful family-friendly dining options at Al Majaz Waterfront, which are ideal for getting together, bonding, and making lasting memories over delectable meals.
There are 16 local and foreign eateries, including restaurants and cafés. They serve a variety of Asian, Turkish, Italian, European, and North American cuisines.
Dining and Shopping:
Choose from a variety of eateries serving various world cuisines.
Relax in cafes and restaurants that offer outdoor dining and breathtaking lagoon views.
Investigate retail establishments offering a wide range of national and international brands.
Engaging the Kids:
Kids may have a blast and stay involved in a healthy way at this fascinating attraction. The park offers a wonderful outdoor setting where kids may unplug from their devices and appreciate nature and interpersonal relationships.
The Mini Splash Park, Play Area, and Alwan Centre are all built for their enjoyment and safety, so they may have a fantastic time there. Parents can unwind and feel at ease knowing that their children are amused in the interim. To keep the kids even more entertained, there is also a trampoline and interactive activities!
Outdoor Activities:
Every kid will find something fun at the Al Majaz Waterfront in Sharjah! On Khalid Lagoon, there is an amazing play area with a variety of rides and activities.
An exciting mini-golf course with 18 holes, and thrilling boat rides and water taxis.
The Mini Splash Park, which was created specifically to delight and offer joy to smaller children, is the ideal water play place for the little ones.
Baby care room:
When women bring their newborns and toddlers to this enchanting attraction in Sharjah, they are guaranteed to have everything they require.
Every child's requirements are met in a fully stocked infant care area, allowing mothers to unwind and take advantage of some well-earned "me-time."
Landmarks & Attractions:
You may enjoy the Majaz Fountain's mesmerizing water show and delightful musical presentation at Al Majaz Waterfront.
Admire the Al Majaz Waterfront Mosque's grandeur, a magnificent mosque that displays great Islamic architecture.
Learn about the Sharjah Art Foundation, a venue for contemporary art that offers a variety of exhibitions and events that are ideal for art lovers.
location:
Plan your trip to Sharjah's Al Majaz Waterfront between November and March for the greatest experience. It happens when the weather is nice and ideal for outdoor activities and events.
You can take part in several celebrations and activities throughout this period. Such as the Sharjah Light Festival and the Sharjah Water Festival, to make your trip even more exciting and unforgettable.
Operational Hours:
You may play the Mini-Golf Course at Al Majaz Waterfront in Sharjah from 9 AM to 12 AM.
On Saturday through Wednesday, Splash Park is open from 10 AM to 6 PM, and on Thursdays and Fridays, it's open from 9 AM to 12 AM.
From 6.30 to 11.30, take in the captivating Musical Fountain Show.
Entry Ticket:
The Mini-Golf Course in Al Majaz Waterfront Sharjah is open to visitors free of charge. However, playing a round of golf costs money for both adults and kids. There is a per-child entry fee for Splash Park.
The Ideal Ending:
In conclusion, Sharjah's Al Majaz Waterfront is a well-liked spot with a variety of entertainment options for people of all ages.
There is fun for everyone, from the Mini-Golf Course and Splash Park to the lush green areas and fascinating Musical Fountain Show.
Cultural and civic activities are held along the waterfront, attracting both locals and visitors. Al Majaz Waterfront is the ideal location to spend quality time with loved ones and unwind. Also, take in Sharjah's beauty thanks to its wide variety of food options and picturesque views of the city skyline.