Xline Dubai - The Most Fun-Filled Zipline Experience
Posted On: 05-08-2023
The world's longest zipline experience, XLine Dubai Marina, is one of the most recent entries to this lengthy list. I was ecstatic and want to know more about this adventure. This article provides all the information you need to know about this exhilarating activity. Also, it is sure to make your love of adventure and city sightseeing soar to new heights.
it is more than only its well-known structures & the city's numerous indoor fun and entertainment venues are just a small portion of what it has to offer.
Therefore, don't worry if you feel that Dubai's theme parks and malls lack the excitement to satiate your sense of adventure. It offers a tonne of options to explore its magnificent outdoors.
Xline Dubai Marina Overview – Timing, Duration, Tickets, Location, How To Reach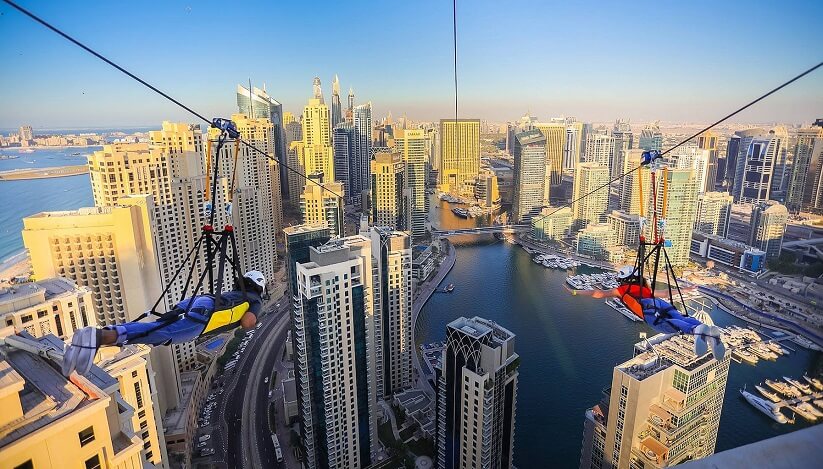 Xline Dubai Marina Timings & Location:
Timings:
Every day, excluding Wednesdays, from 10:00 am to 5:00 pm, the location is open.
Location:
It can be found in Dubai Marina, one of the city's trendiest neighborhoods noted for its elegant structures and lovely waterways. At Jumeirah Beach Residence's (JBR) Amwaj Tower, your zipline journey begins, and at Dubai Marina Mall, it comes to a close.
Duration:
The zipline ride itself won't last more than a minute, but the complete experience includes signing up at the XLine Booth (located on Level P of the Marina Mall).
It is receiving safety instructions, and donning the gear, may run for more than an hour. As a result, allow 90 minutes for your exhilarating Dubai urban zipline trip.
How to Reach?
There are many ways to travel to XLine Dubai Marina. There is plenty of parking space available if you choose to drive. You can also use a taxi, the metro, a tram, or a bus. If you decide to take the tube, exit at JLT (Jumeirah Lake Towers) Metro Station and then either walk or take a shuttle bus to go to the mall.
Also Read: Al Majaz Waterfront Sharjah
Take bus number 8 to Marina Promenade, where you may get off and walk the remaining 10 minutes to the mall. The closest tram stop to the mall is Dubai Marina Mall Station if you want it.
Tickets Information:
The Solo Ride and Double Trouble packages are your two choices. The Double Ride, which is ideal for individuals who wish to experience the thrill with their spouse or friend, costs AED 1200 while the Solo Ride costs AED 650.
Xline Dubai Marina Encounter
It's not all fun and excitement throughout your XLine experience. Prepare yourself for a unique encounter in this urban adventure.
Fly like Superman:
Wearing a Superman harness during this exercise will let you fly like Superman! When the adventure begins. You'll fly above Dubai Marina's stunning urban landscape as you descend the sturdy cable line head-first, like a superhero. You can take in the breathtaking vista from above while lying on your stomach.
Encounter the world's steepest, and of course, swiftest, longest zipline thrill:
Put on your best zipline gear for the longest, steepest, and quickest ride ever! This amazing journey takes you over a km in length and over 170 meters above the ground.
With a 16-degree gradient, you'll glide up the wire at an astounding average speed of about 80 kilometers per hour. You can have a heart-racing and adrenaline-pumping adventure on ziplines like XLine Fun.
Wonder at Dubai's City Skyline from a remarkable Vantage Point:
This adventure will excite you, but it also gives you a rare chance to see stunning contemporary sights from an unrivaled vantage point. It can take hours or even an entire day or two to explore Dubai Marina's breathtaking views. But thanks to the zipline adventure, you can do so in a matter of seconds. During your thrilling flight, take in the aerial perspective of rich yachts, flashy buildings, and sparkling seas.
Bring a friend or family member along so you can share the experience. Two side-by-side cable lines allow you to do this.
You will receive professional direction from the knowledgeable and skilled staff behind Cline experience throughout the tour. From submitting the registration form to taking off after donning the equipment and harness. They'll help you every step of the way, from putting on your safety harness to taking off and landing safely.
Retrieval with Photos & Videos of your XLine Experience:
Because your helmet has a built-in GoPro camera, you don't have to worry about shooting photographs or movies while you're riding. So, whenever you want, you can relive all the insane and enjoyable experiences. The best part is that the purchase of your ticket includes photos and videos of your exhilarating journey.
Some Amazing Facts:
Information on Xline Dubai's crown prince, HH Hamdan Mohammed bin Rashid Al Maktoum, presented the Dubai Marina Experience to the city's residents. It happens by posting a video of himself ziplining over some of the Downtown city's breathtaking landmarks, including the Dubai Fountain and Dubai Mall, on his Instagram page.
Launched in 2015, the initial XLine over the Dubai Fountain was only in use for a brief period. However, its follow-up, currently running at Dubai Marina, is even more massive and stunning. Compared to the original XLine in the Downtown area, it is twice as long and travels farther.
The longest zipline in the world, XLine Dubai is located at a height of roughly 170 metres and measures one km in length.
You can enjoy the zipline adventure with your adventure-loving buddy thanks to the two parallel lines.
Once the adventure starts, you'll accelerate to an exhilarating 60 km/h in less than 2.5 seconds.
Things to Know Before You Encounter:
The age range for this exhilarating adventure activity in UAE's golden city is 12 to 65.
Young aerialists under the age of 18 must have parental consent.
Your height must be at least 130 centimeters, and your weight should range from 50 to 100 kilograms.
To try this activity, you must be in good health. Avoid participating if you're pregnant, injured, or suffering from any medical ailment. Additionally, be careful not to use drugs or alcohol while driving.
Avoid loose dresses or skirts and go for comfortable clothing and closed-toed athletic shoes.
Put your hair up in a bun and stay away from big embellishments.
Avoid bringing bulky bags or luggage; instead, store your phones, keys, wallets, and small bags in the available lockers.
Before your XLine encounter, eat a small lunch.
To avoid any issues, purchase your XLine tickets online in advance.
For this activity, don't forget to bring a valid ID, such as an Emirates ID or passport.
Considering that the full experience lasts between 1.5 and 2 hours, be sure to come on time.
If your friends or family aren't taking part, they may still watch you from the Marina Promenade or the ground-floor terrace of the Marina Mall.
Your registered email ID will be used to send you personalized pictures and videos of your zipline trip after the experience.
Conclusion:
The Zipline Dubai outing is ideal if you want a fun and original way to see the city or want to face your worries. Fly like a superhero and make joyous, exciting memories that you'll never forget.