Ripe Market Dubai - A Must-Vist Attraction for Shopaholics
Posted On: 09-08-2023
Discover the essence of rural life amid our sparkling, urbane metropolis. Ripe Market Dubai enjoys a great deal of popularity among locals and visitors alike for its wide selection of items.
It ranges from pure and unadulterated foods to cutting-edge artwork and handicrafts. The main goal of this community gathering is to support small businesses and local farmers from different regions of the UAE.
Are you eager to learn more about the Ripe Market Dubai? For more information, keep reading.
Also Read: Xline Adventure in UAE
RIPE MARKET DUBAI - BRIEF OVERVIEW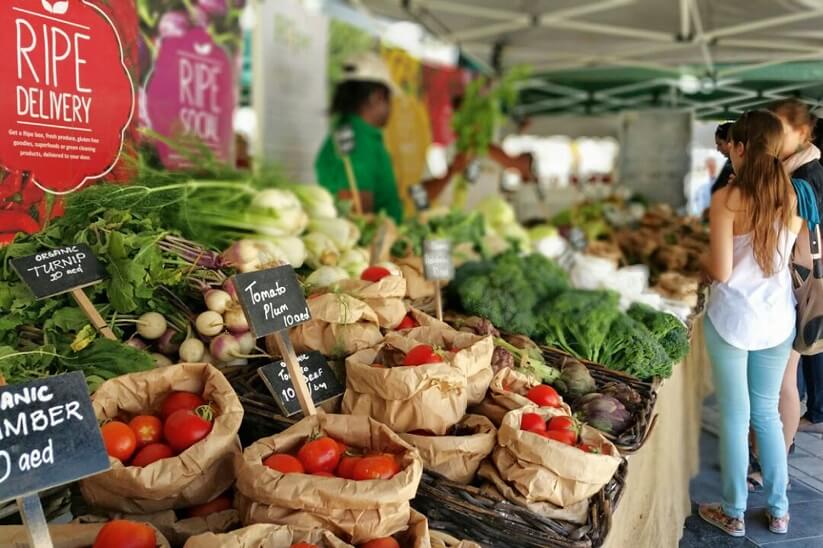 Local farmers and small business owners can sell their products at The Ripe Market. It is the location where health-conscious foodies may stock up on fresh fruit and vegetables. Other organic products including butter, honey, jams, cheese, and a variety of sauces are also sold by the local farmers.
You may get a variety of natural skin care products, handmade jewelry, leather handbags, fashionable accessories, toys, and straightforward home goods here.
Tempted to explore domestic shopping? Not to worry. You may get a fast supper at one of the amazing food stalls at Ripe Market 2022.
The amazing attractions are located in several locations, including Times Square Centre, Academy Park, Springs Souk, and City Centre Mirdif. The best regional artists in the city can be found here.
RIPE MARKET DUBAI VENUES
Depending on where it is situated, Ripe Market UAE 2022 has different hours of operation. Let's now look at the locations and times of the domestic shop.
SPACES SOUK
Visit the renowned amazing attraction at Springs Souk, which takes place every Saturday. A popular shopping area with many shops is Springs Souk. It also offers 95 bike parking places and over 650 car parking spaces, making parking easy for visitors.
Location: Al Afnan Street
Opening hours: Every Saturday & the timings are from 10:00 am till late
The ACADEMY PARK
Grab a convenient tote bag and get ready to go shopping!
On October 15, 2022, the popular major amazing attraction at Umm Suqeim's Academy Park will open and run through May 23, 2023. Discover the highlights of the park's farmer's domestic shop, including mouthwatering creations made by creative local chefs, healthful organic foods, and a welcoming community atmosphere.
Location: Umm Suqeim
Opening hours: Saturday & the timings are 09:00 am to 09:00 pm & Sunday 09:00 am to 07:00 pm
TIMES SQUARE CENTRE
Visit Times Square's Ripe Market Dubai for a welcoming shopping experience. Get natural skincare products, leather purses, rustic home decor, organic fruits and vegetables, artisan jewelry, unique apparel and toys, and more! Date October 9 on your calendar.
Location: Sheikh Zayed Road
Opening hours: Sunday & the timings are from 10:00 am to 07:00 pm
GOLDEN MILE GALLERIA
Take a look at the amazing attraction, which opened on May 28. The focus is on distinctive and exceptional goods. In the welcoming atmosphere of Golden Mile Galleria, you can stock up on items made locally. Besides, peruse the work of some extremely talented jewelers, designers, and craftsmen from the area.
Location: Sheikh Zayed Road, Al Sufouh
Opening hours: Every Saturday & the timings are 09:00 am to 07:00 pm
Also Read: Gold Souk
CIRCLE MALL
Everyone will find something they enjoy in this domestic shop. Small local businesses will come together to give a unique shopping experience with clothing, jewelry, home goods, delectable cuisine, and more. This domestic mart will be available to you until October 9, 2022.
Location: Jumeirah Village Circle
Opening hours: Alternate Sundays & the timings are 10:00 am to 07:00 pm
Please be informed that the place by the Bay and City Centre Mehasem masts has concluded.
COMMON QUESTIONS
HOW MUCH DOES ENTRY INTO THE RIPE MARKET DUBAI COST?
Entry to Ripe Market Dubai 2022 is AED 5 for adults. Children under the age of 12 can enter for free.
WHAT IS THE RIPE MARKET DUBAI LIKE?
Here are the locations for Ripe Market Dubai as of right now.
Golden Mile Galleria
The Springs Souk
Time Square Center
Academy Park
Circle Mall
DOGS ARE ALLOWED IN RIPE MARKET DUBAI?
Pets are not currently permitted at the amazing attraction
Our overview of Dubai's Ripe Market is now complete. This amazing attraction is just one of the numerous places in Dubai that are worth visiting because of its fresh organic fruit and assortment of handcrafted goods. For delicious seasonal goodies, if you enjoy visiting domestic shops, don't miss the Central Fruits and Vegetables shop.
Go to Dragon Mart in Dubai city, a prominent shopping destination in the area, for affordable shopping. Traditional souks in Dubai also sell high-end goods like clothing, trinkets, perfumes, and handicrafts at discounted costs. Luxury shops are another option for household goods and groceries.
Leave your comments if you've been to Ripe Market Dubai and what you thought about it. Watch Happy Blogs for updates on open domestic shops, flea shops, and cheap shopping in UAE.