Al Sufouh Beach - The Breathtaking Dubai's Secret Seaside
Posted On: 19-08-2023
You have always wanted to go to the beach For a quiet, intimate evening by the water, travel to Dubai. Enjoy your loved one while taking in the sunset, the sounds of the water, and special memories. You could be shocked, though, when you get to the seaside. It is best known as the Al Sufouh aka Secret Beach in Dubai & attracts many sea lovers.
Coasts in Dubai may get fairly busy when the city is at its busiest for tourists. They are appropriate for people looking for a light atmosphere, aquatic activities, or sunbathing. They might not, however, be the best option for a quiet, romantic evening or valuable family time.
I'll let you in on this personal information. Even on sunny days, there is a secret shore in Dubai where you won't see many people. Despite its excellent location and breathtaking views, this seaside is still a well-kept secret and is undiscovered by many people.
Also Read: Jameel Arts Dubai
The Black Palace Beach in Dubai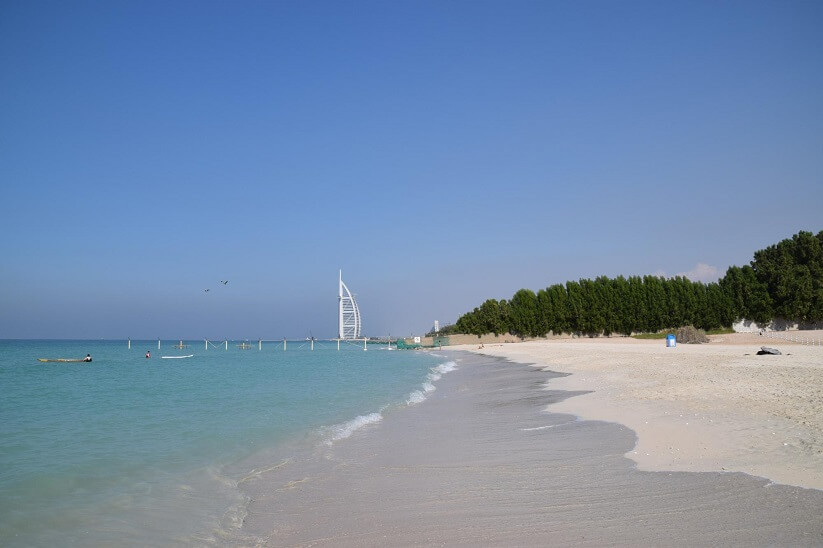 Al Sufouh Beach, popularly known as the Black Palace Beach or "The Secret Beach," is situated amidst a swath of royal palaces. This undiscovered gem is still unassuming; there are no big signs or distinguishing features at the entry. The coast is hidden by tall rows of palm trees, with only a little entry visible in the middle.
According to the person you ask, there are a variety of appealing aspects of this seaside, and opinions might be extremely divergent. It may be a spectacular vista for some. The beach offers breathtaking views in all directions as it is situated between the magnificent Burj Al Arab. It resembles a sail of luxury, and the wonder of human ingenuity, Palm Jumeirah.
The isolation it gives attracts others, and that is still true. This location is consistently empty. On rare occasions, you might just be sharing it with a small group of people.
There is plenty of room for strolls over the spotless 2.5 km of white seaside. You can easily find a quiet area, even during busy periods. Because of the shallow seas, swimming is a fun and safe sport, especially for children. There are also tempting spots for football and seaside volleyball.
In actuality, despite Black Palace Beach lacking traditional tourist attractions, it is the combination of these two factors that brings travelers there.
Before visiting the Secret Beach, be aware of the following:
But there's a problem. There are no eateries, bathrooms, or showers on the waterfront. Bring water and some food with you when you visit.
The fascinating place looks like this on days when it is crowded:
The shallow seas at the waterfront make it unsuitable for water sports, and there are no water sports facilities there. However, the water is remarkably pure, offering superb underwater vision. There is no snorkeling equipment for rent, so you can only use a snorkel to explore the underwater beauties. Until dusk, you are allowed to swim in the water.
Only a few tourists know about this place. Therefore, most people that come here are ex-pats on their evening day out with their families. Some time ago, there was not even a lifeguard on this waterfront. But now the authorities have set up a lifeguard post. The place is lacking in every other amenity, though. This is the main reason why there aren't many tourists here in the first place.
Spending time with the family on Black Palace Beach:
This hidden Dubai treasure is a great option if what you're looking for is a tranquil shore experience and priceless family time. Additionally, it provides stunning views of Palm Island and the Burj Al Arab.
Authorities may have plans to turn this region into another popular tourist destination like La Mer, but for now, Dubai's hidden beauty prevails. You may want to think about Mercato waterfront in addition to Al Sufouh Beach, which is less busy but has a few more services.
A different method to enjoy the sea's charm and tranquility from strolling along the shores is to take a yacht out into the open sea. There are numerous yacht rental possibilities. A fishing boat is an excellent choice if you enjoy fishing. Additionally, renting one has benefits like a knowledgeable crew and access to top-notch fishing equipment.
Alternatively, take a yacht out for a sunset cruise. This journey takes you to the water to see the sun gracefully set behind the horizon, painting the sky with brilliant red and orange hues. There are roomy party boats available with services specifically designed for hosting large festivities for those looking for more extravagant revelry.
How to arrive at Al Sufouh Beach?
The easiest way to get there is by car, and there is plenty of parking space. Although there are options for public transit to Al Sufouh, it requires almost a mile of walking to get to the coast.
If you're driving, take Al Sufouh Road south. The place's entry is located on your right after you pass several coastal palaces. However, be careful because the access is along a short, winding sandy walk that is surrounded by palm trees. If you're not paying close attention, you'll probably miss it. If you miss this exit, you'll have to travel two kilometres in circles.
Also Read: Al Barasti Beach
Do's and Dont's for the Visitors:
Avoid walking around in swim trunks or other coast clothing outside of approved beach zones.
Choose swimwear that offers more coverage than is customary in the West. Use a big towel for privacy while changing quietly, especially if there are no changing facilities accessible.
Be warned that certain shores designate some days as ladies-only days and forbid entrance by lone males.
Keep in mind that in Dubai, public shows of affection are not allowed.
Alcohol use in public places is prohibited and can result in arrest.
You risk fines if you leave rubbish on the coasts, so recycle it properly.
Avoid snapping images of other visitors without their consent to respect their privacy.
If you intend to fish in Dubai, keep in mind that it is only legal in certain areas and that you need a fishing license to do it lawfully.