Dubai Dolphinarium - An Enchanting Place of Joy for Everyone
Posted On: 23-08-2023
In Creek Park, the Dubai Dolphinarium is a popular destination for visitors to the city. You may spend valuable time with amazing marine life, such as seals and dolphins.
Every day besides Sunday, this location presents a spectacular Dolphin Show in Dubai that lasts 45 minutes. It provides fun family entertainment and more thrilling encounters with these aquatic animals.
These cunning animals are trained to demonstrate astonishing skills including water acrobatics, hopping through hoops, juggling balls, and conversing with their handlers.
At the breathtaking Show in UAE's golden city, you can enjoy attractions including a bird show, 5D and 7D theatres, games, a mirror maze, and more while taking it easy.
You can get data about the Dubai Dolphinarium's schedules and the best day to go there here.
Dubai Dolphinarium Alluring Highlights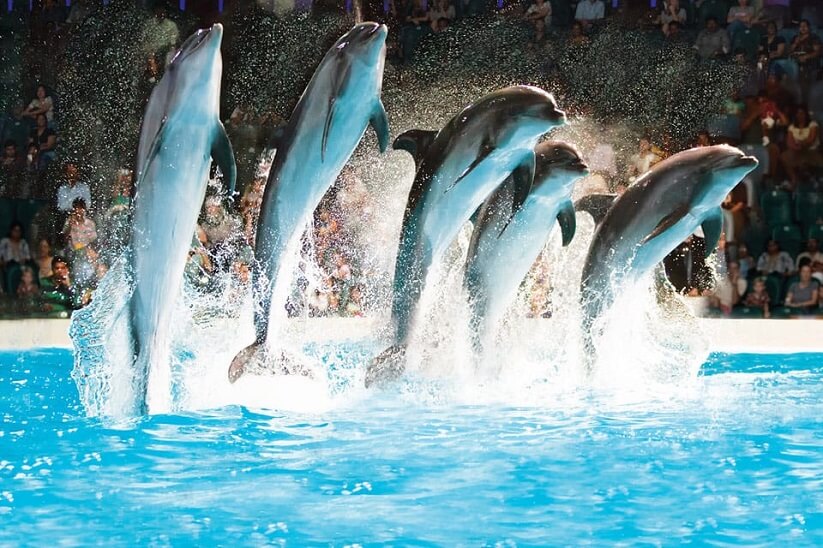 Visit the Dubai Dolphinarium to get up close and personal with these adorable and hospitable animals in a relaxing indoor environment with air conditioning.
As an alternative, you may visit Creekside Park in Bur Dubai, which is home to a fascinating 45-minute enchanting show. Watch how dolphins and their trainers embrace, dance, and have fun together.
You can see a variety of aquatic life at the fascinating attraction, including cuddly fur seals. Enjoy watching them perform and laughing at their shenanigans. You are welcome to take pictures and films of these animals as they perform, including dancing, singing, juggling, and even painting.
The fascinating place offers a wide range of exciting performances, in addition to the seal displays and the Dubai Dolphin Show.
You'll have the amazing chance to interact with these dolphins, embrace them, play with them, and learn more about their extraordinary intelligence. Dolphins are among the most intellectual animals in the world, providing an opportunity to create enduring experiences with these endearing creatures.
Also Read: Al Sufouh Beach
Exciting Nearby Attractions at the Dubai Dolphinarium
This fascinating place gives you access to several fun places to spend your time. It offers an enchanting adorable animals and seal spectacle.
The spot provides a perfect venue to observe the grace and charm of cute creatures and seals, two of the planet's most intelligent animals. These fascinating marine creatures can be seen here demonstrating their amazing skills and tricks.
These adorable creatures have been expertly trained to sing, play with balls, and do juggling feats with these objects. They have worked hard to improve, and as a result, they can gracefully leap through hoops. The 45-minute program itself features these remarkable works of art.
Beautiful Creek Park Bird Showcase:
One of the best and only exotic bird shows in the Middle East is Creek Park's amazing bird display. As you immerse yourself in the world of varied avian species, including some really rare ones, your bird-watching ability will be richly rewarded here.
This presentation of birds showcases the skills of Amazon Parrots as they execute a variety of stunts, including the magnificent green-winged macaws and other avian marvels. You could even get to interact with the magnificent Steller's Sea Eagle. Remember to take pictures with these magnificent feathered buddies! Professional photographers can also be hired to document your joyous interactions with these wonderful birds.
A Mind-Bending Labyrinth, Mirror Maze:
The mirror maze is where you should go if you want a cerebral twist or a brain teaser! Have fun traveling through this confusing maze of mirrors. Test your cognitive abilities by determining the right course of action. You can do this.
Trampoline Park: Jump and Bounce:
There is a trampoline park at the Dubai Dolphinarium where even adults may relive their youth alongside their kids. You can participate in the show in addition to the creatures and fur seals who are performing. People, embrace your inner child, and have fun!
5D AND 7D adventures in cinema:
Visit the immersive 5D/7D Cinema at the Cineplex inside the must-visit place to experience the world of virtual reality. Here, the combination of the visual wonders of 3D cinema with sensory encounters immerses you in your movie and makes you a crucial player in the action.
You won't want to miss out on this fantastic experience with your loved ones & get ultimate fun. The cost of the 3 to 5 minutes of thrilling entertainment for the 5D movie ride and 7D movie shooting game is AED 25 per participant.
Pricing:
The costs of the various performances at the Dubai Dolphinarium are listed below:
For Dolphin & Seal Show:
The Regular Seats for kids are 50 AEDa and for adults are 105 AED
The VIP seats for kids are 85 AED for kids and 125 AED
For Exotic Bird Show:
The Regular Seats for kids are 30 AEDa and for adults are 50 AED
The best time to see the dolphin show at the enchanting spot is from November to March, which also happens to be the ideal time to travel to UAE's golden city. Align your plans with its timetable to get the most out of your trip. The magical place's hours are as follows
Timing:
11:00 am, 2:00 pm, and 6:00 pm are the showtimes
Each performance lasts 45 minutes
Available Monday through Saturday; Sunday is a holiday
Show of Birds in Creek Park:
Time slots: 2:15, 03:15, and 07:15
runs every day of the week excluding Sundays
Dolphin Planet:
Of course, these are the specifics for the Dubai Dolphinarium's Planet Majestic Creature's Swim show:
Showtimes are 12:00, 2:00, and 4:00 p.m., Monday through Saturday
You are free to pick a time for your visit to the fascinating place that works with your schedule
Here are some advice on how to enjoy the fascinating show at the must-visit attraction:
If you want to get the most out of Dolphin Planet, pack an additional set of clothes.
Understand and follow all written directions for each section of the thrilling sightseeing.
The official website of this fascinating place also has comprehensive instructions.
It's best to forego the swimming activities if someone in your party is afraid of water.
For a secure and enjoyable experience, make sure that all adults accompany their children into the attraction.
Wrapping up:
The enchanting show is a charming attraction where you may make priceless memories and appreciate experiences. You can enjoy bird displays, 5D and 7D movies, as well as a variety of other attractions, in addition to the mesmerizing creatures and seal shows. A trip to the Dubai Dolphinarium is quite cost-effective. We are excited to have you, your family, and friends join us for a fun day.