Aura Skypool Dubai - An Ultimate Guide
Posted On: 15-07-2023
In 2021, the Aura Skypool Lounge, the world's highest panoramic pool with a 360-degree outlook, opened its doors to guests. This lounge offers stunning views of the urban environment from various angles, covering Downtown Dubai, Dubai Marina, and Palm Jumeirah.
It is located on the fifty-first level of The Palm Tower in Palm Jumeirah. Let's learn more about this amazing location's unique qualities.
Aura Skypool Dubai– A Brief Overview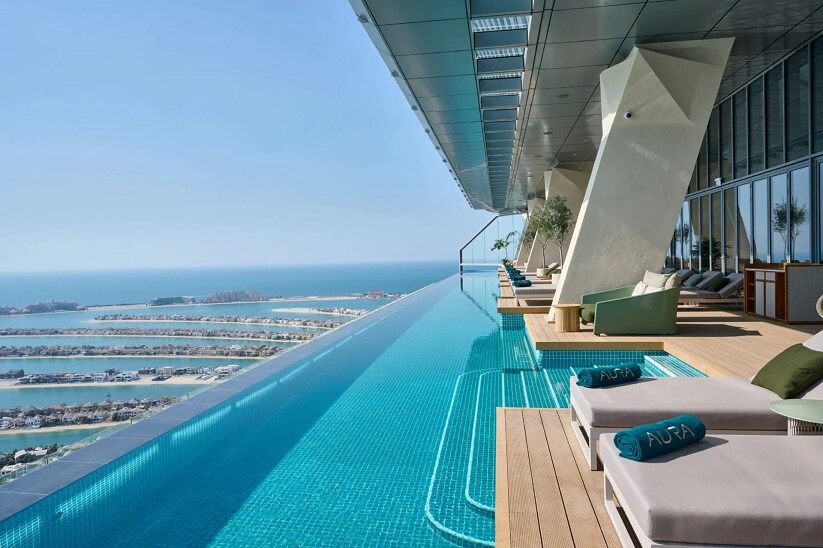 You need to look no further than the Aura Skypool Lounge if you want an experience that will make you feel as though you've traveled to another realm!
The Aura Skypool Lounge's 700 square meter deck sits 200 meters above the earth, giving the impression that it is hovering over the city. This enormous infinity pool promises to make swimming there an amazing experience.
Three distinct parts of the building surround a common area. You'll have access to different services and features, as well as unhindered views of the Burj Al Arab, the Palm, Marina & Ain Dubai. Also, the Dubai city skyline, depending on the portion you choose.
The Pool Deck:
Take part in a luxurious adventure that is unmatched. The pool terrace at the attraction is a magnificent retreat bursting with a lively social atmosphere, plenty of vegetation, organic architectural elements, and top-notch craftsmanship.
The Lounge:
The Lounge is a warm gathering place for all guests to mingle, eat, and partake in beverages. Its design draws inspiration from nature. It offers the best environment for taking in the cityscape and creating enduring memories. The calm environment, decorated in warm earth tones, will quickly put you in a relaxed mindset.
Also Read: Saadiyat Island
Aura in the Metaverse:
Think about it: what if we told you that the Aura Skypool may be found in the metaverse? The highest infinity pool in the world is getting ready. So they give you a tantalizing taste of the spectacular vistas one observes during a sunset or sunrise from lofty heights in the sky, so get ready for an exciting surprise. Sign up on their official website to be among the first to experience this virtual world.
EXPERIENCES:
You can be sure that you will find a package that suits your needs, whether you only want to spend a few minutes there or want to spend the entire day taking in the sumptuous atmosphere and breathtaking views of Aura Skypool Lounge.
POOL EXPERIENCES:
Make a note of the Thursday and Sunday opportunities to enjoy a leisurely swim in the indoor lounge of Aura Skypool Dubai along with a delicious breakfast. Allow yourself to be enthralled by the captivating sight of the sun rising and illuminating the city.
Cost: From AED 200
Timings: Thursday & Sunday | from 06:00 am till 09:00 am
MORNING:
Looking for a relaxing swim to start your day? Pick the morning time for a revitalizing start. Your spirit will be lifted by the peaceful tones and beautiful fusion of the 360-degree infinity pool and the sunrise. And what's this? You can even have lunch by the pool whenever you choose.
Cost: From AED 250
Opening Hours: 10:00 am – 02:00 pm
AFTERNOON:
Imagine yourself sipping your favorite beverage by the elegant infinity pool and admiring the mesmerizing sunset that graces the city's most stunning landscapes. Experience the afternoon at the attraction to indulge in this and more.
Cost: From AED 275
Timings: 03:00 pm – 07:00 pm
EVENING:
Every Tuesday, plunge into a stress-free haven at the attraction's pool, where the temperature is precisely controlled for your pleasure. Enjoy the stunning Dubai skyline while dancing to the music played by the venue's regular DJ.
Cost: From AED 225
Opening hours:
Tuesday | 08:00 pm – 11:00 pm
Kindly note that the evening encounter will be functional from 21st February 2023.
FULL DAY:
Spend the day at a resort where you can relax by the pool, enjoy delectable food, sip delicious drinks, and be mesmerized by stunning views. Visit Aura Skypool Lounge as part of their full-day package to witness the fulfillment of this remarkable idea.
Cost: From AED 525
Opening Hours: 10:00 am – 07:00 pm
Aura Skypool Lounge Encounter Morning Lunch & Afternoon:
Enjoy a sumptuous breakfast, lunch, or sundowner drink at the Aura Skypool Lounge. The lounge's stunning city views and understated elegance only serve to enhance its appeal.
Cost: From AED 150
NIGHT BRUNCH:
Looking for a wonderful brunch location? With an array of endless drinks, a menu with Pan-Asian influences, and expansive 360-degree views, you can't go wrong. This amazing brunch experience will be offered every Friday night beginning on March 3, 2023.
Cost: From AED 480
Timings: Friday at 08:00 pm – 11:00 pm
WELLNESS EXPERIENCE:
Exclusive yoga courses are offered each morning at the attraction, which is followed by a hearty breakfast in the lounge. Imagine the peace enveloping you as you breathe in and out, letting the tension leave your body. For yoga aficionados looking for a peaceful experience, this famous location is especially perfect.
Cost: AED 280 per head
Open Hours: Monday, Wednesday, Friday & Saturday at 08:00 am – 09:00 am | Wednesday at 08:00 pm – 09:00 pm
Dining:
The head chef, Chef Craig Best, has created a menu that exudes a classy yet casual ambiance. The menu features a variety of exotic cuisines and beverages that are completely in line. The Aura Sky Lounge's trademark aesthetic draws influence from well-known locations throughout the world. This superb gastronomic experience will wow the guests.
FREQUENTLY ASKED QUESTIONS
Can a private event be planned at Aura Skypool Dubai?
Absolutely! The Aura Sky Lounge is the perfect location for both private and professional gatherings. They provide custom arrangements to meet your unique needs and preferences. You can arrange any type of event at Aura Skypool Lounge, including birthday parties, engagement parties, weddings, and business gatherings. Feel free to contact them via their official website for more information on price and other specifics.
Where is Aura Skypool Lounge Based?
On the 50th story of the Palm Tower in Palm Jumeirah lies the Aura Skypool Lounge.
Have Aura Skypool the facility Valet Parking?
Absolutely! At the St. Regis Hotel Dubai, The Palm, the Aura Skypool Lounge offers complimentary valet parking.
What are Aura Skypo Dubai's Contact Details?
You can contact Aura Skypool Dubai at +971-4-566-2121 for reservations and other questions.
Do kids have access to the lounge?
Please be aware that only adults are permitted in the lounge. Unfortunately, minors under the age of 12 are not permitted inside. Additionally, anyone under the age of 18 needs to have an adult with them.
This concludes our overview of the world's highest infinity pool. In addition to Aura Skypool Lounge, Dubai has a tonne of other amazing infinity pools where you can unwind while having a good time.
Include Aura Skypool Lounge on your list of must-visit locations in Dubai if you're looking for Instagrammable locales.
The fun doesn't have to end there, though! Dubai is a city that never stops as there are always amazing things happening there. To find out where you should go next, look at these upcoming events in Dubai!