Pier 7 Exclusive Dining Experience In Dubai Marina
Posted On: 26-07-2023
Pier 7 is a remarkable seven-story building that is located seven-story of Dubai Marina and has superb upmarket restaurants on each floor. The Pier 7 restaurants provide a delicious assortment of cuisines from different regions of the world, whether you're in the mood for traditional Peruvian dishes or British pub fare.
Pier 7 Restaurants In Dubai Marina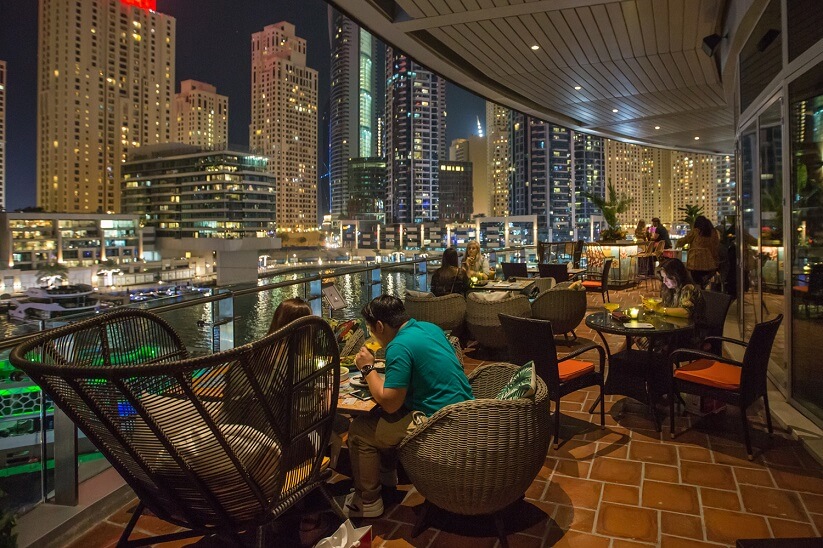 With a prime location in Dubai Marina, Pier 7 is conveniently located next to Dubai Marina Mall. Due to its circular design and expansive terraces on each level, guests may enjoy stunning views of the ocean and the surrounding surroundings.
Let's quickly examine the eateries in Pier 7 Dubai Marina and what they have to offer. Starting on the top floor, we'll make our way down.
ATELIER M:
At the top of Pier 7, there is a chic eatery with an Art Deco-inspired lounge. The best place in Dubai to enjoy contemporary global cuisine is at Atelier M. Get together with your friends for classy beverages and enjoy a delicious meal on the rooftop deck.
A delicious menu featuring a range of delectable meals, including appetizers, entrées, sides, and desserts is available at The Atelier M. Additionally, they provide some delectable chef's specialties. The restaurant has one of Dubai Marina's best bars. Try their truffle, seafood, gourmet pizza, and black onyx rib eye; you won't regret it.
Also Read: Barasti Beach
Price for Two-Persons: AED 480 with no alcohol & AED 43 for a beer pint.
Locale: 7 & 7M Floor, Dubai Marina
Timing: 06:00 pm – 12:00 am for the Restaurant
ASIA ASIA:
Asia Asia Restaurant & Lounge serves delectable Asian cuisine with historical Spice Route influences. Unique artifacts are used to elegantly decorate the space. The lounges, meanwhile, mimic the allure of exotic destinations like Shanghai, Macau, Thailand, and Kyoto, each of which offers tourists a unique atmosphere.
You may treat your palette to a delectable combination of Pan Asian meals and top-notch beverages at the Asia Asia restaurant, which is located at Pier 7, Dubai city. This well-known Pier 7 restaurant is renowned for delivering wonderful sushi platters and is among the greatest places to eat in the city. They have delicious salmon carpaccio, maki, sashimi, and prawn tempura.
Price for Two Persons: AED 450 including alcohol
Locale: 6th Floor at Pier 7 & the area is Dubai Marina
Timing:
Sunday 02:00 pm to 01:00 am
Monday, Wednesday, and Thursday from 06:00 pm – 01:00 am
Tuesday and Friday, it opens from 06:00 pm – 02:00 am
Saturday 02:00 pm – 02:00 am
ABD EL WAHAB:
At Pier 7, there is a traditional Lebanese restaurant called Abd El Wahab. The restaurant has an oriental design with brass accents and Damascus-inspired walls. It gets its name from a Beirut street.
The Abd El Wahab restaurant at Pier 7 offers delicious and authentic Lebanese specialties. Such as grilled entrees, bite-sized appetizers, and numerous marine dishes. Customers laud their friendly staff and quick service as well.
You have the choice of enjoying the delectable Lebanese flavors indoors or on the terrace outdoors. It provides beautiful views of the surroundings when it comes to the dining environment.
Standard Price for Two Persons: AED 210 & no alcohol is included
Locale: 5th Floor of the destination
Timing: You can outreach the restaurant representative to comprehend more about their timings.
THE SCENE:
If you're craving traditional British fare, The Scene restaurant at Pier 7 in Dubai Marina is a favorite. This quaint café in the English pub tradition has a pleasant interior seating area and an outdoor terrace with stunning views of Dubai Marina and the Arabian Gulf.
This Pier 7 restaurant is the perfect place to enjoy filling pastries, tender meats, and, of course, delicious seafood and crisped potato slices. A hip gathering spot called The Venue is open in the morning, noon, and evening. Making reservations in advance is therefore highly recommended. For a unique experience, try some of its specialty cocktails, hamburgers, fish and chips, syrupy toffee dessert, and pastries.
The standard Price for Two Persons is AED 370 & alcohol is included
Locale: 4th Floor at the destination
Timing:
Monday to Friday, it opens from 12:00 pm to 12:00 am
Saturday 10:00 am to 01:00 am
Sunday 10:00 am to 12:00 am
CARGO:
The cargo restaurant at Pier 7 serves delectable Asian meals and inventive beverages. The establishment boasts a sleek, industrial design that goes wonderfully with its amazing wooden box-back bar. On good days, diners may savor their meals while taking in the picturesque views of the marina from the patio.
You may savor a delicious medley of Thai, Japanese, and Chinese dishes on the menu at Cargo Restaurant Pier 7. There is something for everyone, including Sichuan chicken, Thai green curry, and savory chili beef. A cool cocktail from the bar's menu would go well with your dinner. Moreover, their ladies' night in Dubai is well-liked!
The standard Price for Two Persons: AED 350 with alcohol
Location: 3rd Floor
Timing:
Saturday to Thursday, it starts from 12:00 PM till 02:00 AM
Friday 02:00 PM – 02:00 AM
MAMA ZONIA:
At Mama Zonia in Dubai, enjoy a steak night. In this restaurant, you can order food from Peru, the Caribbean, and Asia. This distinctive restaurant, which is located on the second level, recreates the feel of the Amazonian jungle in a chic metropolitan atmosphere. Each dish on their menu highlights the vivid flavors of the tropics, and their expertly created cocktails go perfectly with the cuisine.
Mama Zonia Pier 7 is the perfect place to eat and socialize if you like having a variety of dining options. Parking is available for visitors at Pier 7.
The standard Price for Two Persons: AED 510 with no alcohol
Location: 2nd Floor
Timing:
Sunday to Thursday, it opens from12:00 pm to 11:30 pm
Friday 12:00 pm – 12:00 am
Saturday 06:00 pm – 12:00 am