Dreamland Aqua Park - An Ultimate Guide of the Umm Al Quwain
Posted On: 27-09-2023
Dreamland Aqua Park, a venerable aquatic entertainment park with a vast 250,000 square meter area, is perched along the gorgeous coastline of Umm Al Quwain.
It was established in 1997, and since then, Umm Al Quwain (UAQ) residents have continued to flock to it as a favorite attraction.
The less visited emirate could not have a lot of tourist attractions. However, Dreamland UAQ is the best source of entertainment for people who occasionally want to escape metropolitan life.
Also Read: Flag Island Sharjah
This water park offers all the features desired in a low-cost summer fun destination, with over 30 spectacular slides, rides, and other activities.
Here is a detailed summary of all the persuasive reasons that Dreamland UAQ is a superb alternative to think about if you're looking for weekend getaway options:
Dreamland Aqua Park Premier Drawcards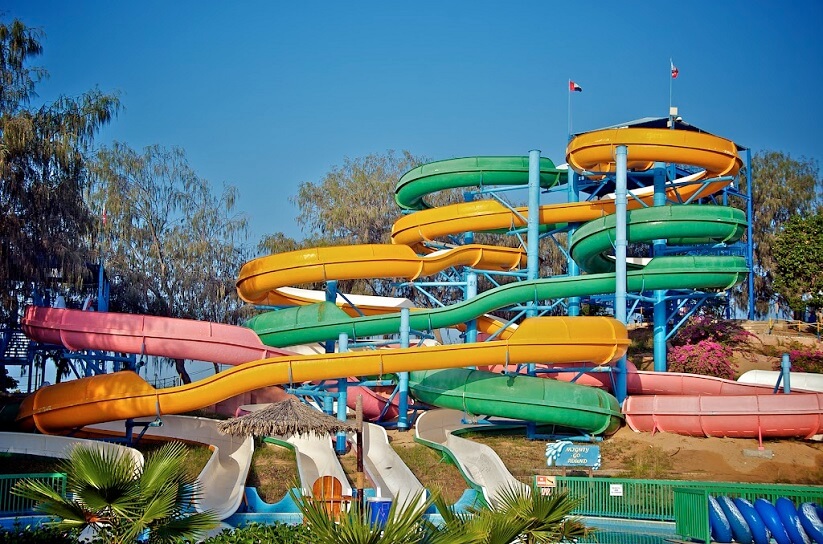 One of the largest aquatic amusement parks in the UAE, Dreamland Aqua Park UAQ, offers a variety of attractions, slides, and amusements that are appropriate for people of all ages.
It might occasionally be overwhelming to fit everything into your period given the range of more than 30 different activities this aqua park offers.
When you visit this enjoyable location, make sure to indulge in the following top attractions before leaving:
Twister:
This tunnel chute's 40-meter length culminates in an open basin that sends you spinning before dropping you into the water's depths. The thrilling "twister" feature adds to the excitement even if the tunnel chute itself resembles typical water park attractions.
Utilizing the energy gained during the slide, this dynamic feature will twist and turn you before ending with an exhilarating nose dive into the swimming pool from a height of 2 meters above the surface.
Also Read: Umm Suqeim Beach Dubai
Kamikaze:
At Dreamland Aqua Park, Kamikaze is a pair of water slides that offer a thrilling experience of high-velocity drops over their cliffside routes, culminating in the cool water pool.
Although they might not be the biggest waterslides you've ever seen, they unquestionably provide a powerful dose of adrenaline to slake your appetite for adventure.
Twisting Dragons:
Have you ever found yourself in a circumstance where you know exactly where the entry is but are confused about which door leads to the exit? At this fascinating attraction, Twisting Dragons offers a realistic interaction with the conundrum.
Even if you begin at the same starting position each time, this intriguing and winding maze of tunnel slides connects perfectly to bring you out from several "dragon's mouths."
Black Hole:
The suspense of the oncoming plunge serves as the primary source of thrill at The Black Hole at Dreamland UAQ.
The moment you step upon this mysterious slide, you are engulfed in complete darkness that follows you the entire way.
This slide will keep you guessing when you'll finally fall into the water because of gravity's persistent pull.
Mighty Ground:
The Mighty GoRound at Dreamland Aqua Park may have a name that sounds like a merry-go-round, but it is a very different experience.
The rotation that gives them their name is one of two enormous body slides that they have. Drive yourself down these slides and enjoy the rush of plunging into the pool at the bottom after a heart-pounding descent.
Youngsters In Dreamland Uaq
Dreamland Aqua Park in Umm Al Quwain is a great place for tourists of all ages to enjoy themselves.
Two pools are available at the facility, and there are specific play areas for kids 3 and older only. Although the younger children may need adult supervision, their enjoyment is never compromised.
Aqua Play Kids Pool:
The vibrant aquatic playground known as Aqua Play is home to 19 interactive games for kids. While somewhat older children try their mettle on the inflatable obstacle course inside the pool. Also, the toddlers may soak up the pouring torrents from the rotating enormous water bucket to their heart's content.
Hippo's Island:
Bring your kids to Hippo's Island for an experience that is a little bit more daring. This fascinating location has a dragon and life-size stone hippos as decorations.
This pool area provides kids with a full dose of excitement with its caves, slides, and an assortment of other captivating activities.
Authenticities At Dreamland Aqua Park Uaq For Additional Purposes
Many visitors to Dreamland Aqua Park have trouble getting back to their rented duplexes in Dubai after a long day of fun there. Fortunately, the waterpark offers waterfront overnight camping possibilities.
Additionally, you have access to a wide range of sports like basketball, tennis, and volleyball for a fulfilling experience. It's all you need for a wonderful weekend getaway in UAQ.
Rates for camping at Dreamland Aqua Park
From Saturday through Wednesday, tents that can accommodate 2 adults can be reserved for AED 550 per night.
On Thursdays and Fridays, the cost is AED 650 per night.
From Saturday through Wednesday, a 2-adult cabana costs AED 700 per night; on Thursdays and Fridays, the cost rises to AED 900 per night.
There is an extra charge of AED 200 per night from Saturday to Wednesday and AED 250 per night on Thursdays and Fridays for each additional person.
Dreamland Umm Al Quwain's Restaurant Options
Various restaurants at this fascinating attraction are worth checking out when it comes to food options.
Splash Bar
The Pool Bar offers a wide variety of non-alcoholic and house drinks and is ideally located close to the attraction's most popular attractions.
All of this can be experienced in a warm environment that is energized by an in-house DJ's music.
Golden Kiosk
Golden Kiosk offers a variety of options, including combo meals, energizing beverages, fresh fruits, cold sandwiches, and delicious ice cream, for those looking for a quick fix in the kitchen.
Shisha Majlis And Saj Zaman
Shisha enthusiasts should head to the Saj Zaman Majlis, where exquisite Lebanese cuisine marries beautifully with a variety of shisha flavors in an authentic Arabian Majlis setting.
Snack Attack
Snack Attack is the go-to place for those needing fast meals or for kids looking for quick and savory treats.
A delicious selection of pizzas, chips, hotdog sandwiches, fried chicken, and burgers, as well as wonderful salads, appetizers, and cool slushes, are all available here.
Atlantis:
If you're at this classy attraction on the weekend, take advantage of the chance to enjoy the tantalizing continental buffet at Atlantis.
This restaurant in Dreamland UAQ tempts taste buds with a variety of scrumptious Mediterranean specialties, including the most delicious seafood that is sure to enthrall the inner food fanatic in you!
Tickets:
Dreamland Aqua Park charges a normal entrance fee of AED 160.
Tickets at Dreamland UAQ cost AED 100 for elders and children under 1.2 meters in height.
For AED 450, families with two adults and two children have the option of purchasing a family pass.
Individuals with special needs and children under the age of two are welcome to visit this classy attraction without charge.
Timings:
The daily hours for this water-themed park in Umm Al Quwain are 10:00 a.m. to 6:00 p.m., giving guests a generous 8 hours to splash around in the pool and ride the exhilarating water slides.
Enjoy quality time with your loved ones in this UAQ waterpark that is relatively uncrowded.
DIRECTIONS TO DREAMLAND UAQ
The proximity of the Dreamland Aqua Park to Dubai, Ajman, and Ras Al Khaimah may be seen on the location map.
The E11 highway is the suggested route for those traveling to Dreamland UAQ from these urban areas.
Regardless of which of these three cities you leave from, the trip down this road takes less than an hour.
The most practical route for people living in or coming from Al Ain and Fujairah would be the E611.
The E311 Mohammad Bin Zayed Road or the E611 Road are the two options for travelers leaving Abu Dhabi. Driving is the most effective way to get to Dreamland UAQ.
Location:
Al Raas Street, next to Barracuda Beach Resort, Umm Al Quwain 655 - United Arab Emirates.
IS DREAMLAND UMM AL QUWAIN A DESIRABLE DESTINATION, IN OUR OPINION?
The fact that a day spent at Dreamland UAQ cannot be separated from a tour of the city of Umm Al Quwain is arguably its most alluring feature.
Visitors will have a delightfully surprising experience in this tiny emirate, which provides a distinctive contrast to the more well-known cities of Abu Dhabi, Dubai, and Sharjah.
Resuming our discussion of the waterpark, it is critical to recognize that Dreamland Aqua Park cannot be compared to parks with a greater guest capacity, such as Yas Waterworld, Wild Wadi, and Aquaventure. The park, which opened in the 1990s, has maintained its high standards.
Nevertheless, despite regular updates, you might not find it compelling enough to make frequent returns.
The fact that Dreamland UAQ continues to offer exciting thrills and slides at reasonable prices is unquestionable, nevertheless.
It is an interesting option for people looking for a carefree and fun weekend break because of this feature.
Even though Dreamland Aqua Park offers a wide range of activities, this location is notable for its lack of crowds.
With only a few other families, you may frequently use the entire facility. It appeals to a wide audience thanks to its accessibility, entertainment value, and peaceful atmosphere. These characteristics work as powerful inducements to add a trip to Dreamland Umm Al Quwain to our lifetime experiences.
With so, we bring to a close this article about a notable UAQ attraction. Check out our list of the best waterparks in the UAE if you're looking for more aquatic-themed thrills.