Al Noor Island in Sharjah - A Complete Guide for Tourists
Posted On: 26-04-2023
The Al Noor Island in the city of Sharjah has developed into a well-liked center for inhabitants. Besides, the visitors seek to relax in the emirate, which is suitable for families. Entering Noor Island, Sharjah feels like being teleported to a completely distinct realm that beckons with amusements that stimulate the mind.
With its astonishing light shows and extraordinary artworks, as well as the gorgeous fluttering butterflies. Also, the seclusion of the Literature Pavilion, this location has a plethora of offerings for individuals. They are seeking a respite from Sharjah's urban existence and shopping centers. Here is a comprehensive guide to everything you need to know about Al Noor Island in Sharjah.
Experiences In Al Noor Island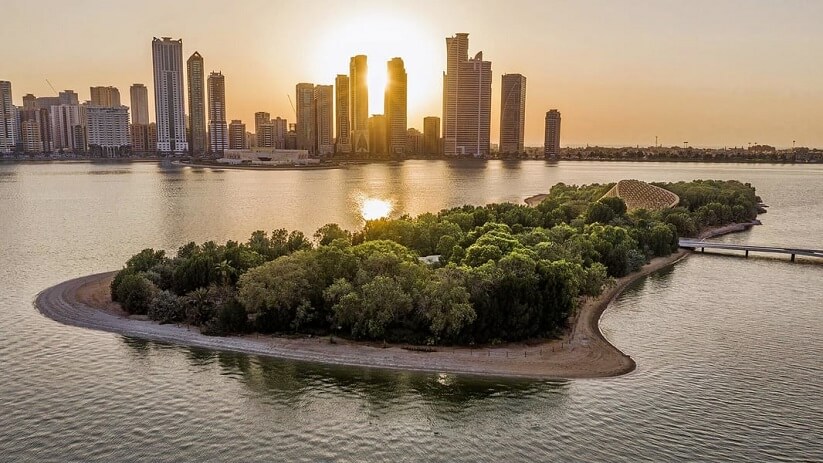 With its astonishing light shows and extraordinary artworks, as well as the gorgeous fluttering butterflies. Besides the seclusion of the Literature Pavilion, this location has a plethora of offerings. For individuals seeking a respite from Sharjah's urban existence desert safari Sharjah and shopping centers. Here is a comprehensive guide to everything you need to know about Al Noor Island in Sharjah.
Butterfly House:
Al Noor Island is the dwelling place of over 500 butterflies from 20 unique and rare species. As well as the most prominent feature is the Butterfly House. This enchanting enclosure is situated within an ergonomically designed, nature-inspired building. That maintains the appropriate level of moisture and permits the ingress of natural light into the haven of butterflies.
Cloaked in vegetation, the Butterfly House furnishes an ideal shelter and concealment for the butterflies. They are ensuring they feel at ease in their surroundings. The Butterfly House boasts an array of precious winged wonders. Such as the pink rose and emerald yellowtail-tailed jay, among others.
Also Read: Sunbathing in Dubai
Butterfly House Tickets:
Admission to the Butterfly House necessitates an extra fee in addition to the entry ticket. Here are the particulars for the optional guided tour of the Butterfly House:
Cost:
AED 15 per individual aged 13 and above
AED 10 per kid aged between 3 – 12 years
Timings:
You can visit from 09:00 am to 06:00 pm and the attraction remains open daily.
Art & Sculpture:
Al Noor Island in Sharjah exalts in nature, art, and ingenuity, as can be observed in every facet of the isle. From its unique art sculptures to its personalized installations. The isle boasts six distinct installations, each expertly merged with its indigenous cultural and natural surroundings.
Gaze in awe at the magnificence and finesse of the Torus, with its metallic touches and mesmerizing interplay of illumination. Be astonished by the egg-shaped OVO, which adeptly manipulates water, wood, and LED lights to leave you spellbound.
Discover the uncomplicated yet profound depiction of perseverance and advancement in the linear and abstract art of the Columns. Alternatively, immerse yourself in the authenticity of the steadfast trio of the Fossil Rocks.
Literature Pavilion:
The Literature Pavilion in Al Noor Island is an excellent source of inspiration for your inner poet. They are featuring a delightful array of vivid hues, opulent cushions, and poetic verses written in stunning Arabic calligraphy.
The tasteful furnishings are just the start. Upon entering the pavilion. Besides, the soft sound of a fountain coupled with gentle melodies transports you to a blissful utopia.
Take pleasure in the comfort and indulge in some reading or unleash your creativity by jotting down ideas & expressions in this peaceful sanctuary. The tranquility and calm ambiance are sure to ignite your imaginative faculties.
Landscaped Gardens:
Few things are as invigorating as finding oneself amidst unspoiled nature. Breathe in the fresh air and let the environment embrace you. Al Noor Island in Sharjah plays host to an excess of 70,000 plants and trees. Each of these has been meticulously chosen to fashion landscapes as distinct as the isle itself.
The botanic offerings here are truly remarkable, ranging from lofty cacti to arboreal specimens shaped. Like bottles, a plethora of medicinal plants, and an olive tree that has stood the test of time for over two centuries. The diverse plant life on display here is certainly deserving of all the admiration it receives.
Al Noor Island Beauty at Night:
Noor Island is frequently referred to as mystical. While the lush gardens have impressive art installations. Besides, the wealth of natural beaucontributesute to this reputation. It's the dazzling array of LED lights that truly lend the place a whimsical aura.
As the sun sets, the isle transforms into a luminous wonderland, with vivid neons, and twinkling fairy lights. Also, the radiant luminesceilluminatedting the trees, paths, art installations, buildings, and even the bridge. Observing this breathtaking spectacle is one of the must-see experiences on Al Noor Island.
However, the most stunning exhibition of all is the Radiant Meadows. It is a flower garden comprised of 1200 fiber-glass blooms that emit light and change colors in precise unison. This demonstration of synergy between technology. Nature is simply enchanting and requires firsthand experience to truly appreciate it.
Al Noor Island Installations
Playground:
The play area is a sought-after kid-friendly destination on Al Noor Island, ensuring premium outdoor amusement for children. The equipment offered includes swings, slides, climbing frames, and obstacle ropes. That provides ample entertainment to keep kids engaged for extended periods.
The playground is surrounded by numerous trees and benches that offer shaded seating. They are making it easy for parents to keep an eye on their children. With this facility, Al Noor Island has become a fully family-friendly spot with something for every member to enjoy.
Al Noor Cafe:
If you're in search of a place to grab a snack or drink while exploring Al Noor Island, Noor Café is the perfect spot. Its menu boasts a variety of healthy and delicious options, and it's naturally lit. Besides, the roomy seating area is an ideal place to savor a quick meal.
When night falls, the café transforms, with brightly lit interiors and warmly illuminated furnishings creating a cozy. Also, it is an inviting atmosphere for a delightful evening.
Café Tickets:
Acquire a comprehensive admission pass for Al Noor Island and relish a dining experience at the Noor Café.
Cost: AED 55
Timings: All Day and the opening hours depend on the attraction timing
Al Noor Island Ticket Price:
Its expenses are AED 35 per head for people aged 13 years and above. As well as it costs AED 20 per kid, aged 3 – 12 years. This expense does not incorporate a Butterfly House visit.
Adjacent to the renowned Al Noor Mosque, the entrance gate to Noor Island awaits. The mosque is well-known for offering some of the finest mosque tours in the UAE. You can purchase your Noor Island tickets at the entrance gate.
The basic admission ticket allows you to explore the isle, and access the captivating Gleaming Meadows. Then, take a walk in nature while capturing some stunning photographs.
Al Noor Island Packages:
If you are not interested in Sharjah's historical sites, Al Noor Island can be the perfect escape from the hectic city life. The aisle also provides a range of leisure packages to match your inclinations.
Wrap-Up:
The Butterfly House stands out as the most captivating attraction with its exceptional ambiance. that provides an opportunity to closely observe butterflies. Families with children can also take advantage of the playground. Also, the abundant seating options available on the aisle.
Certain individuals may consider the cost of the entrance fee and tickets for activities at Al Noor Island to be excessive. Nevertheless, the experience and benefits you receive in return are worth the expense. If you appreciate nature and serene surroundings, then a trip to Al Noor Island should be on your itinerary for Sharjah.
Additionally, if you are searching for additional family-friendly destinations in Sharjah. Be sure not to overlook the Sharjah Desert Park.